Apple finally launches high-yield Apple Savings account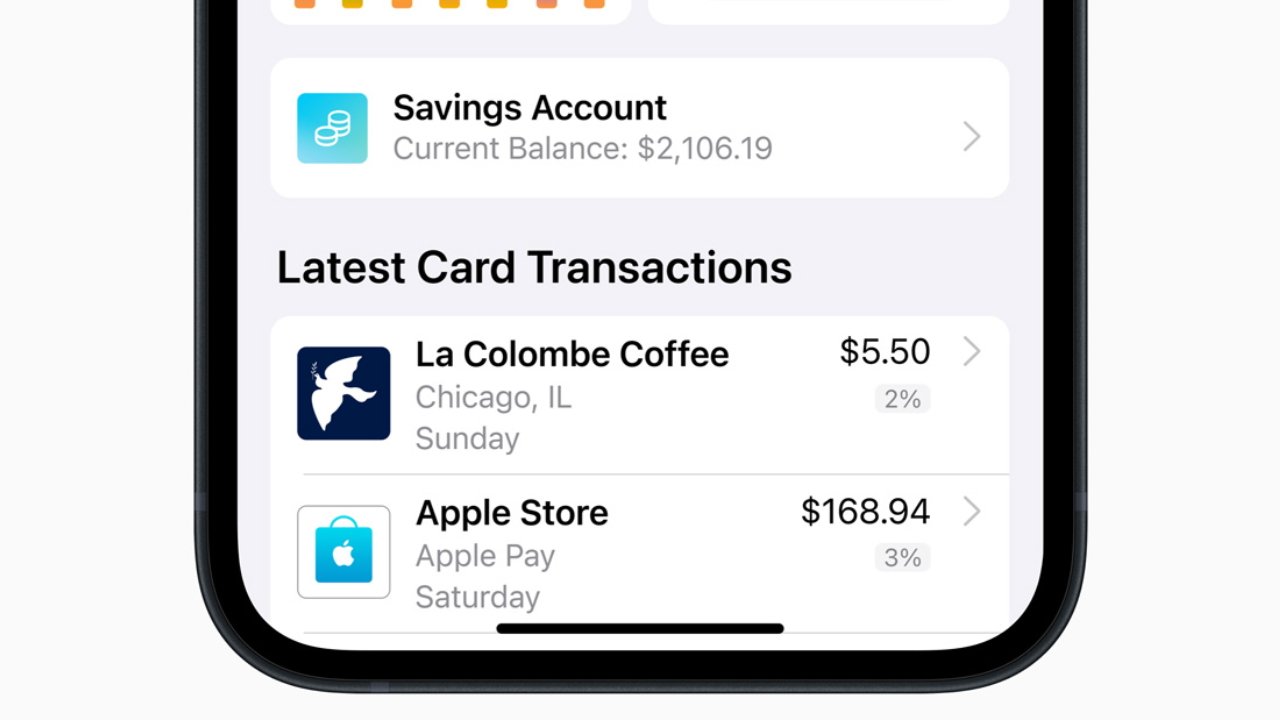 Months after its first announcement, Apple Savings is now available to Apple Card users, with users able to route Daily Cash rewards into a new 4.15% high-yield savings account.
"Savings helps our users get even more value out of their favorite Apple Card benefit — Daily Cash — while providing them with an easy way to save money every day," said Jennifer Bailey, Apple's vice president of Apple Pay and Apple Wallet, in a statement. "Our goal is to build tools that help users lead healthier financial lives, and building Savings into Apple Card in Wallet enables them to spend, send, and save Daily Cash directly and seamlessly — all from one place."
Apple says that the 4.15% APY rate is "more than 10 times the national average." The company also says that Apple Savings has "no fees, no minimum deposits, and no minimum balance requirements."
In a recent survey, Fortune magazine reported that the US national average is 0.37% APY (Annual Percentage Yield). However, it also recommended ten savings accounts, every one of which offers more than Apple.
Those range from LendingClub with 4.25% APY, to UFB Direct, with 4.81% APY.
Fortune does also note that APY is not the sole factor in determining the right savings account to invest in. There are also issues to do with minimum deposits, balances, and customer support.
Apple Savings is likely to prove particularly strong on customer support, because it launches with a Savings dashboard in the Wallet app. Apple says that this means users "can conveniently track their account balance and interest earned over time."
The launch of Apple Savings comes after an announcement in October 2022, and then mostly silence since. A line about Apple Savings was added to the Apple Card terms and conditions in early March 2023, then most recently code showing the backend service was live, was spotted.
Long-awaited savings option
It's not clear why the service launched so long after announcement, but it's possible that it is because the finances are being serviced by Goldman Sachs, Apple's partner in the Apple Card. Despite the apparent success of Apple Card, Goldman Sachs posted a $1.2 billion loss, which was attributed in part to its consumer offerings such as that with Apple.
Consequently, Goldman Sachs recently pulled out of doing any other consumer credit card. Alongside that, the Federal Reserve opened an investigation into whether Goldman Sachs's consumer credit division has sufficient consumer protections.
Now that Apple Savings is here, it's intended that users will set it up once and then not have to deal with it until they choose to.
Apple Card users continue to get rewards as a percentage of their purchasing, and they can continue to have that go into their existing Daily Cash account. However, if they choose to, those payments can instead go into the new high-yield savings account.
Users will also be able to deposit additional funds into the Apple Savings account through a linked bank account, or from their Apple Cash balance. There's no limit on how much Daily Cash can be earned and saved, plus users can elect to switch off the automatic payment into their Apple Savings account at any time.