Tim Cook meets with India's Prime Minister, as tour continues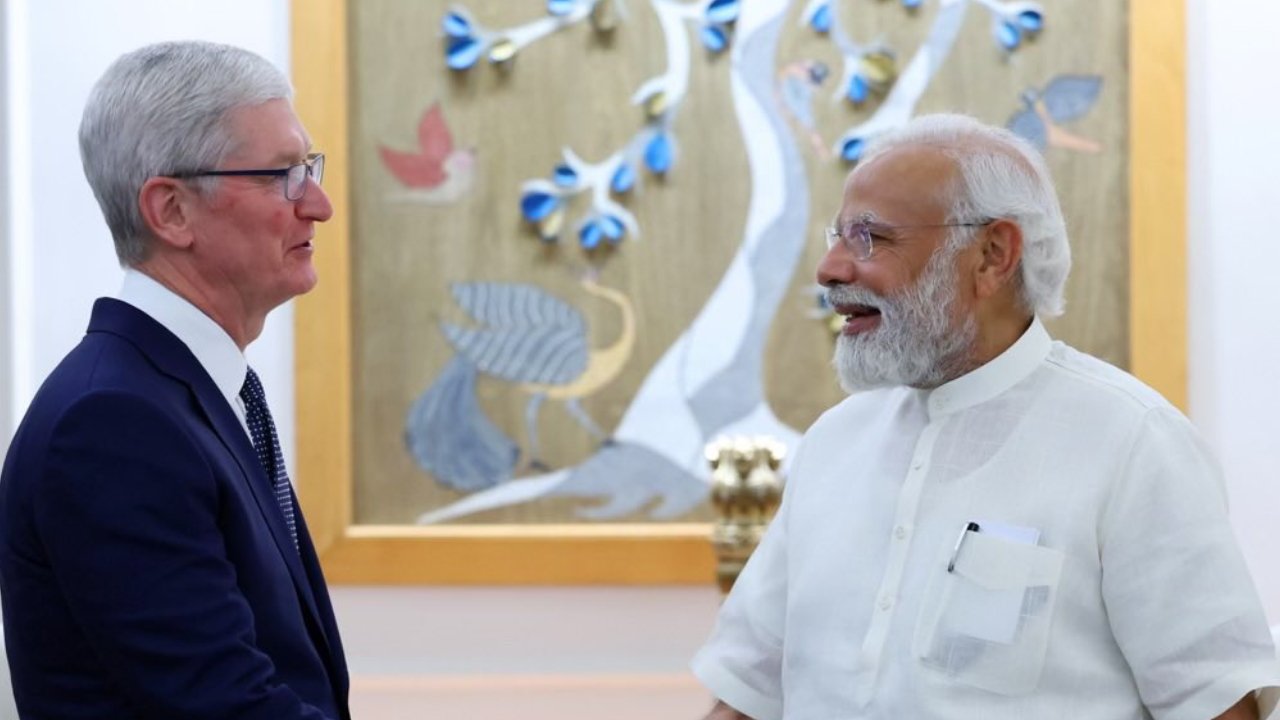 Apple CEO Tim Cook has spent the day between Indian store openings by visiting with developers, artists, and Prime Minister Narendra Modi.
Cook and Prime Minister Modi have met many times before, but as expected, this visit comes as Apple opens its first two Apple Stores in India.
Apple does not release the details of Tim Cook's schedule in advance, but the man himself has been regularly posting updates online. Every two to three hours, he tweets from some new part of India, where he has been since racing from California's Coachella Festival to Mumbai on Monday.
Following Monday's meeting with Indian celebrities, Cook then attended the opening of Apple BKC where he was greeted by crowds. After that, he played badminton with local champions.
Great meeting Coach Gopichand and badminton champions Saina Nehwal, Srikanth Kidambi, Chirag Shetty, and Parupalli Kashyap, who have played a part in putting badminton on the map for India. We served, smashed, and talked about how Apple Watch helps them train! pic.twitter.com/C9dghWK6XO

— Tim Cook (@tim_cook) April 18, 2023
Cook next went to visit the developers behind Kiddopia, a learning app for children aged 2-7.
I really enjoyed seeing the many ways that Kiddopia is helping preschoolers learn! And Sandeep Ranade from Naadsadhana gave such a moving performance of the song Mile Sur Mera Tumhara. The vibrant developer community here in India is making such an impact on the world! pic.twitter.com/ja7wDrN92t

— Tim Cook (@tim_cook) April 18, 2023
It's not clear how soon Cook or his staff post after each visit. But it appears that it was early on Wednesday morning, local time, when Cook visited a school that Apple supports.
I met the most incredible group of students and teachers at an Akanksha Foundation school, where children that might not have otherwise had the opportunity are given the chance to reach for their dreams. These students embody perseverance and hope! We're proud to support them. pic.twitter.com/jFBWLGdqtP

— Tim Cook (@tim_cook) April 19, 2023
Following that, Tim Cook visited Mumbai-based singer/songwriter Mali, who later described him as "a gem of a human being."
Thank you to the enormously talented @Malimanojmusic for showing me all the ways you're using Apple products to create music— from songwriting with iPhone to developing unique beats on MacBook Pro. I loved the sneak peek of your new song in Spatial Audio! pic.twitter.com/AOpYLeTFv6

— Tim Cook (@tim_cook) April 19, 2023
From there, he visited the Indian School of Design & Innovation, which is situated around two miles away from Mumbai's new Apple BKC.
The Indian School of Design & Innovation is helping the next generation of creatives unlock their full potential. Thanks for sharing how you create those amazing designs using iPad! pic.twitter.com/3QSNIqzOQX

— Tim Cook (@tim_cook) April 19, 2023
A couple of hours later, Cook was in New Delhi where he started off meeting the staff of the St+art India Foundation in the Lodhi Art District.
Delhi's Lodhi Art District is a remarkable public space. Congratulations to the St+art India Foundation and so many amazing artists for capturing Indian life so powerfully. And thank you to Dattaraj Naik for showing me how you design your murals on iPad. pic.twitter.com/5JuzlHRvPC

— Tim Cook (@tim_cook) April 19, 2023
Then it was on to the National Crafts Museum in central Delhi, around seven miles from where the new Apple Saket will open on April 20, 2023.
I could've spent the whole day at the National Crafts Museum & Hastkala Academy. From ancient and vibrant textiles to impossibly intricate wood carvings, it displayed India's deep— and deeply beautiful— culture of craft. Thanks Sarah Sham and Ruchika Sachdeva for showing me pic.twitter.com/CzQy0dOi8y

— Tim Cook (@tim_cook) April 19, 2023
At time of writing, Cook's travels have culminated in a formal visit with Prime Minister Narendra Modi.
Thank you Prime Minister @narendramodi for the warm welcome. We share your vision of the positive impact technology can make on India's future — from education and developers to manufacturing and the environment, we're committed to growing and investing across the country. pic.twitter.com/xRSjc7u5Ip

— Tim Cook (@tim_cook) April 19, 2023
It's not known when Cook is due to return to the US, but he is of course expected to be at the opening of Apple Saket.