Apple's Mac mini has outlasted Intel's NUC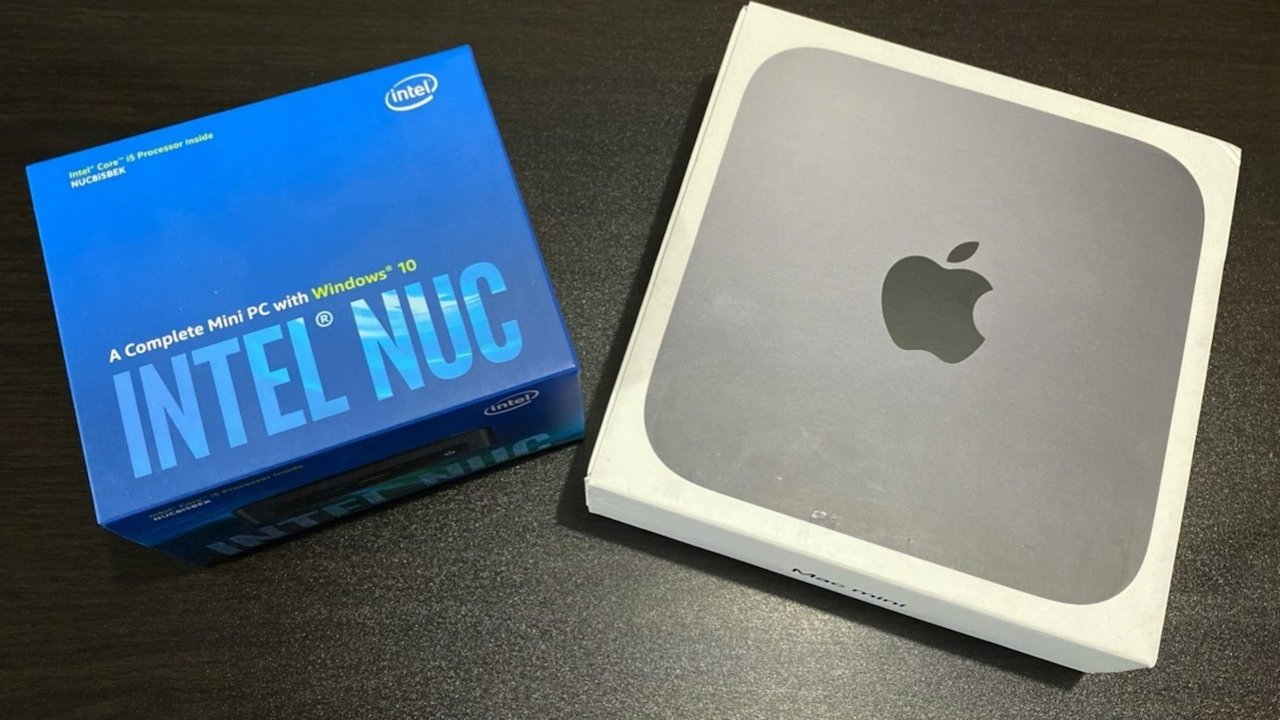 Despite stiff competition, Apple silicon has made it possible for Apple's Mac mini to outlast Intel's tiny computer initiative.
Intel has been making tiny PCs for a long time now, going on more than a decade, and calling the series NUC along the way. These devices were designed to bring a small form factor to the desktop, while keeping energy draw down, but keeping things zipping along for the end user despite its form factor.
Intel's goals kicked off in 2012, and, since then, the NUC has been a stable, if not super popular, option for folks who need to save space on their desk. It has spawned a variety of different competitive options from the likes of Dell and HP, and even the Mac mini and the new M2 Mac Studio.
But it turns out Intel is ready to call it quits on the first-party NUC project, according to Serve the Home. Mark Walton, Intel's EMEA comms manager of client computing and graphics, who spoke to The Verge, says Intel is stopping "direct investment" into the NUC business.
Moving forward, Intel is going to allow "ecosystem partners" to build upon the NUC initiative:
"We have decided to stop direct investment in the Next Unit of Compute (NUC) Business and pivot our strategy to enable our ecosystem partners to continue NUC innovation and growth. This decision will not impact the remainder of Intel's Client Computing Group (CCG) or Network and Edge Computing (NEX) businesses. Furthermore, we are working with our partners and customers to ensure a smooth transition and fulfillment of all our current commitments - including ongoing support for NUC products currently in market."
NUC and Apple
The first NUC was spawned from the Ultrabook initiative back in the day to combat Apple's new MacBook Air, which launched in 2008. As Apple continued to upgrade its lightweight laptop, the first Ultrabooks launched in 2011.
In that same year, Intel provided its key partners part of a $300 million fund to try and take on Apple in a more direct way.
This fund was meant to help these companies build new, powerful, but still portable devices using low-voltage chips that could still pack a punch for every day usage. Intel wanted its partners to build lightweight devices that weren't painful to use on the experience side of things, but also dropped older features like DVD drives and HDDs.
On Apple's side, the company introduced its first small computer, the Mac mini, in 2005 as the Mac mini G4 running on the PowerPC platform. Apple would transition to using Intel in 2006, and eventually make the leap to Apple Silicon in 2020.
Intel's NUC has seen plenty of positive moments in history, including a time period when it was doing laps around the 2018 Mac mini. And in 2020 a Windows 10-based NUC could give the Mac mini of that year a run for its money, as long as you don't mind using Windows.
And some NUC options have even spurred dreams of a "Mac mini Pro" back in the day. Of course, now we have the M2 Mac Studio, which is bigger than a device that can fit in the palm of your hand, but the roots are there.
The NUC series started off humble enough, but eventually led into bigger and better things, even wrangling in the gaming market as well. Some "Extreme" NUCs could handle full-size graphics cards, and hosted a variety of different input options.
While Intel is moving away from NUC, Apple is not quite following in those same footsteps. The company's transition to Apple silicon means it has all the power packed inside its new chips, while maintaining the ability to keep its devices relatively light and thin.
Which means Intel still needs to chase Apple in this regard, focusing on even faster, more powerful chips that still run hot — not necessarily great for NUC hardware. On top of that, Intel has seen financial troubles like many other companies following the end to the COVID-19 pandemic PC boom.
It's certainly the end of an era for Intel. But the smaller form-factor effort for computers isn't going anywhere anytime soon, especially if Apple has anything to say about it.