Apple Podcasts rolls out new data analytics dashboard for content creators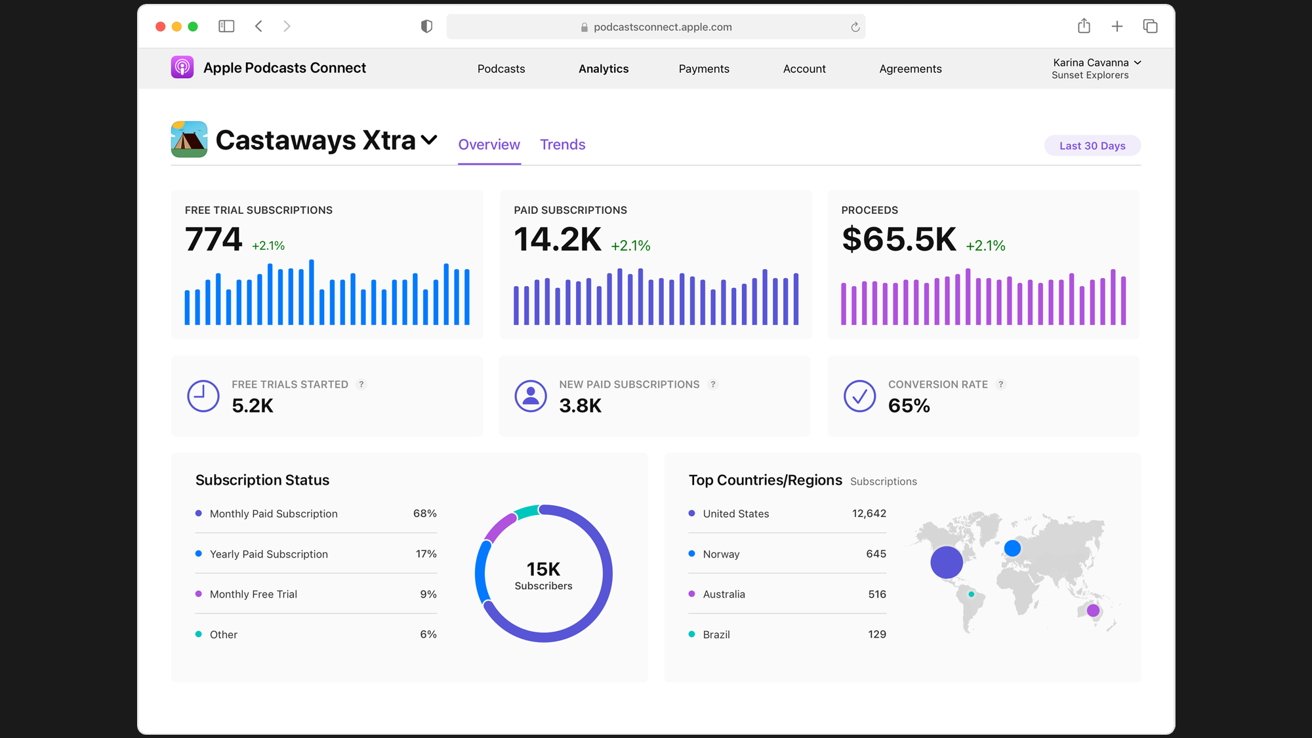 Podcast creators can now take advantage of a new subscription dashboard in Apple Podcasts Connect to view subscription rates, proceeds, and more.
On Monday, Apple launched a new subscription analytics dashboard in Apple Podcast Connect that helps creators see how listeners engage with premium subscriptions.
The new Overview tab allows creators to view active free trials, paid subscriptions, trial-to-subscription conversion rates, and estimated proceeds.
Creators can also view subscriptions by country or region. They can also view what percentage of users subscribe monthly versus annually.
The Trends tab offers visualization tools that help creators track the performance of subscriptions over time. This tab lets creators see visual breakdowns of subscription events, like activations, cancellations, renewals, and how long listeners have subscribed.
The analytics dashboard is available worldwide starting Monday, August 21, for all creators with at least one paid active subscriber. Users must hold an Admin, Finance, or Legal role in Apple Podcasts Connect.
Apple has also announced a new partnership with Linkfire, a marketing platform, to help creators market their podcasts.
Linkfire enables creators to generate unlimited smart links to landing pages. The landing pages can help connect listeners to shows and social media profiles, newsletters, merch stores, and live events. A Linkfire insight dashboard gives creators the ability to track performance of these links.
Integration with Linkfire will begin rolling out this fall. Basic features will be available for free, and additional features can be unlocked starting at $9.99 per month.
Additionally, Apple Podcast announced that it is expanding its Delegated Delivery feature to work with more hosting provider dashboards. By the end of 2023, Audiomeans, Captivate, Podbean, Podspace, and Transistor will support Delegated Delivery.