Philips Hue adds security cameras and announces Matter support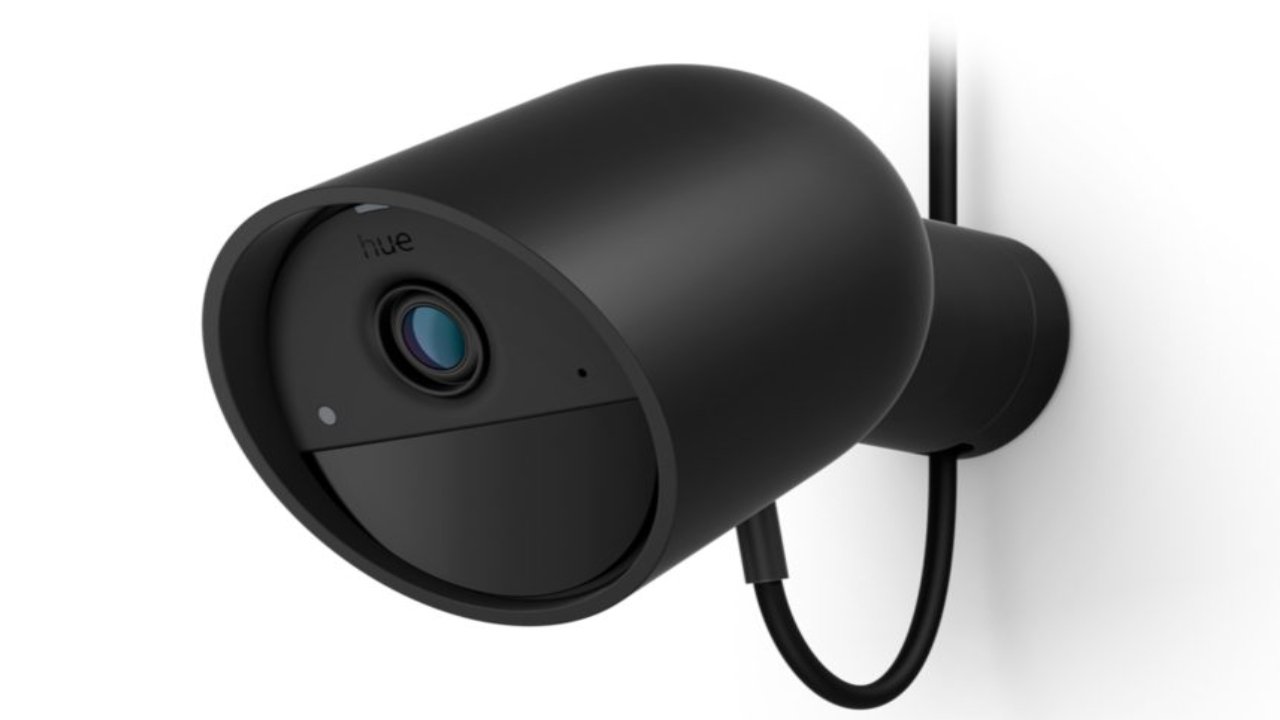 Long-standing smart home brand Philips Hue is expanding its well-known range of lighting, and also expanding into new areas with Matter and security cameras — but not HomeKit Secure Video.
Philips Hue parent company Signify has previously committed to supporting the new Matter standard, and also failed to meet its self-imposed deadline for introducing it. Now, however, the firm has announced full Matter support for September.
"So it's finally here, September, we are launching Matter for Philips Hue on the bridge," said Philips Hue business leader Jasper Vervoort in a video interview, "which means every product that you bought in the past will be Matter compatible from September onwards, meaning all integration and interoperability that Matter promises we will be able to deliver on."
September is also when the company will start shipping Philips Hue Secure. It's a package with smart cameras, contact sensors and a new app.
The cameras are 1080p HD with night vision, with end-to-end encryption for live streaming, or video clips. Signify says that people or pet recognition is done in-camera, rather than the cloud.
Philips Hue Secure cameras are to be available in either a wired or a battery-powered edition, and in either black or white. The cameras are said to be intended for either indoor or outdoor use.
However, a floodlight option on one model is meant to brightly illuminate an outside space.
The wired Philips Hue Secure costs $199.99, or $229.99 with a desktop stand. The battery-powered one is $249.99.
Then the Philips Hue Secure floodlight camera, only in black, will launch in Q1 2024 for $349.99
No HomeKit Secure Video support
Philips is not supporting Apple's HomeKit Secure Video service. Instead, buyers must subscribe to a Signify service, starting with the Philips Hue Secure Basic plan for $3.99 per camera, per month.
That offers 30 days of video history, and there is a Philips Hue Secure Plus edition that allows uses to access up to the last 60 days of video, for an amount the company has not yet specified.
Other new Hue products
Philips Hue's announcements came at the IFA 2023 conference, where it also unveiled more familiar lighting products.
One is a new generation of its holiday-themed Festavia string lights, which will be released in September 2023. Philips does not specify what updates have been made, but the Festavia range will start at $119.99.
Another is the new Philips Hue MR16 smart bulb, which lets "you bring Philips Hue smart lighting to conventional spotlights anywhere in the home." The bulb comes in White ambience and White and Color ambience will start from $99.99 for a two-pack set.
Alongside these lights and cameras, Philips Hue also announced new Secure contact sensors, for use with detecting whether doors or windows are open. Available later in the fall in black or white, the contact sensors start at $39.99 for one.
"After previously having introduced innovations like Philips Hue motion sensors and the Mimic presence automation," says Vervoort, "we're now extending with a full suite of solutions for home security in day-to-day life."
"By integrating our smart lighting system with cameras, contact sensors, and app features, we offer a unique security solution through light to help users secure their homes," he continued. "And it doesn't end here, as we will continue to build and innovate to unlock the potential of lighting and security for our users."