iPhone 15 dummy models provide real life look at new, muted colors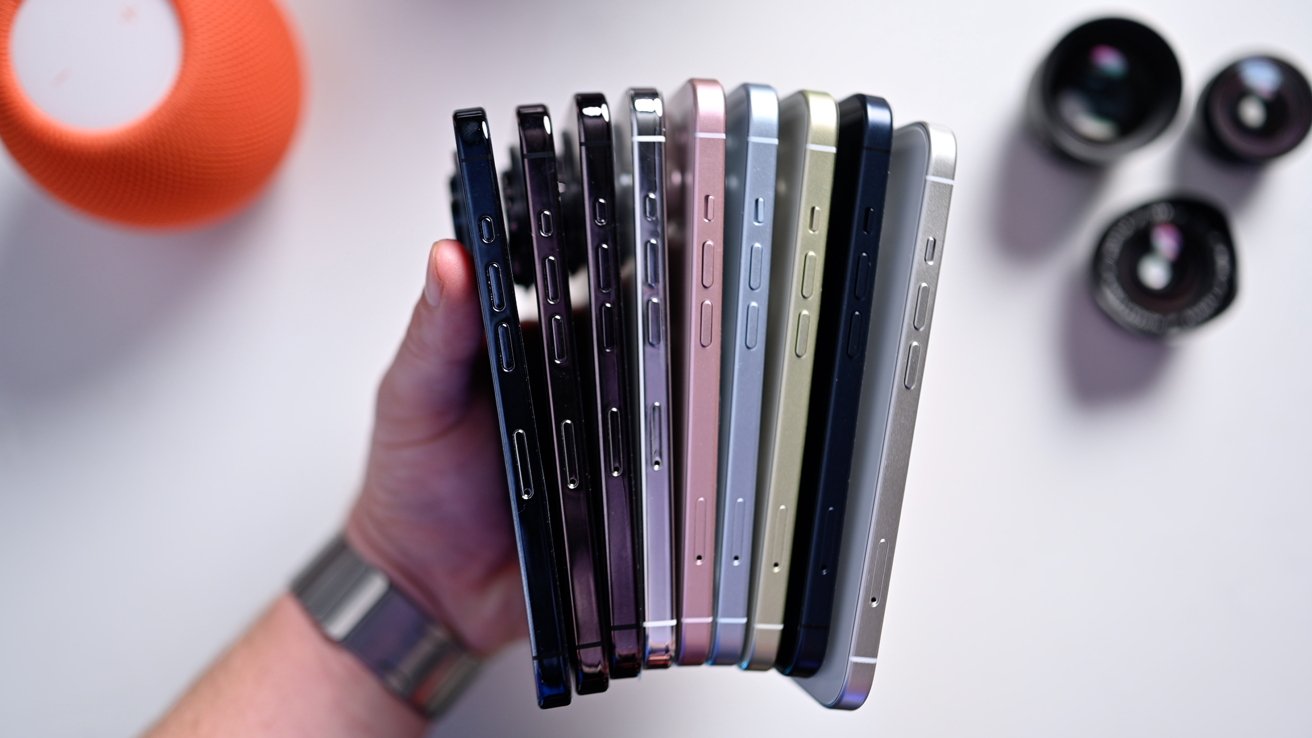 Rumors have pointed to a muted set of colors for iPhone 15 and iPhone 15 Pro, and we've got our hands on dummy units that showcase them.
We're less than a week away from seeing the iPhone 15 lineup direct from Apple, but that hasn't stopped the rumor cycle. After a new set of color rumors landed at the end of August, AppleInsider got ahold of dummy models that show off those colors better than any render could.
iPhone 15 colors
Five purported colors are coming to the iPhone 15 and iPhone 15 Plus: white, black, blue, yellow, and pink/red. The new colors are very pastel, like the rumors and circulated renders suggested.
The black and white color options don't differ from previous generations, with a glossy monotone back panel and matte sides. The white has pure silver sides, and the black looks completely black versus dark gray.
The blue, yellow, and pink options stand out on the iPhone 15 units versus the dull-by-comparison pro models. All the new hues are toned down from previous color offerings, a decision that will surely be divisive among users.
Apple currently sells a yellow iPhone 14, and the new yellow is even more faded than that. The pink color is a far cry from the vibrant versions released in the past.
The dummy units showcase rumored features too, including the USB-C port, slightly tweaked design, and even the Dynamic Island on the front of the phones.
These dummy units have SIM card trays, though those likely won't be present on the US models. Apple has retained them on certain international models but has moved to eSIM otherwise.
iPhone 15 Pro colors
The iPhone 15 Pro dummy models show the four colors that have been recently rumored: silver, Space Black, Carbide Gray, and blue.
All of the gray-ish titanium colors don't show much variation. Apple's real models will likely have more distinct differences for customers to choose from.
Blue is the stand-out option here, and Apple will likely tout some fancy marketing name for this shade. The dummy appears to be a darker version of the Pacific Blue used with iPhone 13 Pro.
The pro dummy models also showcase many of the rumored features, including the updated design, the Action Button instead of a mute toggle, and the Type-C Thunderbolt port.
Coming soon to Wonderlust
The iPhone 15 lineup is expected to be announced alongside an Apple Watch Series 9 and a minor update to the Apple Watch Ultra. There are only a few days left before we discover which rumors are true or not.