Mac mini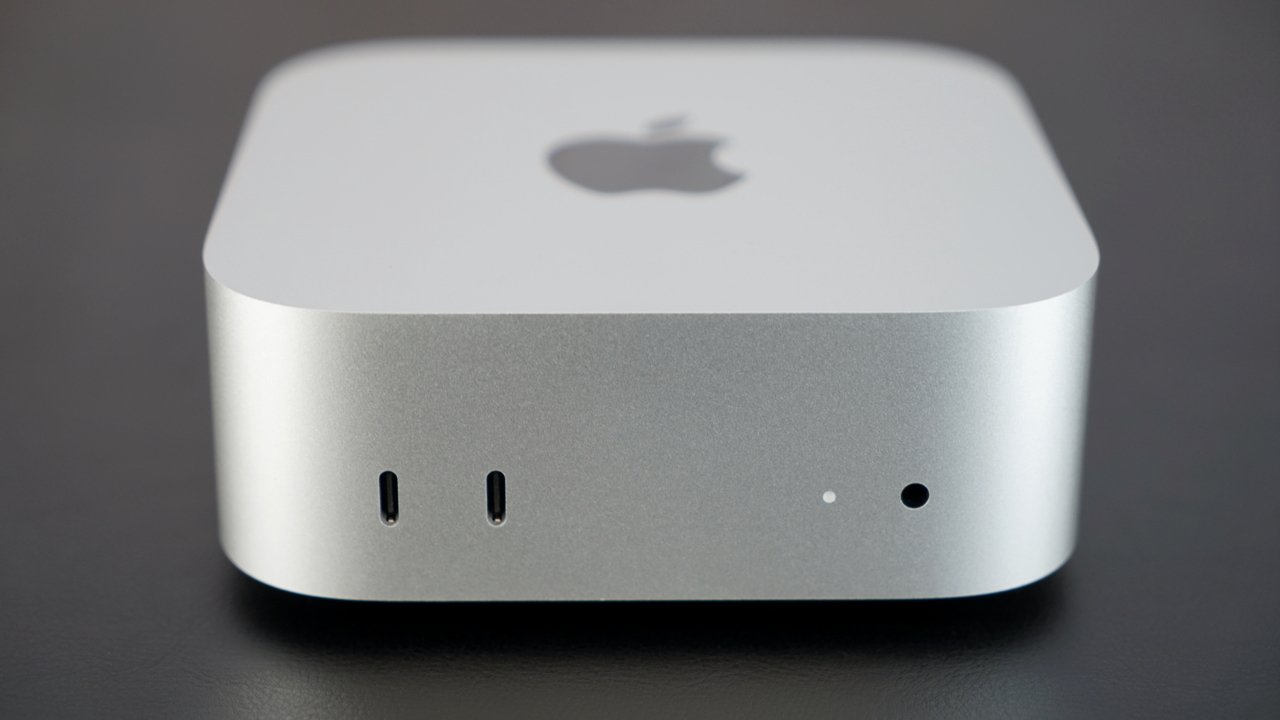 Apple's beloved Mac mini got a minor refresh in 2020, doubling the base storage configurations, but not changing much else. This budget Mac is still the perfect option for those who want a desktop running macOS but don't want to spend for the bigger options.
● Small form factor
● Excellent introduction to Mac ecosystem
● 100% recycled aluminum enclosure
● Four Thunderbolt 3 ports, two USB-A ports, and HDMI
● Highly configurable to meet needs
● User upgradeable RAM
● Pricing starts at $799
---
Apple's compact desktop, the Mac mini, was originally released in January 2005, with significant updates in 2006, 2009, 2010, 2012, and 2018.
The latest update comes in March 2020 and offers the same specs with double the storage at the same price points.
AppleInsider reviewed the 2018 Mac mini and gave it 4.5 out of 5, citing it as a great introduction to the Mac ecosystem, but wished there was a less-expensive price point below even the lower-end model.
Mac mini Pricing
The Mac mini starts at $799 for a quad-core model with 8GB RAM and a 256GB SSD, making it Apple's least expensive Mac. However, custom configurations range all the way up to $2,999.00.
Mac mini features
This headless Mac serves as an alternative to the all-in-one iMac and iMac Pro. It's always been a bare-bones unit, and this new model still only comes with the computer itself plus a color-coordinated black power cord. The keyboard, mouse, and monitor will all need to be obtained separately.
Enclosure
Apple's tiny desktop is made out of 100 percent recycled aluminum. The change was made to facilitate Apple's newest environmental goal— working toward creating a fully closed-loop manufacturing process.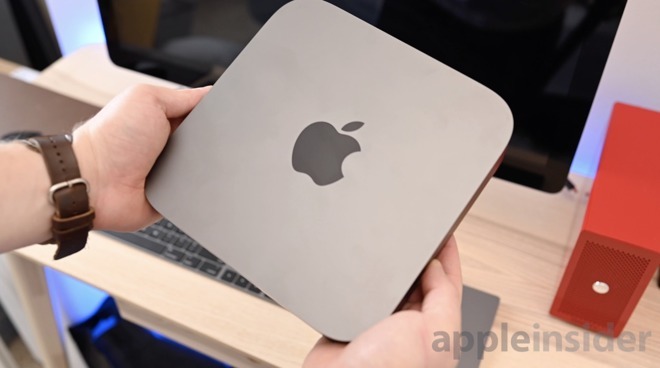 The process uses fine shavings of recaptured aluminum that are partly acquired from excess material from the production of other Apple devices. This process reduces the carbon footprint for the alloy's creation by 50 percent compared to the previous process.
The enclosure is space gray, as opposed to earlier generations using silver. This is likely to indicate the niche use case of this Mac, since general consumers may go for a MacBook or iMac instead.
Ports and connections
Four Thunderbolt 3 ports give users the ability to connect displays, keyboards, hard drives, docks, and more. Two USB-A ports are also included, which are essential for those who still use a wireless mouse or keyboard that utilizes a wireless dongle. There's also a HDMI 2.0 port to connect to a monitor, and one 3.5mm audio jack for connecting to headphones or speakers.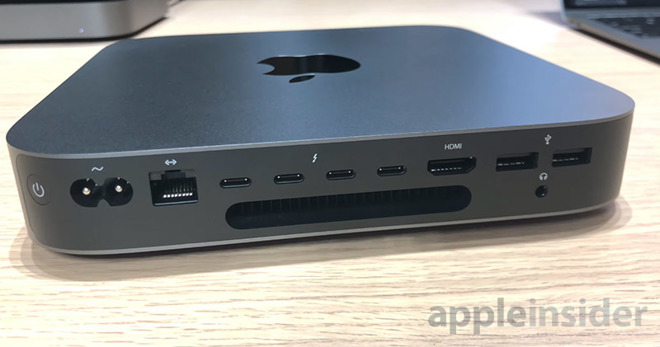 It is capable of supporting up to three displays at once if a user chooses to utilize two Thunderbolt 3 ports and the HDMI port at the same time.
The Mac mini has 802.11ac Wi-Fi and is IEE 802.11a/b/g/n compatible, but also includes a 10/100/1000BASE-T Gigabit Ethernet port. It can be configured at the time of purchase with a 10Gb Ethernet connector for $100 more.
Additionally, it features Bluetooth 5, for a fast, stable connection with input devices, speakers, headphones, and more.
Configuration and upgradability
The Mac mini comes in two base configurations, but both can be configured for more power. The base lower-end model features a 3.6GHz quad-core Intel Core i3 processor, 8 gigabytes of 2666MHz DD4 RAM, and 256GB of storage. This base configuration starts at $799.
At the time of purchase, the lower end model can be upgraded to a 3.2GHz 6‑core 8th‑generation Intel Core i7 processor that features a Turbo Boost up to 4.6GHz, a maximum of 64 gigabytes of RAM, and 2TB of storage. Users are also given the option to upgrade to an Ethernet connector that can support 10-gigabit Ethernet connections.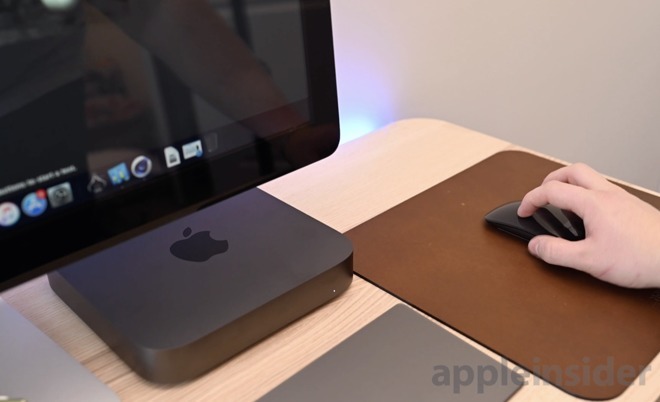 The higher-end model boasts 3.0GHz 6-core Intel Core i5 with Turbo Boost up to 4.1GHz, 8 gigabytes of 2666MHz RAM, and 512GB of storage at base configuration.
Fully maxed out, the higher end Mac mini features a 3.2GHz 6‑core 8th‑generation Intel Core i7 processor with Turbo Boost up to 4.6GHz, 64 gigabytes of RAM, and 2TB of storage. Like the lower-end model, users can upgrade their Ethernet connection to support 10 gigabit Ethernet.
Both models feature Intel UHD Graphics 630 and cannot be upgraded to anything else internally. However, since this Mac doesn't have a default display, it is an obvious candidate for a Thunderbolt 3 external GPU.
Unlike many Apple products, the Mac mini has slotted, not soldered, RAM. If a user wanted to upgrade their RAM at a later date, they could open the bottom and install the chips as needed. This offers a much cheaper upgrade path for users who want more RAM but don't want to spend the Apple dollars.
Performance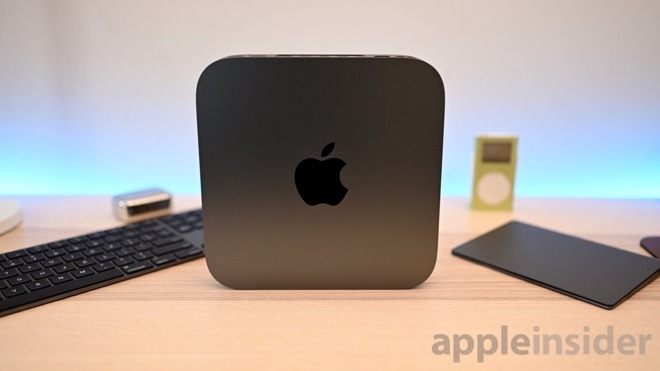 AppleInsider ran the $799 base model through our benchmark tests to see just what it was bringing to the table.
In our Geekbench 4 tests, the Mac mini averaged 4,769 and 14,202 on the single and multi-core tests. That compares well to the late 2012 model with an i7 processor —the previous multi-core champ —running at 2.3GHz which pulled 3300 and 11480 on the single/multi-core tests.
This also compares very well to the 2014 dual-core 3GHz Core i7 which was the previous single-core champ with 3705 and 7062 single and multi-core performance respectively. Both of these tests put the new low-end model ahead of all previous models in the family.
For CineBench R15, we averaged around 40 fps on the OpenGL test and a tick above 220 on the CPU test.
Mac mini pricing
The Mac mini starts at $799 with 256GB storage and 8GB of RAM, and can be configured up to $2,999 with 2TB storage and 64GB RAM. Check out AppleInsider's Price Guide for deals.
Common Mac mini Questions
Is Mac mini good for video editing?
The Mac mini doesn't have a dedicated graphics card and isn't the best choice for heavy video-editing.
Is Mac mini good for gaming?
The Mac mini handles non-resource-intensive and mobile-style games, but it isn't made for hardcore gaming. While you could invest in an external GPU and run Windows through Bootcamp, in most cases, that would make less sense than buying a dedicated Windows gaming PC.
Is Mac mini upgradeable?
You can only configure the Mac mini at the time of purchase. It does not have user-installable RAM.
How much does the Mac mini cost?
As Apple's least-expensive macOS machine, Mac mini pricing starts at $799. However, custom configurations range all the way up to $2,999.00.