» » »
Compared: Apple Studio Display vs Dell UltraSharp 32 4K Video Conferencing Monitor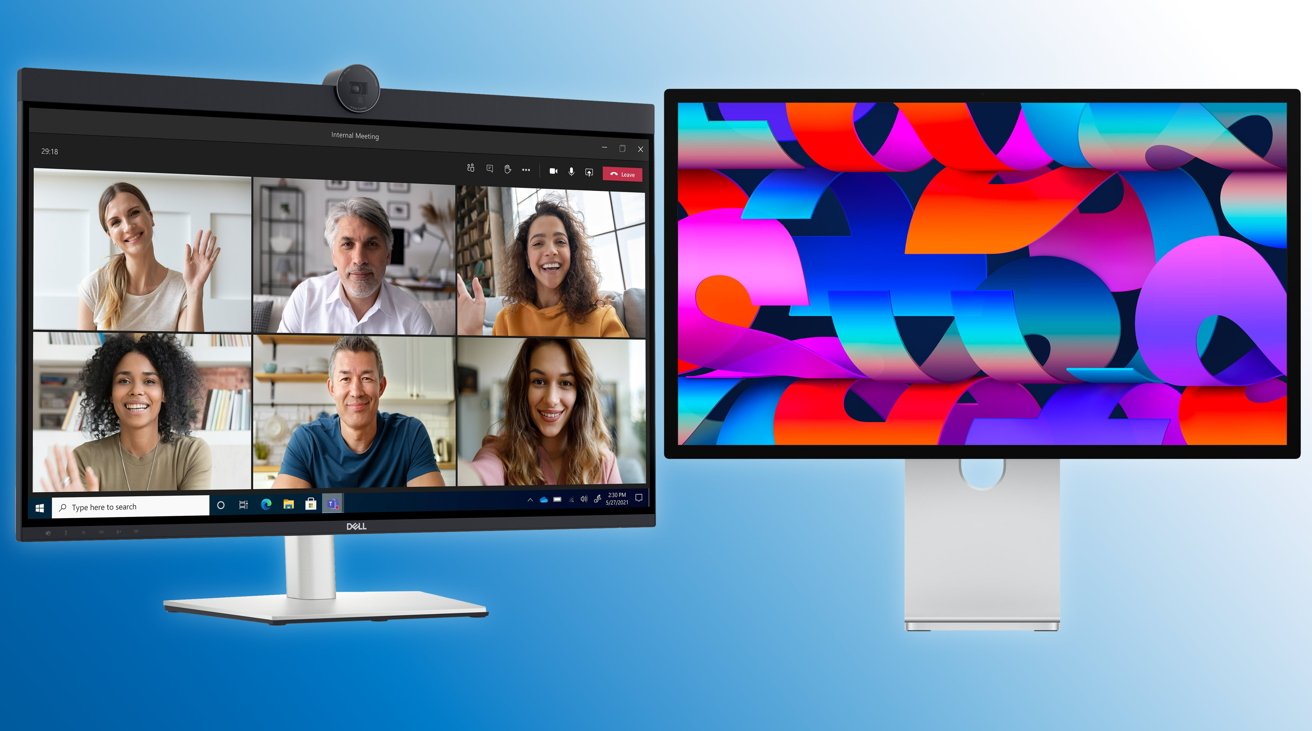 Dell's UltraSharp 32 4K Video Conferencing Monitor costs as much as Apple's Studio Display, but while it doesn't have the 5K resolution of its Apple rival, it makes up the shortfall with webcam benefits and other features.
The Apple Studio Display is a cheaper monitor than the Pro Display XDR, but by no means can you call it budget-friendly. It is still a premium display with a hefty price tag and has many rivals in the price bracket to fend off.
One such example is the Dell UltraSharp 32 4K Video Conferencing Monitor, a large screen with a high-quality webcam aimed at remote working scenarios. It's also a productivity-focused accessory with its extended feature set, some of which aren't usually offered in typical monitor designs.
With the UltraSharp 32, model U3223QZ, Dell has taken on Apple's display in the premium end of the market, fighting branding and aesthetics with features.
It seems that, aside from the price, there's a lot of difference between the two screens.
Specifications
Specifications
Apple
Studio Display
Dell
UltraSharp 32 4K
Video Conferencing Monitor
Size (inches)
27
31.5
Resolution (pixels)
5120 by 2880
3840 by 2160
Color range
P3
100% Rec 709,
100% sRGB
98% DCI-P3
Backlighting
LED
LED
HDR
None
HDR 400
Peak brightness
600 nits
400 nits
Contrast Ratio
1,200:1
2,000:1
Refesh Rate
60Hz
60Hz
True Tone
Yes
No
Webcam
12MP ultra-wide,
Center Stage
4K Sony Starvis CMOS Sensor
AI auto framing,
5x digital zoom,
3D/2D Noise Reduction,
Windows Hello,
Dell ExpressSign-In support
Ports
1xThunderbolt 3
3xUSB-C
1xHDMI
1xDisplayPort 1.4
1xDisplayPort output (MST)
1xUSB-C 3.2 Gen 2 Downstream
1xUSB-C 3.2 Gen 2 Upstream
1xUSB-C 3.2 Gen 2/DisplayPort 1.4 Upstream
4xUSB 3.2 Gen 2
Ethernet
Headphone Jack
Audio
6-speaker system
Stereo 14W speakers
Microphone
Yes, array of three
Dual echo-cancelling mics
Nano-texture
Yes, Optional
No
Stand options
tilt, tilt + height, VESA
Height-swivel-tilt,
VESA interface
Other Features
"Hey Siri" support (Mac),
96W host charging
Daisy-chain to second display with DSC and MST,
Auto KVM,
Picture-in-Picture,
Picture-by-Picture,
90W USB-C downstream power
15W USB 3.2 power
Price
$1,599
$1,599.99
Dell UltraSharp 32 4K Video Conferencing Monitor vs Apple Studio Display: Design and Dimensions
Unlike most other screen designs, Apple's Studio Display went for a striking aesthetic, consisting of a rectangular display with a flat back and defined edges. It's minimalist in appearance, mounted on an L-shaped bracket.
Dell's display is closer in design to the rest of the market in more respects. Rather than a metal enclosure, Dell sticks to a metal chassis and plastic trim that's familiar to many other monitor users.
The big departure from usual is the sizeable circular hump on the top for the webcam and a reasonably thick section spanning the top of the display. In this case, the Dell display has a thicker "forehead" than a "chin," though the side bezels are skinny.
Rather than staying consistently thin and using a flat back, the rear of the display is curved to keep the ends looking thin and provides enough internal storage space for its components.
It's also attached to a stand with a flat base and a pole, enabling the monitor to be tilted, swiveled, and height-adjusted.
For physical dimensions, Apple says its Studio Display measures 18.8 inches tall, 24.5 inches wide, and 6.6 inches deep with its default tilt-adjustable stand. Upgrading to the tilt- and height-adjustable version gives it a minimum height of 18.8 inches, a maximum of 23 inches, and an increased depth of 8.1 inches from the larger stand.
Dell's monitor is wider at 28.1 inches, with minimum and maximum heights of 19.6 inches and 25.5 inches and a depth of 9.1 inches.
Apple has the lighter monitor of the two at 13.9 pounds with the default stand, and 16.9 pounds with the height-adjustable version. The Dell weighs in at 26.2 pounds, which is considerably heavier.
Dell's display takes up a lot more space on your desk, with the stand needing an increased footprint, even if you upgraded the Studio Display's stand to the chunkier version. That said, you could easily account for the difference by considering Dell's use of a larger screen.
Dell UltraSharp 32 4K Video Conferencing Monitor vs Apple Studio Display: The Screen
Of the two, Dell has the largest panel in use, with the UltraSharp 32 using a 31.5-inch display. Apple's screen is more modest at 27 inches.
As Dell's name states, it has a 4K resolution, with its 60Hz 3,840 by 2,160 resolution, giving it an overall pixel density of 140ppi. Apple's 60Hz 5,120 by 2,880 Retina display combined with the smaller screen gives it a considerably higher pixel density of 218ppi.
Apple also has a higher brightness at 600 nits to 400 nits. However, while Apple doesn't offer any HDR modes at all, the Dell does include HDR 400 support.
Dell also offers the higher contrast of the two at 2,000:1 versus 1,200:1. Since both use LED backlighting instead of mini LED or localized dimming, there's not as much of a difference in contrast as you would see between LED and OLED, but there's still a variation.
Apple does include several reference modes for users to use, including PAL and SECAM Video NTSC Video, HDTV Video, Digital Cinema, and other P3 or sRGB modes. Its Wide Color (P3) support with 1 billion colors and even True Tone technology is all admirable in a display.
In response, Dell says it has 100% coverage of the Rec 709 color gamut, 100% of sRGB, and 98% of DCI-P3.
Apple also offers an option for Nano-texture glass, which can help create a very matte appearance on the screen rather than a more reflective one. Dell's screen has an "Anti-glare 3H Hardness," but none of the matte effect promises.
Dell UltraSharp 32 4K Video Conferencing Monitor vs Apple Studio Display: Webcams and Audio
The main draw of Dell's UltraSharp 32 is its titular video conferencing capabilities. Very noticeable by the circular dome at the top of the display is its high-quality webcam.
That camera consists of a 4K Sony Starvis CMOS sensor, complete with a multi-element lens. Capable of a 90-degree field of view, it has a 5x digital zoom, a minimum focal distance of 25cm, and an active array size of 8 megapixels.
On video it can capture, the Dell display can manage 4K UHD at up to 30fps and 1080p at up to 60fps.
This sounds impressive, but the Apple Studio includes a 12-megapixel Ultra Wide camera with an f/2.4 aperture and a 122-degree field of view.
As for what you can do with the webcam, Apple's version has the main feature of Center Stage, where it can change the framing of the shot to keep the subject visible. Even if they move around the room or are joined by a second person, the camera will do its best to keep everyone adequately framed for the video call.
The UltraSharp 32 includes its own AI auto framing feature, complete with automatic focusing. A Digital Overlap HDR feature can help handle harsh environmental lighting, while 3D/2D Video Noise Reduction helps to cut motion blur.
For privacy, SafeShutter is a system where the camera shutter automatically opens and closes by syncing to video conferencing applications. There's also Windows Hello support for automatic sign-ins on Windows PCs and Dell ExpressSign-In.
On sound output, there are stereo 14-watt speakers on the Dell and a headphone-microphone combo jack. Apple uses four force-canceling woofers and a pair of high-performance tweeters, enabling support for Spatial Audio when playing music or video that uses Dolby Atmos.
For getting audio in, Dell employs dual-array microphones. Apple uses a three-mic array with a high signal-to-noise ratio, directional beamforming, and "Hey Siri" support.
Dell UltraSharp 32 4K Video Conferencing Monitor vs Apple Studio Display: Connectivity
A huge plus to Dell's display is that it offers many ways to connect the screen to your Mac and other hardware.
The Apple Studio Display includes just four ports on the back, with the sole Thunderbolt connection used as the upstream connection to your Mac. The other three are USB-C ports intended for peripherals and other devices.
The lengthy connections list for the Dell starts with an HDMI port, followed by a DisplayPort 1.4 input and a DisplayPort output.
One of the quirks of the Dell UltraSharp 24 is that you can daisy-chain two monitors by connecting the second to the DisplayPort output. This can be great for cable management in offices and some users at home.
However, since it relies on Multi Stream Transport Support for the second display, which macOS doesn't support, that feature isn't going to be useful for Mac users unless they also have a PC.
There are also two USB-C 3.2 Gen 2 upstream connections, with one able to handle DisplayPort 1.4 in its Alt Mode and a pair of USB 3.2 Gen 2 downstream connections. Then there are five Super Speed USB 3.2 Gen 2 ports, a headphone jack, and an Ethernet port.
The large number of video inputs also feeds into an extra feature of the Dell, in that it can gracefully handle multiple inputs. There is Picture-in-Picture and Picture-By-Picture support and an automatic KVM so you can switch which host the connected peripherals can control depending on what's on screen.
Both monitors also can power devices, although with quite a bit of variation. The Studio Display's Thunderbolt connection provides up to 96W to the host, enough to charge a MacBook Pro.
The Dell can provide up to 90W of power to a host via the USB-C port with the DisplayPort Alt Mode, and another USB 3.2 has Battery Charging 1.2 support and can go up to 15W.
Dell UltraSharp 32 4K Video Conferencing Monitor vs Apple Studio Display: Pricing
The Apple Studio Display starts from $1,599 with the standard glass and tilt-adjustable stand. Adding nano-texture glass costs an extra $300, making it $1,899.
Going for the VESA mount instead of the stand keeps the price the same, whereas the tilt- and height-adjustable stand adds $400. That makes it $1,999 for the standard glass version with that stand, or at most, $2,299 for nano-texture.
AppleCare+ for the Studio Display is $149, which extends the standard one-year limited warranty and 90 days of complimentary support to provide up to two incidents of accident protection every 12 months for three years and priority support.
Dell sells its UltraSharp 32 4K Video Conferencing Monitor for $1,599.99.
Dell's basic warranty and support are for three years, extended to four years for $59, or five years for $89. Premium Support, which includes next-business-day Advanced Exchange if a problem cannot be diagnosed over the phone, costs $49 for three years, $79 for four, and $109 for five.
Bigger but not really better
Dell's UltraSharp 32 4K Video Conferencing Monitor is arguably a boon for corporate customers. With its massive amounts of connectivity options and a nice big screen, and the promise of great video for remote workers, it's a decent monitor in its own right.
Things do break down quite a bit when you look at the Apple Studio Display.
Sure, the Studio Display's 27 inches instead of 31.5, but it's still a nice big screen that most users will enjoy using. It's also a 5K resolution against 4K for the Dell, so it's an amazingly well-detailed screen combined with the size.
Dell's naming of it as a Video Conferencing Monitor is OK, but it offers relatively few feature differences more than Apple's very compact webcam, which manages an even wider field of view.
The Dell excels in connectivity, handling multiple hosts and peripheral options which makes it ideal for those with more than one computer at their disposal. Elements like the display daisy-chaining aren't usable by Macs, though all it really helped was reduce the amount of cable stretched behind a desk.
The Dell UltraSharp 32 4K Video Conferencing Monitor is a good choice of display. But, at the same cost as the Apple Studio Display's standard configuration, you'd expect a lot more for your money than what it offers against Apple's screen.
Where to Buy
The Dell UltraSharp 32 4K Video Conferencing Monitor is available from Dell's website for $1,599.99. Shipments to customers are expected to start in late July.