Topic: A12X
09/04/2019, 07:09 am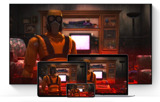 Apple TV hardware hasn't been updated for two years-- which just so happens to be the typical length of time before a new model is introduced. This year, Apple could have a special impetus to update Apple TV based on its new Apple Arcade gaming subscription and the availability of the faster, smaller A12X chip. Here's why.
03/29/2019, 05:03 pm

A key Apple engineer responsible for leading development teams working on proprietary processor core designs has left the company after nine years of service, according to a report on Friday.
11/07/2018, 02:11 pm

The A12X system-on-chip used in the new iPad Pro is extremely powerful courtesy of a few design decisions taken by Apple in its creation, a walkthrough of the new chip with Apple's Phil Schiller reveals, with one performance-enhancing example being the ability to run all eight processor cores simultaneously.