New iPhone tidbits surface as launch nears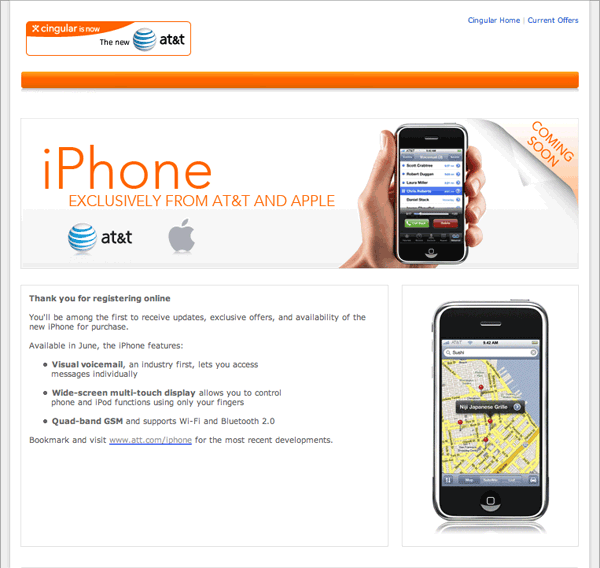 AppleInsider is supported by its audience and may earn commission as an Amazon Associate and affiliate partner on qualifying purchases. These affiliate partnerships do not influence our editorial content.
With just a matter of weeks to go before Apple's iPhone hits the open market, widespread preparations for the launch have given way to an assortment of new tidbits related to the handset's interface, launch date, and in-store displays.
AT&T mailing shows iPhone tweaks
On Friday, AT&T sent out an e-mail to those who had signed up for news on the iPhone's availability. In doing so, it also confirmed interface changes that had always been hinted at, but rarely mentioned.
One product shot included in the e-mail shows new buttons in the Google Maps tool included with the phone that were briefly shown during Jobs' keynote at Macworld San Francisco. Two new icons, one of a car (Directions, Traffic conditions?) and one of a knife and fork (Restaurants?), can be found in the bottom corners of the image.
This and other images also reinforced the change from Cingular to AT&T branding for the official launch and the title bar on the iPhone's screen.
iPhone's AT&T store demos leaked?
Less controllable on the carrier's part was an alleged leak which claimed that the iPhone displays in AT&T's own stores were in the works and would stand out among the crowd.
Where most cellphone displays are often slim and share resources with competing models on the show floor, the iPhone's space will purportedly stand 7 feet tall by 3 feet wide. It will also demand its own individualized power supply and network cabling — a strong suggestion that Apple, AT&T, or both are insisting that demo models are live and connected to the Internet.
AT&T iPhone Email to Potential Customers
Unsurprisingly given the rapidly approaching late June release date, stores are said to already be rewiring its shops for the displays, and should have the actual stands in place inside of a few weeks.
iPhone open house at Elk Grove
Meanwhile, Apple via its official jobs website has announced an open house on May 16th at its Elk Grove campus, in which it invites "qualified individuals" to join the iPhone team.
Telesales Representative, Telesales Team Manager, iPhone Personal Trainer and iPhone Personal Trainer Team Manager are among the available positions listed on the Apple website.
AT&T memo on limited vacation time
Finally, AT&T on Friday also issued an internal memo to its employees limiting vacation time from June 15 to July 15th, citing expectations for the iPhone launch to mark its "biggest selling period" in a few years.
"The new AT&T has a multiyear, exclusive agreement to provide U.S. service for the iPhone," read the memo. "To ensure proper staffing during the product launch period, Sales personnel planning to take approved time off are encouraged to schedule their vacations before June 15 or after July 15 to participate in the iPhone launch."