Apple prices unlocked iPhones at 749 euros in France [Updated]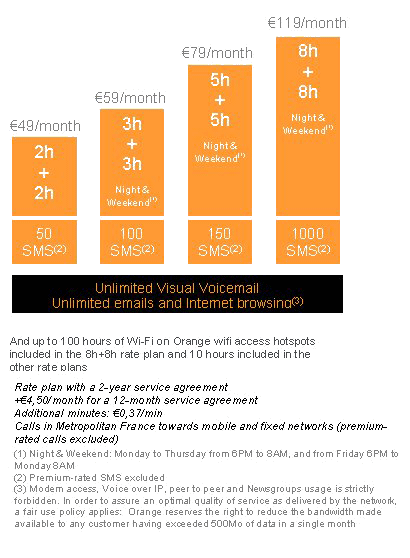 AppleInsider is supported by its audience and may earn commission as an Amazon Associate and affiliate partner on qualifying purchases. These affiliate partnerships do not influence our editorial content.
Apple and wireless partner Orange will launch iPhone in France later today, offering customers three distinct pricing options for the handset, including a fully unlocked and carrier independent version for 749 euros ($1105).
Since the announcement of its arrival in France last month, iPhone has already attracted interest from more than 63,000 fans who have registered on Orange's iPhone website, the carrier said in a statement Wednesday.
The final iPhone launch of the year will kick-off at 6:30 p.m. local time, at which time Orange will be holding late-night openings at 12 of its stores, including locations in Bordeaux, Lille, Lyons, Marseilles, Montpellier, Nancy, Nice, Nantes, Rennes, Strasbourg and Toulouse.
In Paris, Orange will also use the launch of the Apple handset to inaugurate its brand new store at 125, avenue des Champs-Elysées — France's most prestigious and broadest shopping strip.
As the exclusive carrier for iPhone in France, Orange says it has developed a range of four "Orange for iPhone" plans designed to let customers make the most of the touch-screen handset that combines three devices into one — a mobile phone, a widescreen iPod, and a Internet browser.
The entry level plan starts at 49 euros per month and includes 2 hours of normal talk time, 2 hours of late evening and weekend minutes, and 50 SMS text messages. The most expensive plan is priced at 119 euros and includes 8 hours of normal talk time, 8 hours of nights and weekends, and 1000 SMS messages.
All plans include unlimited access to email and the internet, as well as visual voicemail, which allows users to see a listing of their voicemails, decide which messages to listen to, then go directly to those messages without listening to previous messages.
Pricing for the iPhone handset itself will start at 399 euros ($589) for a version tied to the Orange network with a two-year service contract and an "Orange for iPhone" plan, or 549 euros ($810) for a model without one of the iPhone plans, but still tied to the network.
A third and final version will sell for 649 euros ($958) and not require an Orange plan or contract, though the carrier along with Apple is also charging a 100 euro ($147.5) fee, which brings the cost of a fully unlocked and carrier independent iPhone up to 749 euros (or approximately $1105).
Update: After the first six months, French law requires that unlocking be provided free to consumers. Therefore, after six months, the cost of a fully unlocked iPhone will effectively be 649 euros. Customers who purchase a locked iPhone from Orange in the first six months should also be able to walk into any Orange shop after the six month period and have their phone unlocked for free.