Apple sued for callings its mouse Mighty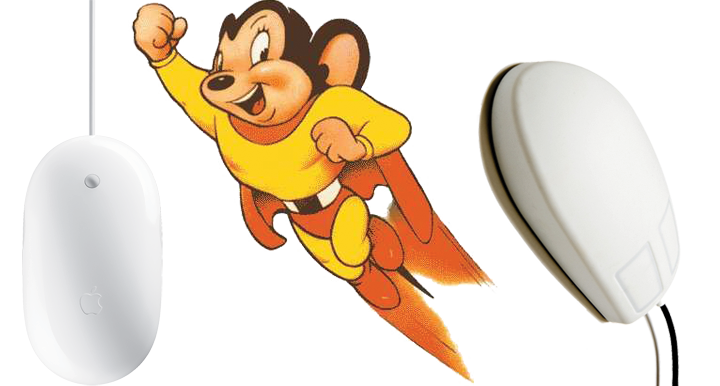 A small accessory maker is taking Apple and CBS to court because it wants the Mac maker to stop calling its standard desktop computer mouse the "Mighty Mouse."
Landover-based Man & Machine, Inc. (M&M) filed the 14-page formal complaint in a Maryland district court on Tuesday because it claims to have introduced a computer mouse under the same name in March of 2004, more than a year before Apple's device hit the market.
M&M's mouse is different from Apple's in that it is water resistant or water-proof, which has made it particularly well suited for use in hospitals, medical laboratories and industrial environments. However, the accessory maker argues that since the device is similar in appearance to Apple's version, there could be confusion in the marketplace.
The little known firm goes on to further accuse Apple of intentionally buying up search keywords on the phrase "Mighty Mouse" and proliferating the code on its webpages with the trademark in an effort divert customers looking for M&M version of the Mighty Mouse and website to its own internet properties.
"Because of Apple's size, fame, and large advertising budget, Apple's use of the Mighty Mouse trademark has and will continue to overwhelm M&M's use of its Mighty Mouse trademark and will cause M&M to lose the value of that trademark, including the goodwill and reputation resident therein, and will hinder M&M's ability to move into additional markets and/or further into those markets in which it already conducts commerce," attorneys for M&M wrote in the lawsuit.
Since Apple licenses the Mighty Mouse name from CBS, which owns trademarks associated with the Mighty Mouse cartoon character, M&M has also named the television network as defendant in its complaint
Although CBS has a pending application to extend its trademark to "Computer cursor control devices, namely, computer mouse[s]," the dates of first use claimed on the application are substantially later than when M&M first began selling its own Mighty Mouse, the accessory maker argues.
"It thus appears that Apple purports to have received from CBS Operations a license to use the Mighty Mouse trademark in connection with computer mouses," the suit says. "Any such purported trademark license is invalid due to M&M's preexisting, superior rights to use the Mighty Mouse trademark in connection with computer mouses."
M&M, whose own application for the Mighty Mouse trademark is still pending, is seeking an injunction barring Apple from further use of the mark, damages, and attorneys' fees.