iPhone 3G sales hampered by Windows Mobile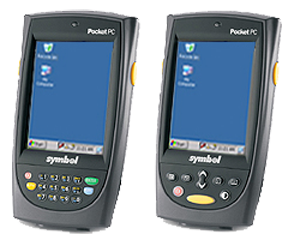 AppleInsider is supported by its audience and may earn commission as an Amazon Associate and affiliate partner on qualifying purchases. These affiliate partnerships do not influence our editorial content.
Sources within Apple's retail stores report that sales of the iPhone 3G are being slowed down by handhelds running Microsoft Windows Mobile/WinCE. That's because the stores have been selling new iPhones to customers using the old EasyPay, a problematic Pocket PC handheld computer that's causing employees lots of grief.
Apple began using the EasyPay devices in its retail stores in 2005. Ever since, management has been pushing to expand the use of the handheld systems, in part to deliver more personal service in stores commonly designed without a prominent check out area, as well as to provide flexibility in handling transactions for customers without requiring them to stand in checkout lines.
An initial report by Peter Burrows in BusinessWeek detailed Apple's optimism for the devices back in 2005, explaining, "Steve Jobs believes that many people who are comfortable buying on-line — and that's a rapidly growing percentage of the total — will not only accept but will actually prefer getting their receipts electronically. Also, the wireless, paperless checkout gives Apple an opportunity to improve in-store service, as well."
In July, just prior to the iPhone 3G launch, Apple again reaffirmed confidence in its strategy to handle the heavy demand expected for the new phone by using the handheld EasyPay devices almost exclusively to complete purchases and in-store activations. The irony is that problems with the EasyPay devices' clumsy software actually aggravated problems and resulted in slower moving lines.
The rollout of the iPhone 3G required US Apple Store employees to act as AT&T representatives in collecting data from customers and setting up their mobile activations right in the store. The EasyPay devices commonly turned a five minute process into at least a fifteen minute ordeal, according to sources familiar with the devices, severely reducing the number of customers each employee could help. That in turn resulted in extremely long lines that kept some iPhone 3G customers waiting for hours to get the new phone.
'Huge old ugly pieces of junk'
It's also ironic that Apple is relying upon handheld computers with a large Windows logo on the back to sell its iPhone, a handheld computer with an Apple logo on the back. Why isn't Apple using its own technology? For starters, the iPhone project was only just beginning to come together in late 2005, after the company's retail stores had already begun a successful pilot program using the Windows Mobile devices to ring up purchases. Apple's roughly 200 retail stores likely stock fewer than 6,000 of the devices even counting replacement units, making it a costly venture to custom design a hardware solution that would replace such a small batch of commodity handheld terminals.
The Apple Stores' EasyPay units are Symbol PPT8800 Pocket PCs manufactured by Motorola and cost around $800 to $1000, although Apple probably pays significantly less than retail price for the devices. The unit itself connects to an external credit card reader, both of which have issues. "They are huge old ugly pieces of junk," one user confessed. "I hate these things. In the middle of a transaction, I'll hit 'next' and end up dumped back at the login screen. It's so frustrating."
For security reasons, the devices are configured to log out after two minutes of sitting idle. However, when they just log out spontaneously it then takes "a good two minute process to login," one user lamented. Regular hardware failures and software reinstalls remove about three units from service per month, necessitating the need to keep a lot of extra units in stock. One insider said her retail store maintains roughly twice as many EasyPay systems as are needed in regular use.
Preparing an Apple Store in the morning requires a lengthy starting up session for the dozen or so EasyPay systems a typical retail store puts into use daily. Just turning them all on takes around fifteen minutes, even if several are done together in batches. "You have to boot it up in the morning, an eight minute process for each EasyPay that requires clicking a series of 'OK' buttons as it boots up Windows Mobile and then the EasyPay application. If you don't click the buttons right, you end up at the WinCE desktop, with no way to manually start the EasyPay app," one former Apple retail store employee reported. "You have to start all over."
The units have an integrated barcode reader for identifying products without typing in their SKU, but "the barcode scanner takes five seconds to register," complained one frustrated Apple Store employee in the busy retail flagship in downtown San Francisco. Once the purchased items are all entered, clicking on "tender" to add tax "takes forever," another user familiar with the devices noted. "What is it doing? It's just calculating the tax."
In comparison, "Apple's own POS [point of sale] application on Mac OS X flies," according to a retail employee who has used both. Apple's retail stores typically have a small number of stationary MacBook Pros to complete sales for users, but managers encourage employees to seek out customers who are waiting to make a purchase and help them with the handheld EasyPay systems.
"I don't know why they don't create an iPhone application for handling transactions," one Apple store employee said. "The camera could act as a barcode reader, and Apple should be able to figure out how to build a USB interface for the credit card reader. It looks bad to be using these old clumsy things. Plus they're PCs, and we advertise the whole Mac PC switcher thing."