Departing Apple enterprise sales chief won't be replaced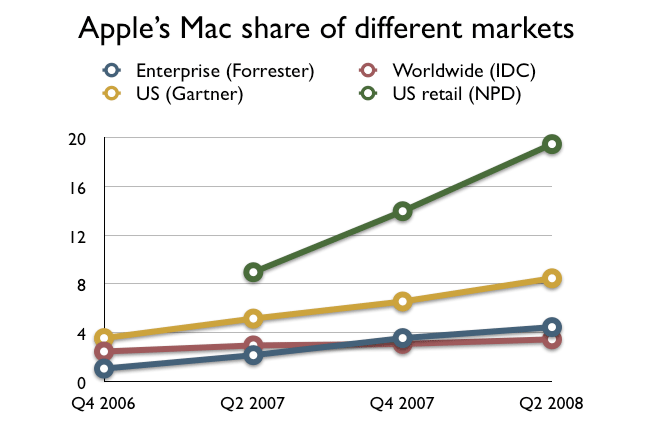 AppleInsider is supported by its audience and may earn commission as an Amazon Associate and affiliate partner on qualifying purchases. These affiliate partnerships do not influence our editorial content.
The vice president in charge of Apple's enterprise sales for the past four years is leaving the Mac maker and will not be replaced, according to a published report.
Among the team members making the jump are Stuart Maclennan, a Director responsible for non-governmental territory sales; David Puklin, a Director responsible for named accounts; and Ron Police, the Vice President of Federal and Government Sales.
At face value, the move would suggest Apple is surrendering a large portion of its efforts to infiltrate businesses. The change, however, is more likely a shift in strategy as the Cupertino-based company prepares to close in on the market.
In a filing with the Securities and Exchange Commission last week, Apple boldly noted a change in strategy for its 2009 fiscal year, by which it plans to target consumers in addition to " small and mid-sized business ("SMB"), education, enterprise, government," as well as its trademark audience of creative professionals.
Last year's filing covering the 2008 fiscal year stated the company would focus on its "digital lifestyle" products for consumers and the company's stronghold markets in education and creativity, relegating all other business into a single sentence.
In a followup article on TMO, Apple fellow John Martellaro therefor suggests the company's move to do away with a dedicated enterprise sales lead more likely marks a return to chief executive Steve Jobs' grassroots strategy of having Macs sell themselves.
"What's ultimately the key here is that Steve Jobs believes that people should want to buy a great computer," he wrote. "Selling them is [a] great idea, if the customer is willing to believe that buying the best product is the right thing to do. But cleverly and deceptively maneuvering a customer into a sale, when they're playing you against the competition, is not Mr. Jobs' religion."
Apple is also likely looking to encroach on the enterprise market on its own terms, he adds, not through the demands of big businesses who may ask the company to cripple its products for security reasons, or for it to extend the production of a specific model well past its intended life-cycle.
So far, the company's approach appears to working. A report published by Forrester Research this August noted that Mac deployment in the enterprise has climbed from 1.1 percent in October 2006 to 4.5 percent in June of 2008. While that's much lower than Apple's nearly 20 percent share of the US consumer PC retail market or its 8 percent share of the entire US PC and server market, it's significantly higher than the company's 3.5 percent share of all PCs and servers sold worldwide.
In the report, analyst Benjamin Gray stated that Mac adoption is being pushed upward by consumer demand, not special concessions on the part of the Mac maker.
"Strong iPod branding and sales have led to greater consumer sales of Apple PCs," he wrote. "In turn, this has lured enthusiasts and small workgroups with supple IT departments beyond the standard domain of design and media."