Paper suggests Apple's iPhone nano will ring this spring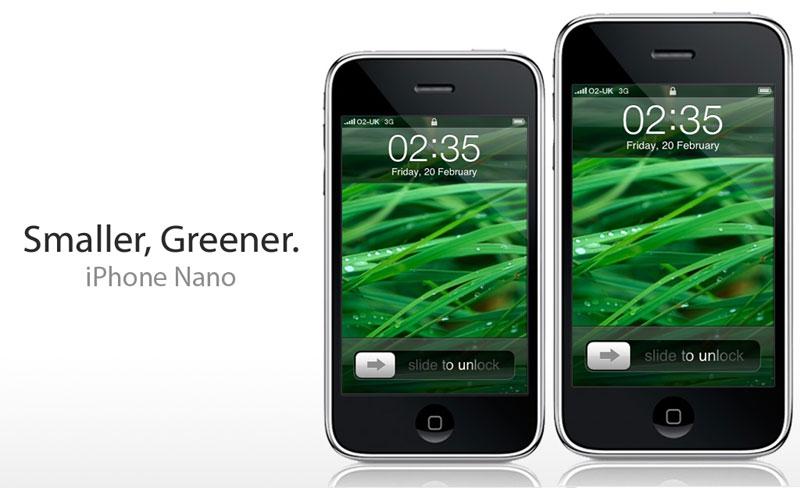 Rumors that Apple plans to release a more compact version of the iPhone refuse to fade, with new claims out of the Far East suggesting the device is slated to appear sometime this spring.
The Chinese-language Economic Daily News, a fairly reliable publication with presumed sources within Apple's Taiwanese supply chain and manufacturing facilities, said Tuesday that bidding for some of the device's potential component suppliers is near an end.
In particular, the paper reported that Taiwan Semiconductor Manufacturing Company (TSMC) and United Microelectronics Corporation (UMC)

">will likely land chip orders

for the low-cost entry-level handset, which it refers to as the "iPhone nano."
The paper added that the unspecified chip orders may see the nod from Apple in March ahead of an official iPhone nano launch that would come no earlier than June.
Apple has used its annual Worldwide Developers Conference in June to finalize details of both the original iPhone and the iPhone 3G, though the original model was first previewed during the Macworld trade show in January of 2007.
Financial experts have long argued that Apple's strong real-world revenues and high iPhone gross margins afford the company substantial headroom to introduce a $99 handset that could lead to huge strides forward in market share.

Last month, FBR Capital Markets analyst Craig Berger said the iPhone nano would serve as that device and include a baseband controller from Qualcomm rather than Apple's traditional supplier, Infineon.
"Our contacts see a lower-cost version of the iPhone, possibly in mid [second quarter]," he said. "Some call this device the 'iPhone Nano'; whatever one calls it, we believe this device is on its way."
Adding a new twist to the rumors on Monday was a report from American Technology Research analyst Brian Marshal, who suggest that the much rumored nano phone would bypass the US markets to serve only those abroad, particularly the Far East.
Marshal based his assumption on feedback from AT&T insiders who told him that such a device had not surfaced within the wireless carrier's testing labs, which would seem to preclude a stateside launch in the near term.
"Obviously, the best-case scenario here would be a China launch, but we have no definitive knowledge of this and are working on identifying the local of launch and other pertinent details," he wrote.
Should Apple sell 10 million units of the so-called iPhone nano this year, it would generate an incremental $3.4 billion in pro forma revenue for Apple and drive a 7 to 12 percent increase in the company's per-share earnings, the analyst said.
Rumors of an iPhone nano debut at last week's Macworld Expo swirled leading up to the conference after two iPhone case makers (1, 2) added references to the unannounced device to their websites.

One of the numerous iPhone nano mockups submitted to AppleInsider.
However, the anecdotal evidence, along with supposed renderings of an actual protective holder, was met with considerable skepticism given that corroborative evidence of such a device had not surfaced from more traditionally reliable sources.
Meanwhile, grey marketers in Thailand aren't waiting for the official word from Cupertino and have instead begun marketing their own iPhone nano lookalike handsets under the iPhone mini moniker.
With rumors of an "iPhone nano" persisting, AppleInsider has gone ahead and created an iPhone nano topics page (RSS) to archive the growing number of reports on the device. As is the case with all topics pages, readers interested in a specific topic can subscribe to that topic's RSS feed.