Apple settles disability lawsuit over San Francisco store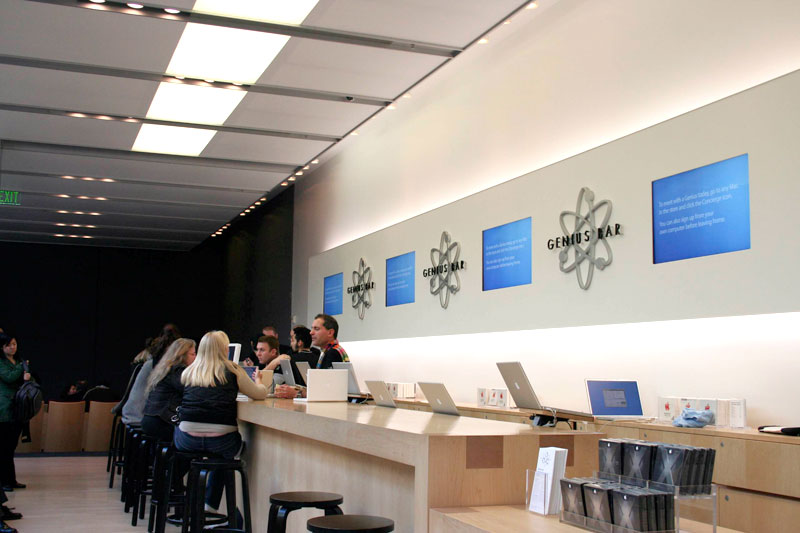 Apple has agreed to make changes to its San Francisco store and retrain its entire retail workforce as part of a settlement in a long-running disability lawsuit filed by two wheelchair-bound customers.
Oakland residents Jana Overbo and Nicole Brown-Booker, together with Apple, signed an agreement late last week to make three pages' worth of changes to the actual store on Stockton Street, the Cupertino-based company's employee training procedures, and its retail website.
The two women had separate but identically frustrating experiences in May and July of 2007. According to the original suit, neither could reach products or service desks from their wheelchairs, the store's presentation theater lacked accessible seating or passageways, and elevator buttons were placed too high to reach, resulting in wasted trips and added difficulty.
Both Overbo and Brown-Booker had made it clear in their suit that they were more interested in seeing helpful changes made rather than being awarded punitive damages, so news of a settlement is not surprising. The two sides agreed on a separate settlement to cover legal fees and their attorneys' compensation, and the details of that part of the case remain confidential.
Changes to the San Francisco store
According to the 13-page consent order filing, Apple will make sure the "push pressure" needed to open the front door will be kept at the levels outlined by the ADA Accessibility Guidelines. The Mac maker will also install handrails in the west end corridor and install Braille signage at each elevator landing.
The first-floor unisex bathroom's door will be monitored for push pressure requirements and receive an accessible coat hook on the interior side, while a motion-activated light switch will be installed in the bathroom itself. The filing also notes changes to the location of the commode and requires that Apple "insure that an adequate supply of toilet paper is placed in the upper dispenser."
As for the presentation theater, new wheelchair seating spaces will be added to the back row while the current wheelchair-intended seating in the front row will be removed. Apple employees will also reportedly make sure children's computer programs at the kids' table can be moved to an accessible table upon request, and Geniuses will offer to move the desktop computer monitors at either end of the Genius Bar for easier access and viewing.
Changes to employee training
Along with the childrens' programs and Genius Bar requirements, the agreement calls for Apple to provide mandatory "outreach" training for all present and future retail associates. These efforts will focus on approaching and greeting wheelchair-using customers upon entering, offering assistance in accessing products.
Employees will also be required to offer to help with the operation of display models and move products to special locations on existing tables upon request.
The Genius Bar at Apple's San Francisco flagship shop on One Stockton Street
Once this training is complete, Apple will post language on the accessibility page of its website informing customers with disabilities of the special services available to them.
"Please ask an Associate for assistance if you have difficulty viewing a product when you visit an Apple Retail Store," the notice will say. "They will be happy to assist you by moving displayed products to more accessible locations if possible."
The two sides say they reached the settlement "in order to avoid the costs, expense and uncertainty of protracted litigation." Apple will submit permit applications for the work to the city of San Francisco within 30 days, begin actual work within 30 days of approval, and complete construction within another 30 days of starting.
Employees at the San Francisco store will complete their accessible training by June 30, 2009, presumably to coincide with the finished changes, and the training at all other stores is to be finished by the end of this year.
According to ifoAppleStore, U.S. District Judge Susan Illston is expected to sign the agreement at the next hearing.