Wal-Mart's new Apple section seen as precursor to Mac sales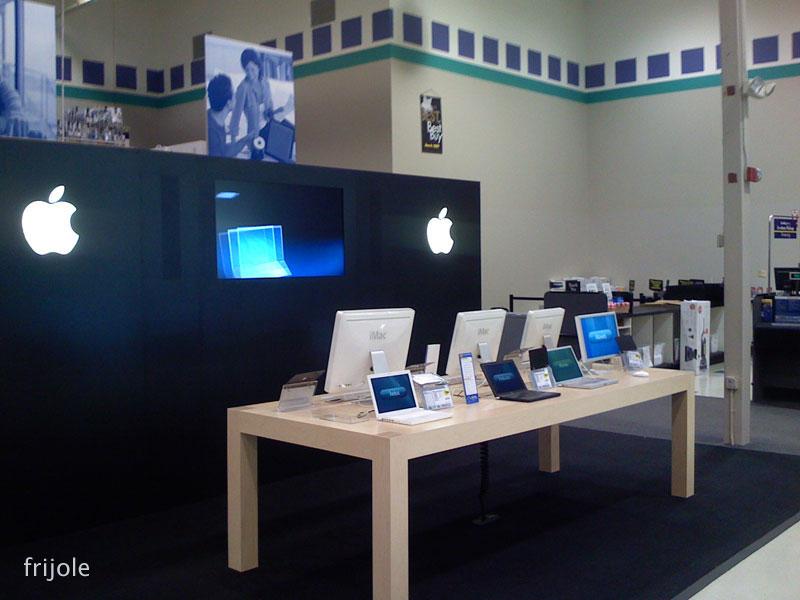 Wal-Mart's move to overhaul the electronics departments in many of its retail stores with Apple-designated shopping areas is being seen as a sign that the mega-retailer is making a pitch to eventually carry Apple's line of Mac personal computers.
The Bentonville, Arkansas-based discounter began revamping the electronics departments in approximately 3,500 of its stores this week — including 2,600 Supercenter locations — in a bid to capitalize on a large slice of the big-screen TV market vacated by Circuit City, which shut down its operations after filing for bankruptcy in November.
As part of the renovations, which should provide for a more spacious and interactive shopping experience, Wal-Mart will also be rolling out specialized in-store boutiques for popular brands such and Nintendo and Apple, similar to the Apple store-within-a-store layouts found in Best Buy retail stores.
Ben Reitzes, an analyst with Barclays Capital, sees the move as a precursor to Wal-Mart extending its reach beyond iPods, iPhones, and accessories to Apple's Mac line of computers.
"We believe Wal-Mart is actively pitching Apple to carry more products," he said. "With Wal-Mart improving its retail displays, we believe that the mega-retailer could eventually earn the right to sell select Mac products without diluting Apple's brand."
Upon last check, Apple had under 10,000 distribution points for the Mac worldwide, so a move into Wal-Mart would increase Mac exposure significantly. Reitzes also noted that many of Wal-Mart's stores are located in rural areas not near one of Apple's own company stores.
That said, the analyst doesn't see the existing Mac line as a particularly good fit for the discount retailer outside of the $599 Mac mini and $999 MacBook offerings, but said he believes the company is working on more sub-$1000 products that may eventually appeal to Wal-Mart's customer base.
"We have recently stated that Apple could reposition the low-end of it Mac lines to be more affordable as well as eventually introduce an ultraportable touchscreen tablet device as early as this year," Reitzes said. He's likely referring to a couple of AppleInsider reports on those respective matters, including plans for more affordable Macs later this year and a Newton-like web tablet sometime thereafter.
Still, Apple has approached the Wal-Mart demographic with caution over the years, mainly out of concern that the big-box retailer could tarnish the company's reputation if its products aren't displayed and marketed with care.
Best Buy began retrofitting many of its stores with Apple boutiques last year.
"Apple is very particular and exclusive with who sells its Macs (much more so than iPods) and any 'Mac experiment' with Wal-Mart would likely start very gradually via a pilot program at first — just like Mac sales started at Best Buy," said Reitzes.
If done right, the analyst believes both sides would reap benefits: Apple would see increased distribution while Wal-Mart's brand would likely see a boost in its attempt to compete with Best Buy as a quality electronics retailer.
"Note that Apple's Mac sales growth accelerated markedly when it first expanded with Best Buy and more distribution deals may not be far behind if Apple wants to keep pace with the rapidly growing netbook category in its own distinctive way," Reitzes said.