Creative looks to take on iPod touch in handheld computing realm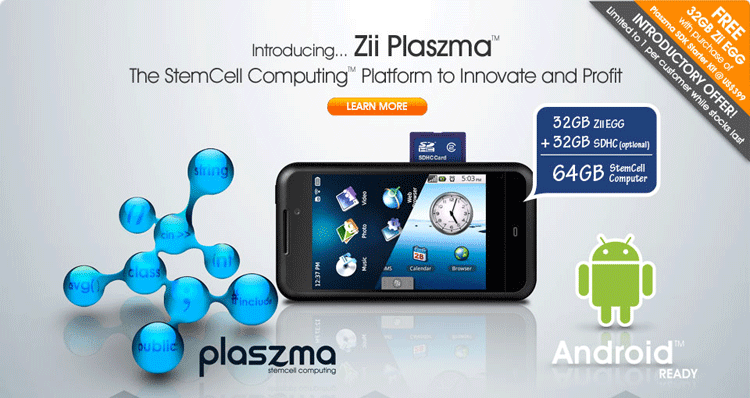 The newly announced, Android-powered Creative Zii Egg aims to be to the G1 smartphone what the iPod touch is to the iPhone — a powerful mobile computing platform without the monthly cell phone contract.
Revealed Tuesday, the multi-touch, candy bar-shaped device with a 3.5-inch LCD screen is advertised as being Android-ready and can handle up to 64GB of storage with a SDHC card. It also features GPS and Wi-Fi, can play 1080P video, supports Flash Lite, and has two cameras: an HD video camera on the back, and a VGA camera on the front for video chat.
Clearly envisioned as a competitor to the iPod touch, the device even looks similar to Apple's media player.
For now, the device is only available to developers who are willing to spend $399 on the Plaszma development kit. Creative hopes the platform will catch traction within the developer community, and that a final product will eventually come with a much lower price point.
"This feature-packed Zii Egg comes with a take-no-prisoners price from as low as U.S. $199," said Sim Wong Hoo, chairman and CEO of Creative Technology. "This signifies an integral part of our new strategy moving forward to engage every party in a win-win-win partnership."
The Plaszma platform uses Creative's "StemCell" technology, which uses the ZMS-05 processor. The chip, Creative says, can deliver HD video, as well as 2D and 3D graphics. The Zii Egg is capable of outputting 1080P video to a TV.
The Plaszma SDK will include Opera 9.7, Adobe Flash Lite, a multi-touch user interface, OpenGL ES 3D graphics and more.
As Apple's mobile computing platform across the iPhone and iPod touch continues to grow, the market for traditional iPods — where Creative has attempted to compete with Apple in the past — continues to shrink.
While the Zii Egg does feature some things not currently seen in the iPod touch, it is expected that Apple will unveil a new model with a camera this September.
Some analysts see the iPod touch as a low-key, stealthy asset in Apple's product lineup. But at least one estimate suggests the iPod touch carries at least one-third of the iPhone OS marketshare in the U.S.
During last week's earnings call, Apple revealed that there are 45 million iPhone and iPod touch devices in consumers' hands worldwide. Creative does not yet have a date when the Zii Egg could be available to consumers.