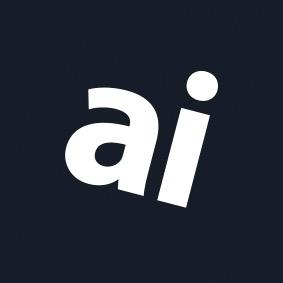 Why you can trust AppleInsider
Review: Apple's fifth-generation iPod nano (2009)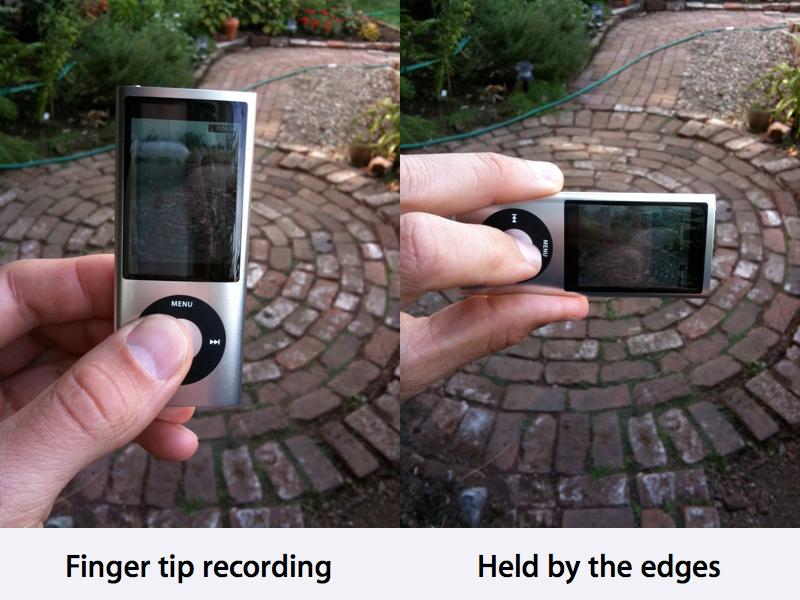 Apple iPod nano (5th generation)
4.5 / 5
---
The glossy-finished new fifth-gen iPod nano builds upon last year's tall and slim form factor by adding video recording, FM radio with iPod tagging and Live Pause, VoiceOver navigation, a built-in Nike+ step counter, and a slightly larger and improved 2.2" display, all packed into the same thin aluminum tube.
Hardware features: video recording
The tall orientation of the revised nano might be the ideal design for delivering its biggest new feature, but it's a bit puzzling that Apple put the new video camera at the base of the unit. Unlike the iPhone, which places its camera at the top corner of its back, the new nano fits its camera at the bottom, opposite the click wheel used to start and stop the recording.
As a result, while it's easy to get your hand in the way of an iPhone shot, it's hard to position the nano for recording without having your fingers in the shot. The most natural way to hold the nano completely obscures the camera lens with your hand. Fortunately, there are two approaches that work. The first is to hold the device with the tips of your fingers (below left) rather than cradling it in your hand. This allows for precise aiming with one hand in both the landscape and portrait orientations. The alternative is to hold the device by its edges while recording (below right), something that might require both hands if you lack dexterity.
The only discernible upside to putting the camera in such a location is that it signals when it is being used for recording. You don't have to wonder if somebody is secretly filming you with their iPod nano in the gym unless they're holding it in contorted, awkward way that indicates they probably are. Apart from that, there's no other explanation.
As a video camera, the new nano is remarkably good. It's also extremely simple to operate, takes decent quality video at VGA resolution (640x480) at a fluid 30 frames per second rate. The total bit rate of its movies is around 2,500 to 3,000, making the output files portable and compact, and well-suited for online use.
Video shot by the nano compares favorably with video shot with the iPhone 3GS. An example taken with the nano's camera in landscape mode actually looks better than video taken simultaneously with the iPhone 3GS in portrait mode. Both devices create video output files in VGA (0.3 megapixel) resolution, although the nano has a wider angle, fixed focus lens on a camera mechanism that likely has a much lower native resolution than the 3.0 megapixel camera in the iPhone 3GS. In both cases, the camera's raw video is compressed in software as it is recorded.
Even so, our iPhone 3GS video consumed a higher bit rate (3,700 vs 2,800 kbit/sec on the nano capture) yet delivered muddier video, perhaps indicating that the iPhone can dramatically improve its video capture via optimized software. Uploaded to YouTube, the video is compressed even further, but still good (below).
Also important in creating usable video is the nano's integrated mic, which captures pretty good quality audio. Few things are as disappointing as capturing video with badly garbled audio or blank silence. The nano picks up inside voices quite clearly using the mic next to the camera lens. Video playback on the nano is also readily audible using its tiny internal speaker.
The audio recording quality is even better when you record video using the mic integrated into a pair of iPhone-style headphones. Note that the nano only ships with standard headphones lacking an integrated mic, however. Even using the nano's built-in mic, audio is decent and very usable for the casual applications one can expect of it.
You probably won't want to use the iPod nano's tiny speaker as a boom box for listening to music, as it isn't capable of producing very high fidelity music, but it can serve a functional way to share videos with friends without using headphones.
The camera doesn't take photos, although you can of course snap a still video shot and export a frame of the video as a picture. With the camera held still, you can make out pretty good details, although any motion renders still shots quite blurred. The choice to make the nano's camera video-only wasn't just arbitrary, but based on the fact that it uses a simpler camera mechanism to fit its thin body. The fancy autofocus camera in the iPhone 3GS is twice as thick as the nano's.
Below is a picture of a parking ticket that's been laying around, snapped with the nano's video camera and the iPhone 3GS in both still and movie modes. They're all easily readable, but the iPhone photo visibly sharper, while the nano's video still suffers from noisy smearing.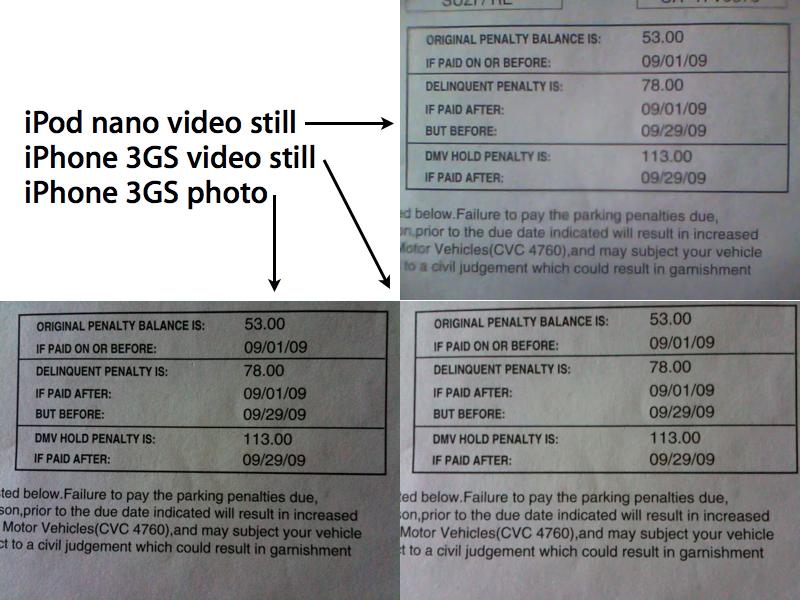 While the new nano makes a pretty decent video camera for casual captures of your friends, the type of photographs it could take, given the tiny amount of room available for the camera, would not make it competitive with even the low end of standalone toy cameras or cell phone cams. On the other hand, its video features make it suitable for replacing a separate digital video recorder unit on outings or at parties.
Like any tiny CCD camera, it takes the best shots in good lighting. Inside in dim lighting, shots get noisy quick and motion blur is a lot more evident. The video-capable nano isn't going to put Flip out of business, but it will dramatically expand the number of recording eyes out there in the hands of millions of iPod users. Given that the nano's video recording feature doesn't cost any premium over the previous generation, Apple is effectively dumping millions of free video recorders into the market, something that will impact the emerging market for standalone video recorders.
On page 2 of 3: Special effects; Hardware features: Nike+ and pedometer; Hardware features: FM radio; and Hardware features: VoiceOver.
To spice up recording, the nano offers a series of 15 special effect modes for video capture: sepia, black and white, x-ray, film grain, thermal, security cam, cyborg, bulge, kaleido, motion blur, mirror, light tunnel, dent, stretch, and twirl. These degrade the captured quality and can't be removed later, so more serious mobile filmmakers might want to import their video clips into iMovie for editing with special effect filters instead.
If the target is YouTube or Facebook, however, the nano's simple in-camera effects can help turn a third grader into a short clip cinematographer, with enough variety to make nano videos as fun as Mac OS X's Photo Booth. Simply click and hold the center button while the video camera is up, and you get a preview of what the capture will look like with the effect applied.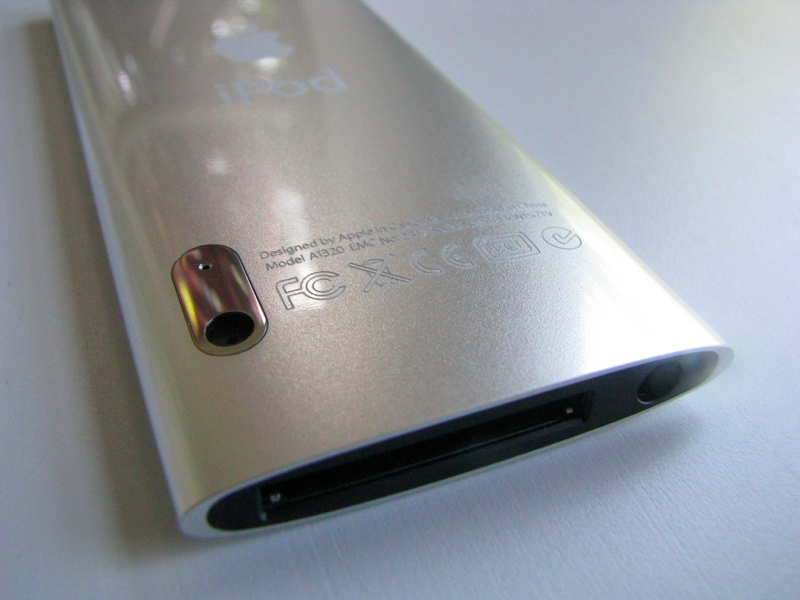 Putting basic special effects right in the camera, and making them easy to apply, means kids won't even need to master iMovie to create fun clips they can share like digital-era Polaroid talkies. And for us adults, applying film grain or security camera effects means you won't even notice the crow's feet.
There's no trim video editing features within the nano as there is on the much more powerful iPhone 3GS, but similar simple editing controls are now available in QuickTime X, making it easy to cut off the beginning intro where your fingers were all over the lens. Because the nano captures standard H.264 video, it's also easy to pull them into iMovie or similar tools for more advanced sprucing up as well.
Hardware features: Nike+ and pedometer
Unlike last year's nano, the 2009 model no longer requires the Sport Kit external transmitter and shoe sensor just to track your steps. You can still use the Nike+ Sport Kit to act as your running coach as before, but the new version includes an independent, accelerometer-based pedometer for tracking basic fitness goals.
The system can be turned on to count all your steps in the background, so you can upload your regular walking activity to the free Nike+ website to monitor your progress and perhaps incentivize taking the stairs. Enter your weight and set a daily step goal, and the new nano will keep a calendar of your daily walking activity. While counting steps, a shoe icon appears on the nano screen next to the battery indicator.
The nano also supports regular Nike+ workouts with the Sport Kit and Nike+ cardio gym equipment designed to plug in via the dock connector, both of which continue to work the same as in previous iPod models.
Hardware features: FM radio
Apple has previously maintained that few iPod users are clamoring for FM radio features, and that its external radio adapter is enough of a solution for those who want to listen to the radio rather than their own music. The new nano now incorporates an FM radio, along with support for iTunes tagging, a feature that identifies the song being played and can add it to a favorite list for later purchase from the iTunes Store. Radio stations supporting this tagging feature display a tag icon.
The new radio also features Live Pause, a digital recording window that lets you pause your radio station and play it back with as much as a 15 minute delay, similar to how DVRs like the Tivo pause live TV. You can rewind and fast forward to any point within the cached playback period, making it handy for repeating part of a song, pausing the playing music for a quick conversation, or, of course, skipping ads. If you have a few minutes of radio playback cached and leave the radio app's menus, the stored radio segment is lost.
The nano's FM radio uses the headphone cord as its antenna, so without headphones plugged in, the radio won't work. Given that the nano is the most gym-friendly iPod model, inclusion of a radio may be welcomed by those who run treadmills in front of a bank of TVs with their audio broadcast on different FM stations. No iPod models support built-in FM radio transmitting though, so if you want to play back music through your car's speakers, you'll still need to use an external radio or cassette tape adapter.
Hardware features: VoiceOver
The new nano now supports VoiceOver, a feature that debuted on the iPod shuffle. VoiceOver will announce the name of the currently playing song with a single press and brief hold of the click wheel, if you're eyes are too busy to check the screen. The feature is enabled in iTunes, which involves installing the VoiceOver component. Once installed, the system can be set to speak song information in twenty languages, and will automatically read off foreign song titles in the correct language.
Using headphones with integrated playback controls (which again do not ship bundled with the nano), you can also control playback blindly in the same manner as the shuffle: click once to pause or resume, double click to jump to the next song, or triple click to restart the song or jump to the previous song.
VoiceOver uses high quality voice synthesis created on your iTunes computer, so it doesn't tax iPod playback and provides more natural sounding voices than the iPod itself could generate given its low power embedded processors.
On page 3 of 3: Software features: iTunes 9 Genius Mix, games, voice memos, and other basics; Polished colors and specs; What ships in the box; Product Review Rundown; and Rating.
Software features: iTunes 9 Genius Mix, games, voice memos, and other basics
The new nano also benefits from some other features introduced in iTunes 9, including Genius Mixes. Previously, iTunes scanned your music to compile Genius Playlists based on a song you selected, which paired it with other, similar music.
Along the same lines, Genius Mixes just make up a series of up to a dozen ready-made playlists from your music to help you discover tunes you have but don't regularly listen to. No need to pick out a seed song for iTunes to base your Genius Playlist on; iTunes just compiles several lists for you so you have ready to go mixes that are digitally computed to play well together.
The new nano carries forward previous features, from Cover Flow album browsing to synced photo viewing and TV slide shows; simple iPod games, which now number up to four dozen in the iTunes store in addition to the three included for free; voice memo recording, which now works using the new built-in mic; and the mini apps ranging from the stop watch and alarms to the synced calendar and contacts.
Polished colors and specs
Both nano models come in a spectrum of 9 different colors: silver, black, purple, blue, green, orange, pink, along with (PRODUCT) RED and orange, which are exclusively available through the Apple Store. The colors are similar to last year's spectrum but generally darker and more serious looking than the powdery rainbow "nano-chromatic" colors introduced last year. The deeper blue, forest green and rosy pink versions are the most noticeably different shades this time around, but all of the colors sport a glossy new clear coat finish that sets them apart.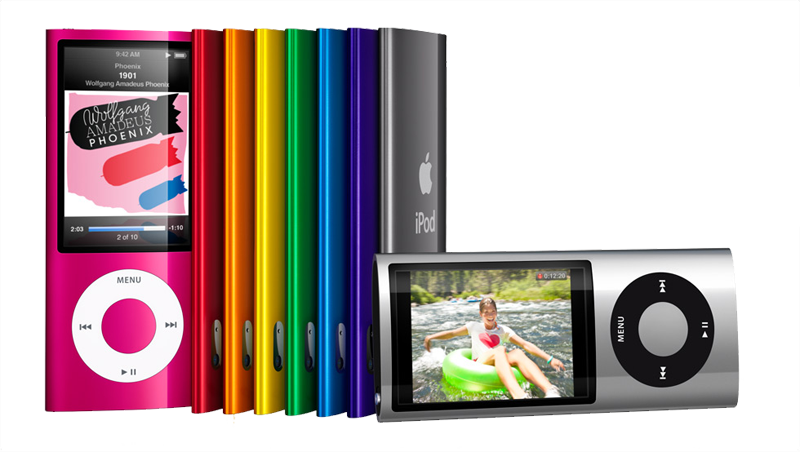 All have a white click wheel apart from the black and silver models, which sport a black click wheel. The 16GB model holds up to 4,000 songs, 14,000 photos, and 16 hours of video, and the 8GB model holds up to 2,000 songs, 7,000 photos and eight hours of video. Capacities are unchanged over the previous generation.
While using the same shell size, the new 5G nano has a slightly larger 2.2" display (versus the previous 2.0" screen on earlier nanos) with a few extra lines of resolution, 240x376 versus the previous model's 240x320. This gives the new nano more pixels than the latest iPod classic, and a screen nearly as large as the classic's unchanged 2.5" display. The new nano also sports what Apple calls a "TFT display" as opposed to the "color LCD with LED backlight" used on the latest classic. The new nano screen seems to be noticeably brighter.
Despite the new larger screen, camera, mic, speaker, radio and other hardware features, the new nano is also slightly lighter than the previous model, at 1.28 oz rather than 1.3 oz. The click wheel is ever so slightly smaller than the previous version by a millimeter or two. Battery life is still rated at 24 hours of audio playback, but video use has increased from 4 hours to 5, matching the rated life of the earlier, squatty third generation nano.
The new nano comes in the same plexiglass case with the standard stickers, a thin guide, a Universal Dock adapter, standard earbud headphones (no mic, no playback controls), and a USB to dock connector cable. There's no power adapter or dock or, in a nod to Apple's increasing environmental efforts, any other superfluous packaging. The new nano is also advertised as having a recycle-friendly aluminum design that uses arsenic-free glass, and no Brominated Flame Retardants, mercury, or PVC plastics.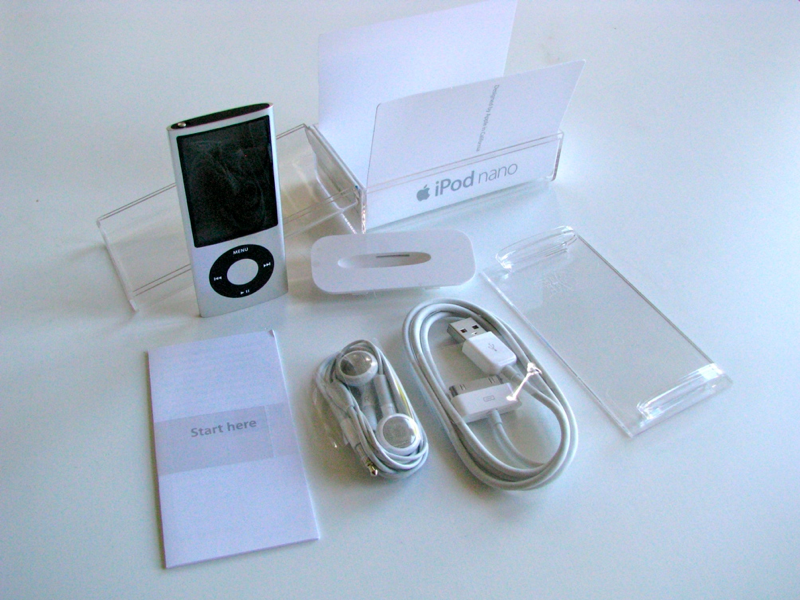 The 8GB nano retails for the same $149 as the previous video camera-free model, while the 16GB model is twenty bucks cheaper than last year's at its new $179 price. That distinguishes the sporty, video capturing iPod nano from its gaming-oriented, web browsing, multi-touch big brother, which now drops down to hit the magical $199 price point with its low end 8GB model.
With the latest 5G iPod nano, Apple has taken its most popular iPod and given it an entirely new use as a pocket sized video camera. The new step counter and FM radio shore up its gym-savvy, and new Genius Mixes make it all that more effortless to find collections of songs to listen to from your own library.
What's missing? Apple didn't include its mic-integrated headphones with playback controls, but it did include a new integrated mic that works well enough for both voice memos and video recording to avoid making a headphone upgrade essential. The missing hour of battery life we counted against the previous nano is back, along with a lower price on the 16GB model.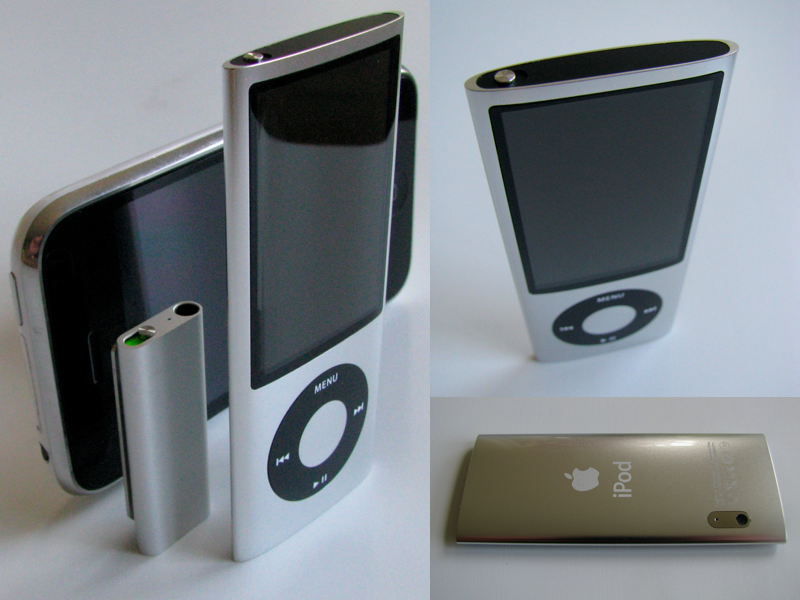 The new 5G iPod nano shows Apple isn't content with selling last year's products, and is constantly working to deliver desirable new features in the same sized package at the same price. Anyone in the market for a slim, easy to use MP3 player should be extremely satisfied, particularly with its fun new camera and other hardware upgrades.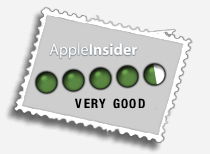 Thin and compact, scratch resistant, sturdy construction.
Great new video capture with fun special effects.
Audio recording using an built-in mic and speaker for playback.
High quality, larger, bright 2.2" screen.
TV output for slide shows, movie rentals and downloads.
Simple step counter in addition to Nike+ option; FM radio features
Doesn't include iPhone-style headphones with mic or playback controls
Camera is positioned to capture fingers on video