Closing the GAAP: New rule expected to be positive for Apple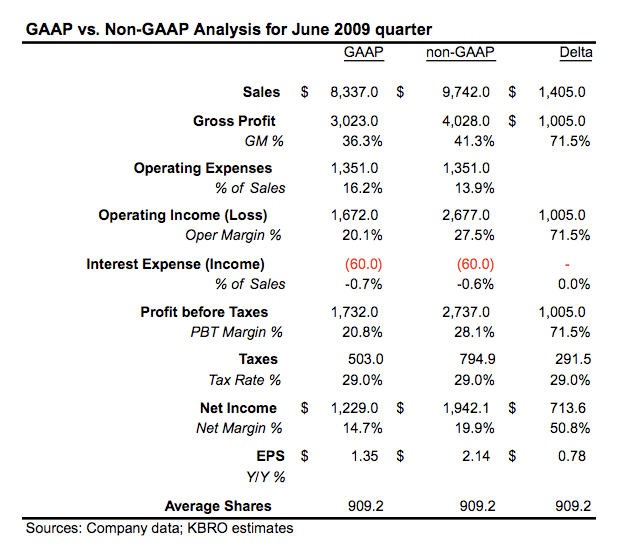 In the wake of a preliminary rule change for public accounting records, Apple is predicted to benefit with more transparent representation of iPhone and Apple TV sales.
The Financial Accounting Standards Board has drafted a new rule that, if made official, could boost Apple's reported earnings. In a new note to investors, analyst Shaw Wu with Kaufman Bros. said he believes that the change would have a positive impact on traditionally "conservative" iPhone and Apple TV accounting, a practice that has been enforced by the current rules from the FASB. However, Wu said he believes that most professional investors value Apple's stock on its free cash flow, rather than the generally accepted accounting principles (GAAP).
Still, the impact could be noteworthy. Last quarter, Wu estimates that Apple's revenue was underestimated by $1.4 billion, or 17 percent, and earnings per share were under-valued by $0.78, or a whopping 58 percent.
Since the FASB announced its preliminary rule change, after Apple also unveiled its new line of iPods last week, the company's stock has steadily climbed. As of Thursday afternoon, it has traded north of $185. In his report issued Thursday, Wu has maintained a buy rating for AAPL with a price target of $184.
Current GAAP rules required Apple to use "subscription accounting" for iPhone-related filings. Because Apple offers iPhone owners free software updates, it is forced to spread revenue for the iPhone over the term of the contract signed by the wireless customer, typically two years. And Apple has also cited the accounting principles for nominal fees charged to users for upgrades of the iPod touch and Airport Extreme.
In August, Apple petitioned the FASB to change the rules, stating that they make the financial reporting needlessly complex and cloudy for investors. Wu agreed with that assessment, stating that subscription accounting has only served to mask Apple's true financial performance.
"We view this change as positive in that it helps improve the transparency of accounting for both iPhone and Apple TV to more accurately reflect its true value and utility to customers and to AAPL stakeholders," Wu said.
Wu recommends that investors view the Cupertino, Calif., company's free cash flow instead of GAAP reported revenue. He said this is how most professional investors already view Apple's stock, so he does not expect the rule change to have a significant impact on the company's shares.
"But it took a period of time to understand and accept," Wu said. "With this change, (earnings per share) can now also be used, which should make it easier for mainstream investors."
Kaufman Bros. has currently modeled $6.60 earnings per share for Apple in calendar 2010, but believes the company will earn $10 per share on free cash flow.