Fourth Manhattan Apple Store shrouded with 'red curtain'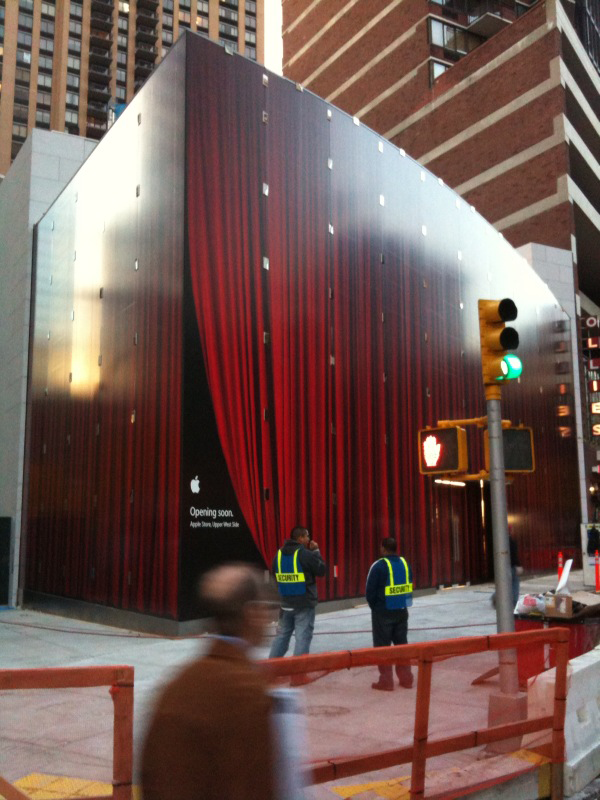 AppleInsider may earn an affiliate commission on purchases made through links on our site.
In preparing to reveal its latest New York City flagship store at 67th and Broadway, Apple has covered the massive glass building with a picture of a red curtain to tease passers by.
Apple retail chief Ron Johnson said in August that the location, which used to be home to a Victoria's Secret, would open by the end of 2009. The company looks poised to deliver on that promise, with the graphic curtain atop the store's huge glass housing pulling back to show an Apple logo and the words "Opening soon. Apple Store, Upper West Side."
Gary Allen at ifoAppleStore previously reported that the curved glass roof will cover the rear three-quarters of the new store. It was originally expected to finish by Thanksgiving, but as of September that deadline was pushed back, and an opening before Christmas is now anticipated.
The location and plans for a future Apple store were first revealed in late 2007 for the property at 1982 Broadway on the northwest corner of West 67th Street. The city required Apple to retain at least half of the original exterior wall for the new location. The construction reportedly cost $37.9 million.
The store's huge glass storefront is said to be 54 feet tall, 75 feet wide and 30 feet deep. It has been covered with black plastic, concealing the inside. Permits show that the Apple Retail outlet will include one level above ground and two below.
Apple's Upper West Side store remains concealed. Photo credit CNet
Apple has existing retail outlets in Manhattan on Prince Street in SoHo, on West 14th Street in the Meatpacking District, and at Fifth Avenue and 59th Street. Recently, the Fifth Avenue store was revealed to be the most profitable per square foot in the expensive shopping district. The store is estimated to have annual sales of more than $350 million.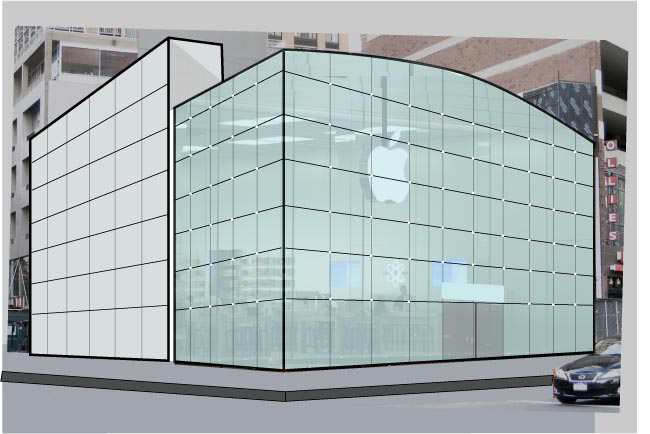 A speculative rendering of the new location. Image credit ifoAppleStore