Broadway Apple Store flyover; Washington walk-out averted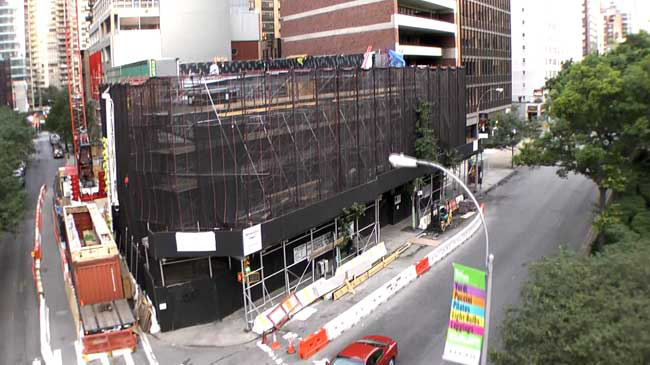 Aerial footage shows off a special roof on the upcoming Apple Store at 67th and Broadway; and a potential employee walk-out at a Washington Apple Store has reportedly been resolved.
Broadway Apple Store will have unique roof
ifoAppleStore has aerial footage of the upcoming Apple Store at 1982 Broadway on the northwest corner of West 67th Street. The pictures and video, shot with a remote control helicopter, show a curved, glass roof on the $37.9 million building.
According to Gary Allen, founder and author of ifoAppleStore, the roof will cover the rear three-quarters of the new store. While construction was originally expected to finish by Thanksgiving, the store is now expected to open before Christmas.
"Someone who knows says this building is going to be really spectacular," Allen said of the Broadway store.
At the Broadway site, Apple has torn down most of the original structure, which was originally a Victoria's Secret. However, the city required the company to retain at least half of the original exterior wall.
Apple has existing retail outlets in Manhattan on Prince Street in SoHo, on West 14th Street in the Meatpacking District, and at Fifth Avenue and 59th Street. Recently, the Fifth Avenue store was revealed to be the most profitable per square foot in the expensive shopping district. The store is estimated to have annual sales of more than $350 million.

Apple's Broadway location. Photos courtesy Gary Allen, ifoAppleStore.
Sources say Washington walk-out canceled
After rumors of an employee walk-out at a Washington Apple Store arose, numerous people familiar with the matter have told AppleInsider the issue has been resolved.
Earlier this week, claims of a potential demonstration among employees and ex-workers of the Alderwood Mall store in Lynnwood, Wash., surfaced. Sources have now told AppleInsider that while some issues with the store management remain, the alleged walk-out, reportedly planned for Oct. 3, is no more.
One source said that while the situation might have warranted a walk-out, most of the workers at the Alderwood Mall store would not have participated. The person said that the problem stemmed not from Apple, but from management at the store.
"We have to sell certain amounts of One to One, Apple Care and Mobile Me," the person said. "If the store reaches its goal, the management gets a big bonus. It's not Apple policy, just our management taking things too far."
The person said that employees are upset, some have contacted human resources, and some have quit.