Wall Street expects record earnings to kick off Apple's big week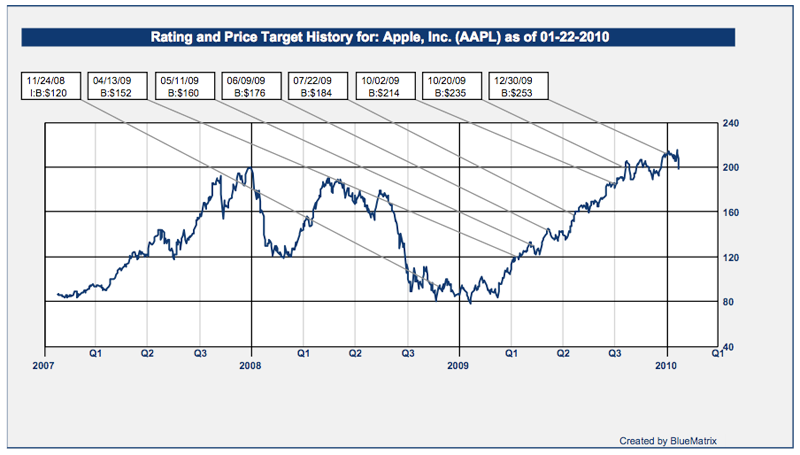 As Apple prepares to report its earnings today at 5 p.m. Eastern time, most Wall Street analysts expect the company to report its best quarter ever, with the potential for record holiday iPhone and Mac sales.
On average, analysts expect Apple to report an 18.6 percent increase in revenue to $12.06 billion and $2.07 earnings per share. That would be driven by sales of 8.9 million iPhones, 21 million iPods and 3 million Macs. The three-month frame ended in late December, and represents all of Apple's holiday sales.
Analyst Shaw Wu with Kaufman Bros. remains above Wall Street consensus, with expectations of $12.4 billion in revenue and $2.15 EPS. He issued a note to investors Monday morning noting there is potential for upside to his estimates. He has predicted sales of 22 million iPods, 9.5 million iPhones and 2.9 million Macs.
"We believe there is room in all business areas, but particularly in the iPhone business, where we will likely see a new quarterly shipment record, beating its previous record of 7.4 million iPhones set last quarter, and close to RIM's record of 10.1 million BlackBerries shipped," he said.
However, his Mac estimates come in slightly lower than Wall Street, due to rumors of production issues with the newly redesigned iMac, released last October. In December, Apple apologized for shipment delays, but declined to acknowledge reports of problems, particularly with the new 27-inch model.
But competing analyst Gene Munster with Piper Jaffray has forecast 3.1 million Mac sales. If that prediction proves true, it would be Apple's best quarter ever. In October, the company reported its current best of 3.05 million Macs. Last quarter was also a record for iPhone sales, which hit 7.4 million.
Wu expects Apple to issue its traditionally conservative guidance for the coming March quarter. He has modeled $9.8 billion in revenue and $1.55 EPS, against market consensus of $10.4 billion revenue and $1.77 EPS. He has reiterated a buy recommendation, and Kaufman Bros. has retained its $253 price target.
Of course, Apple's results are only a part of the picture this week. Wall Street and technology enthusiasts are also eagerly awaiting the company's media event to show off its "latest creation," due to take place Wednesday at 10 a.m. Pacific time at the Yerba Buena Center for the Arts in San Francisco. It is widely expected that Apple will use the event to introduce its long-rumored touchscreen tablet device.