Apple's earnings impress, but analysts hold breath for 'latest creation'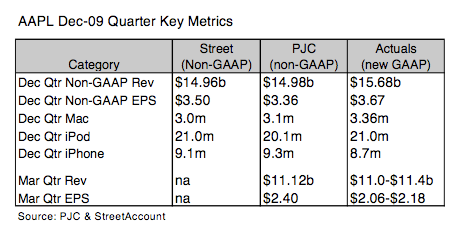 Apple beat most Wall Street analysts' expectations Monday when it reported its most profitable quarter ever, but the impending product announcement scheduled for Wednesday is what everyone is really waiting for.
Apple's profits grew 50 percent to $3.38 billion during its first financial quarter of 2010. The company earned $3.67 per diluted share on record sales of $15.68 billion over the holiday shopping season.
The company sold a record 3.36 million Macs, which was a 33 percent increase over a year prior and represented the company's best-ever computer sales. iPhones also saw their strongest sales ever, with Apple shipping 8.7 million handsets. The Cupertino, Calif., company also shipped 21 million iPods.
But most are still waiting for Apple's Wednesday event, scheduled for 10 a.m. Pacific time, to show off the company's "latest creation." As analyst Yair Reiner said in a note to investors Tuesday morning, Apple's earnings report was "not bad for a warm-up act."
Reiner said Apple's first-quarter results were helped by strong Mac and iPod sales that offset lower than expected iPhone sales. Because some on Wall Street had projected iPhone sales to approach 10 million, the 8.7 million units sold, while a record, was seen as a disappointment.
"We believe the relative miss was partly the result of inflated sell-side expectations and partly the result of a lackluster initial showing in China," Reiner said. "As a result of the units miss, iPhone revenue of $5.578 billion fell short of our $6.099 billion pro forma estimate and provided less of a margin life than we had expected."
But even with a strong earnings report, it's all about Wednesday and the anticipated debut of Apple's touchscreen tablet. Oppenheimer has increased its price target to $255, from $235.
"The expectations conundrum notwithstanding, we see a lot to like in Apple's results and would continue to be strong buyers ahead of this week's main event — the tablet unveiling on Wednesday," Reiner wrote.
Senior Research Analyst Gene Munster with Piper Jaffray noted that Apple's revenue guidance was higher than his firm's estimates for only the third time in 15 quarters. Typically, Apple gives extremely conservative guidance that is mostly disregarded by Wall Street.
Still, Munster said he believes the guidance remains conservative, and Apple's forthcoming tablet isn't included in the numbers. On Monday's conference call with analysts, Apple Chief Financial Officer Peter Oppenheimer declined to say whether the new product to be introduced Wednesday was included in Apple's numbers.
"Essentially, Apple's guidance calls for Mac growth to be flat (year over year), vs. the just reported 33%. Hard to believe given the comps are only getting easier," Munster said.
Piper Jaffray slightly increased its price target on AAPL stock to $280, from $279. It has maintained its overweight rating for the company.
Analyst Mark Moskowitz noted Apple's international growth. During the first financial quarter of 2010, overseas sales accounted for 58 percent of the company's business. That's up from the 48 percent average seen in the 2009 fiscal year, and 44 percent in 2008.
"We believe Apple's international momentum is likely to continue on a multi-year growth trajectory, driven by continued 1) retail stores expansion; 2) iPhone traction; and 3) indirect sales channel build out," Moskowitz wrote.
But like others, he's waiting for Wednesday's expected tablet introduction. He believes consensus revenue and earnings per share estimates will be adjusted by those on Wall Street when they see what the "killer application" for the tablet is. J.P. Morgan has a price target of $240 for AAPL.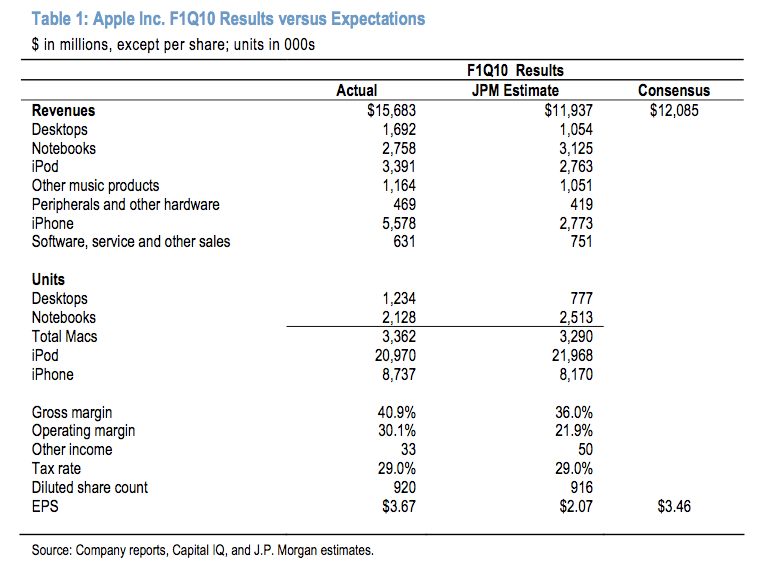 Apple surprised in a different way Monday, analyst Charlie Wolf noted, when it switched from GAAP to non-GAAP reporting without warning. Last year, Apple petitioned the Financial Accounting Standards board to change the rules for reporting accounting figures. Previously, the generally accepted accounting principles required Apple to use "subscription accounting" to spread iPhone earnings over the term of the contract signed by the wireless customer, typically two years.
Given the change, Wolf provided an "Apples to Apples" comparison of the company's year-over-year success: revenue increased 32 percent, to $15.7 billion, while earnings per share rose 47 percent, to $3.67. Particularly strong for Apple in the holiday quarter was the new iMac, which caused a 70 percent increase in desktop shipments.
Needham & Company has maintained its price target of $235, however Wolf said he plans to revisit the valuation model to assess the impact of upside of Mac and iPhone sales.
Revenue from Apple's retail stores was "robust" during the holiday quarter, analyst Mike Abramsky noted. Retail revenue increased 13 percent year-over-year to a total of $2 billion, and Apple sold 689,00 Macs at retail stores, a 34 percent year over year increase.
Abramsky sees big things ahead for Apple, with potential catalysts including the tablet, a Verizon iPhone, and a new entry-level iPhone. Priced in the $500 to $700 "sweet spot," Abramsky said the tablet could bring another $2.8 billion in revenue and $0.30 earnings per share to Apple in the 2010 calendar year.
RBC Capital Markets has maintained a $275 price target for AAPL stock.
Like many analysts, Brian Marshall admits he was "uber-bullish" on holiday iPhone sales. He had forecast 8.8 million units internationally, versus an estimated actual of 6.1 million overseas. But the average selling price of the iPhone increased about 2 percent to $620, which Marshall said makes an even stronger case for investors to buy AAPL.
Even with a slower adoption of new international carriers than expected, the higher average selling price of the iPhone has boosted the company's projected calendar year 2010 earnings per share to $12.00, from $11.75.
Marshall said Apple remains "the best technology company on the planet," with its business model only becoming stronger over time. Broadpoint.AmTech has reiterated its "buy" rating for AAPL and raised its price target to $264, from $260.
Most stunning to analyst Rober Cihra was Apple's free cash flow during the first financial quarter of 2010, which was $5.4 billion, or $5.48 per share. Apple's net cash position is now $39.8 billion, or $43 per share.
Compared to most other analysts, Cihra was actually extremely bullish on Apple, and forecast non-GAAP revenue of $15.8 billion and $3.81 EPS (vs. actual $15.7 billion and $3.67 EPS). Despite that overestimate, Cihra expects Apple's year over year growth to accelerate next quarter, with revenue of $12.6 billion and $2.69 EPS.
He also noted that Apple's 8.7 million iPhones was less than the recent 10.1 million handsets reported sold by Research in Motion. However, the iPhone commands double the average selling price of RIM's BlackBerries.
Caris & Company has reiterated its "buy" rating and maintained a price target of $260.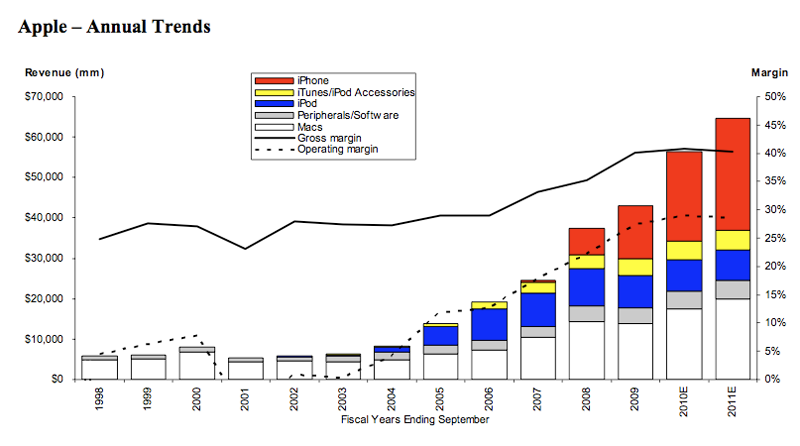 AppleInsider has affiliate partnerships and may earn commission on products purchased through affiliate links. These partnerships do not influence our editorial content.