iPhone OS 3.2 is iPad-only, potential camera support, A4 processor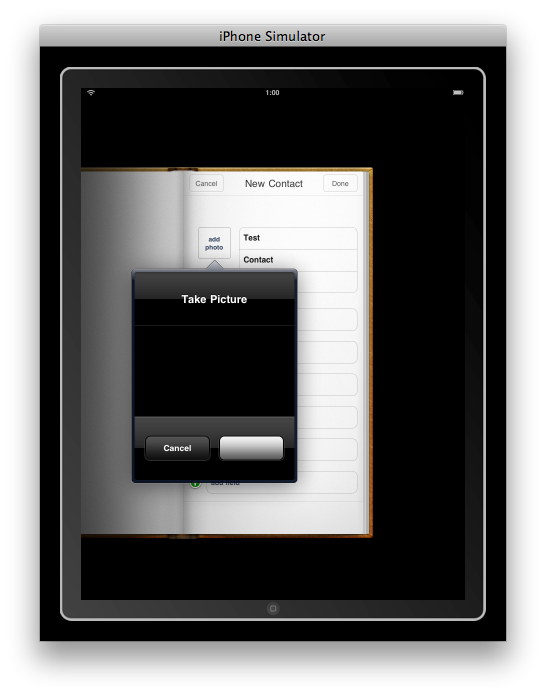 Additional details on Apple's just-announced iPad continue to trickle out, with iPhone OS 3.2 being iPad-only for the time being, evidence of camera support in the software development kit, and the details behind its LED backlit screen with "IPS technology."
iPhone OS 3.2 hints at camera support, is iPad-only
Though the iPad, introduced by Apple Wednesday, does not include a camera, the iPhone OS 3.2 SDK "simulator" for creating software hints the shipping product could support a camera in some fashion. One developer told AppleInsider that the native Contacts application offers the option to take a photo, in addition to choosing an existing one.
The option could be a sign that the shipping product could support a camera, perhaps through an external attachment to the iPad's 30-pin connector port. Or, it could just be something carried over from the iPhone, which does have an integrated camera.
Currently, the iPhone OS 3.2 SDK simulator reportedly contains only two applications: Settings and Contacts. It also has added rich text support in the UITextInput that allows different fonts, sizes and more. The iPhone OS 3.2 SDK also allows video output to an external display through a dock connector.
In addition, an update to the iPhone developers Web site has revealed the new version, iPhone OS 3.2, is, for the moment, iPad-only.
"Note: iPhone OS 3.2 does not support iPhone and iPod touch devices," the document states. "It only runs on iPad."
The reveal of iPhone OS 3.2 confirms a report from earlier this week when an analytics firm revealed it had spotted 50 suspected iPads running the unreleased version of Apple's mobile operating system.
Apple's custom A4 processor pictured
Moments after Apple revealed the iPad would be powered by its custom A4 processor, iFixit provided an image of the internal component. The solutions provider said the A4 processor in Apple's video was manufactured during the last week of September 2009.
It also noted that ARM has had a "secret" licensee for years that is likely Apple and P.A. Semi, the fabless chip designer it purchased for $278 million in 2008. AppleInsider first reported in 2008 that Apple has licensed the ARM architecture for years.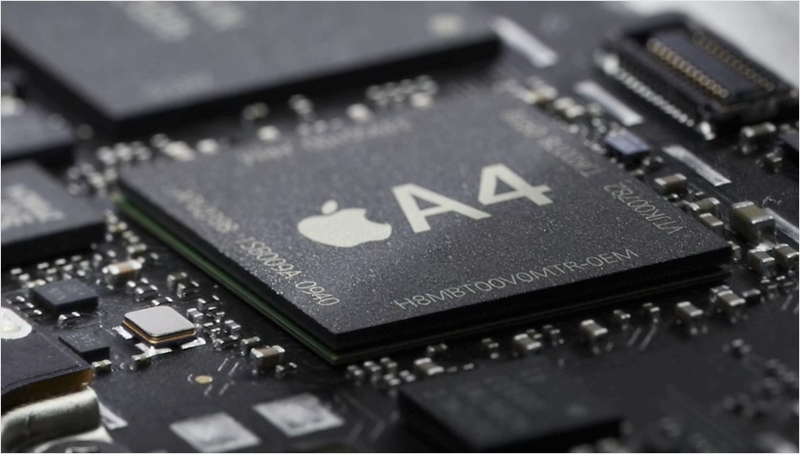 When the iPad is released in the next two months, you can be sure iFixit will have a peek inside the device.
In-plane switching (IPS) LCD and other tidbits
Apple touted Wednesday that its new iPad tablet device features an LCD screen with IPS technology, stating that it displays pictures that are "remarkably crisp and vivid" on its 9.7-inch LED-backlit screen. IPS technology was developed by Hitachi in 1996 to improve viewing angles and color reproductions on screens.
The iPad does not support the unique 1700Mhz spectrum utilized by the T-Mobile 3G network in the U.S. So although the hardware is unlocked and could theoretically access T-Mobile's EDGE network, 3G connectivity will not be an option anywhere but AT&T in the U.S.
Much like the iPhone and iPod touch, the iPad does not have support for Adobe Flash. In fact, during Wednesday's keynote presentation, CEO Steve Jobs pulled up a Web site that had Flash embedded, and the missing plug-in icon was prominently displayed.
Quashing rumors that led up to Wednesday's event, the iPad also does not offer multi-tasking support for third-party applications.