Office for Mac 2011 to feature co-authoring, ribbon interface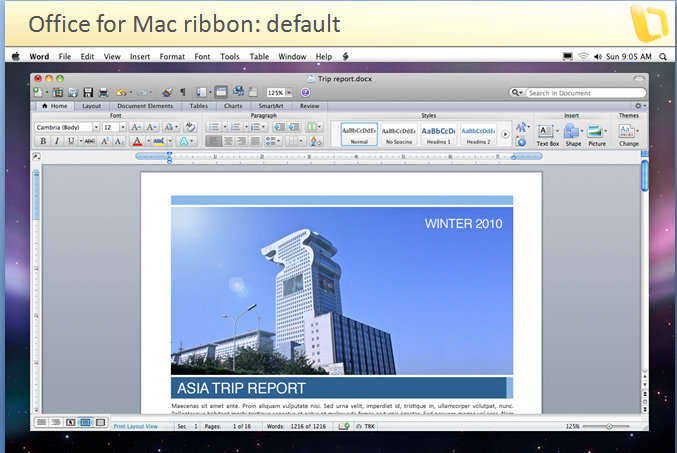 Microsoft on Thursday detailed some of the new features in its forthcoming Office for Mac 2011 suite, including co-authoring tools, Web apps, and a redesigned ribbon interface more consistent with its Windows counterpart.
Microsoft is a part of Macworld 2010 expo in San Francisco this week, and has used the event to divulge details on its forthcoming update to Office for Mac, expected to arrive later this year.
"Together with your team — officemates, family or classmates — you are part of the community that helps shape each version of Office for Mac," said Eric Wilfrid, MacBU general manager at Microsoft Corp. "You've told us that working together across platforms is a priority to you and that's why we are making Office for Mac 2011 the best, most compatible productivity suite on the Mac."
Pricing for the new version has not yet been made available, and a company official told Mary-Jo Foley of ZDNet that Microsoft is looking into support for the forthcoming Apple iPad, though it has nothing to announce at this time. Apple will sell multi-touch versions of Numbers, Pages and Keynote — part of its competing iWork suite — for the iPad for $9.99 each, and Pages will allow users to save documents as Microsoft Word files.
Microsoft revealed Thursday that the co-authoring tools in Office 2011 will allow multiple users the ability to work on files from Word, PowerPoint or Excel from different locations. The Presence Everywhere feature gives real-time updates on who is working on the document directly in the application.
Microsoft Web Apps can also be accessed from within Office 2011, allowing users to share Office documents from any machine with an Internet connection.
The addition of a ribbon layout to Office for Mac hasn't completely rearranged the design users have become accustomed to, Microsoft said. Instead, it gives "the best of both worlds" by using the classic Mac menu and Standard Toolbar.
"Together these tools make it easy to find and discover new and frequently used commands," the company's press release said. "In fact, more than 80 percent of the most used features live in the default view of our new user experience so you don't have to waste time finding the tool you need."
The company also previously announced that it would include a brand new version of Outlook built as a Cocoa application from the ground up for the Mac platform. The company has said its new Outlook will make the application attractive, give it high performance, and integrate it with the Mac OS X operating system.
Microsoft also announced Thursday that Outlook for Mac would allow importing of .PST files from Outlook for Windows, which it said was one of the top requests from customers. The new Outlook will also allow Spotlight search and backup support from Time Machine.