Strong Mac, iPhone sales projected to propel Apple stock to $280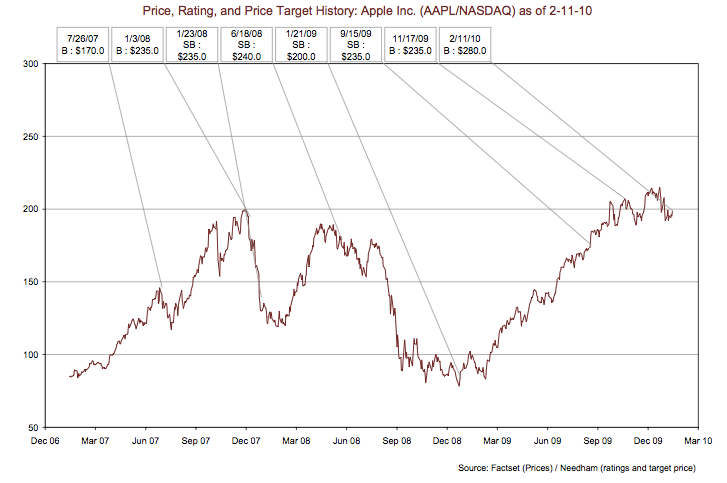 AppleInsider is supported by its audience and may earn commission as an Amazon Associate and affiliate partner on qualifying purchases. These affiliate partnerships do not influence our editorial content.
Stronger-than-expected Mac and iPhone sales in the last two quarters and the impending launch of the iPad have led Needham & Company to raise its price target on Apple stock to $280.
Analyst Charlie Wolf said in a note to investors Friday the increase from $235 is because the trajectory of Mac and iPhone sales were "materially higher" in the last two quarters than Needham had forecast. He also expects the iPad to make a "material contribution" to the company.
Another factor in Apple's projected success: its massive amount of cash. The company revealed during its last quarterly earnings conference call that it had $39.8 billion at the end of the December quarter, an increase of $5 billion from the previous quarter.
And while Mac sales have been strong, Wolf said they could become even better, because Apple is currently a small fish in a large pond. With just 4 percent of the total personal computer market, the iPhone and iPod "halo" effect could lead to significant growth for the Mac platform in 2010.
Wolf believes Mac shipments will hit 24.9 million units annually by 2019. This would represent a projected worldwide marketshare increase from 4 percent today to 4.4 percent in a decade.
He also said that Apple's share of the U.S. smartphone market would likely become "significantly higher" than 30 percent if Apple were to make a CDMA-capable model that could run on the Verizon network, the largest wireless provider in the U.S. Given overseas expansion, Wolf expects the iPhone will see its marketshare increase more internationally than in the U.S.
As for the iPad, Wolf sees great potential for it with existing iPhone and iPod touch users, and within the healthcare and education industries.
"Although the iPad could cannibalize some Mac sales, it has the potential to significantly increase Apple's share of the K-12 market," he wrote. "The iPad should also prove popular as an interactive textbook reader in the higher education market where there are 17 million students.
Wolf previously predicted that the iPad would sell 2 million in 2010, but he expects sales to increase sharply once a "catalyst" for sales emerges. That same catalyst for the iPod was the iTunes Music Store, while the iPhone's sales spark came from the App Store. Most on Wall Street expect the iPad to sell between 1 million and 5 million in its first year.
Wolf has forecast the iPad to sell a "likely conservative" 20 million annually in 10 years, contributing $9.93 earnings per share to Apple's value. But, he admitted, valuing the iPad is an "exercise in futility" as the hardware will not be on sale until the end of March.