NYT execs struggle over iPad edition subscription pricing - rumor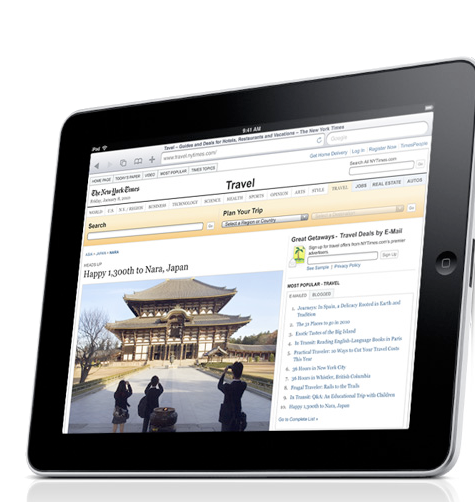 AppleInsider is supported by its audience and may earn commission as an Amazon Associate and affiliate partner on qualifying purchases. These affiliate partnerships do not influence our editorial content.
A new report citing an anonymous source suggests officials within The New York Times cannot agree whether to charge $10 per month or closer to $30 per month for a subscription to one of the world's most prominent newspapers.
The dispute, according to Gawker's unnamed source, lies between those with the company's print division, who view the iPad as "just another way to distribute the paper," and its digital operation, which would prefer to take a different, less expensive approach.
The source claims that those on the print side would like to see users charged between $20 and $30 per month to have the daily edition of the Times delivered to their iPad. Those with the company are allegedly "afraid people will cancel the print paper if they can get the same thing on their iPad," the report said.
On the other hand, those with the digital side of the Times would rather see users be charged about $10 per month for the iPad edition. The report alleged that those in the electronic business are "up in arms over print circulation's pricing."
The report also claims that New York Times Media Group president Scott Heekin-Canedy falls on the side of the print division, favoring pricing between $20 and $30.
"The internal fight might also determine how relevant — and profitable — the nation's most prominent newspaper can remain in the digital future," Gawker's Ryan Tate wrote. "Which is probably why there's reportedly so much sniping over who gets to control the iPad edition internally."
The news follows another recent report that some publishers are skeptical of Apple's iPad business model, which sees the company giving 70 percent of revenue to content providers, but not sharing any personal information about subscribers. Those in the publishing world, particularly in newspapers, view that information — called "their most valuable asset" — as crucial for selling advertising.
The Times played a significant role in Apple's introduction of its iPad, with company co-founder Steve Jobs browsing the official Web site when the hardware was unveiled. Later in the keynote, officials from the newspaper also demonstrated a daily iPad edition of the Times that will be available for download on the forthcoming device. No price for the subscription was given.
The Times Web site is also prominently featured in promotional videos demonstrating the iPad on Apple's Web site.
Days after it was unveiled, Jobs reportedly made a trip to New York City to meet with Times executives and pitch Apple's new hardware. It was said that Jobs demonstrated the iPad's functionality at the head of a restaurant table in what was said to be an "intimate, family-style gathering."