Best Buy expecting new Apple products in mid-March?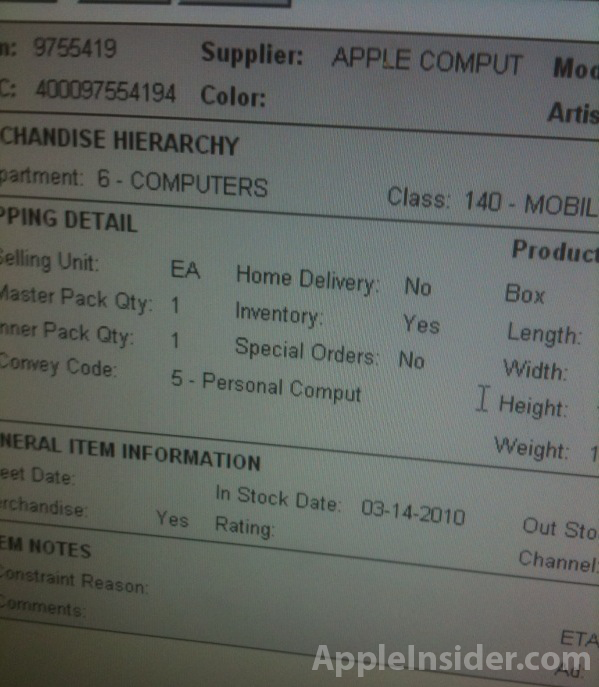 Updated stock information from within Best Buy's computer systems shows the electronics retailer receiving new hardware from Apple — potentially MacBook Pros or iPads — on March 14.
A picture sent to AppleInsider shows the hardware in Best Buy's mobile department, suggesting the device could be the iPad's Wi-Fi model, due to arrive by the end of March, or perhaps an updated MacBook Pro. Apple is expected to refresh its MacBook Pro notebooks this quarter.
The unnamed Apple hardware is a placeholder with a dummy UPC simply used to represent a potential forthcoming new product. While such information leaks from Best Buy from time to time, it is not always reliable.
The new hardware is listed under Best Buy's computer department, though the secondary department is labeled as mobile.
Apple's forthcoming iPad, starting at $499, is set to arrive by the end of March for the Wi-Fi-only model. A 3G-enabled version of the multi-touch, multimedia device is due a month later.
For months, there have been rumors of new MacBook Pros based on Intel's new Core i7 and Core i5 mobile processors. The 32-nanometer chips offer improved speed, better graphics capabilities and lower power consumption than their Core 2 Duo predecessors.
In addition, Gizmodo also received a new image from Best Buy's inventory system, showing a number of new dummy SKUs for forthcoming Apple products. The picture, reportedly taken at a Canadian store, does not provide any details on the products. In addition, the SKU sent to AppleInsider does not appear in the list obtained by Gizmodo.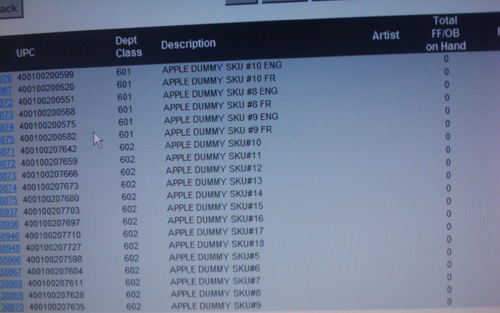 The same source also told the Web site that they saw "fully-speced high end iMacs in inventory that were not in stores yet." Whether these represent the newly redesigned iMacs released last fall is unknown.