Apple's Game Center aims to be like Xbox Live for iPhone OS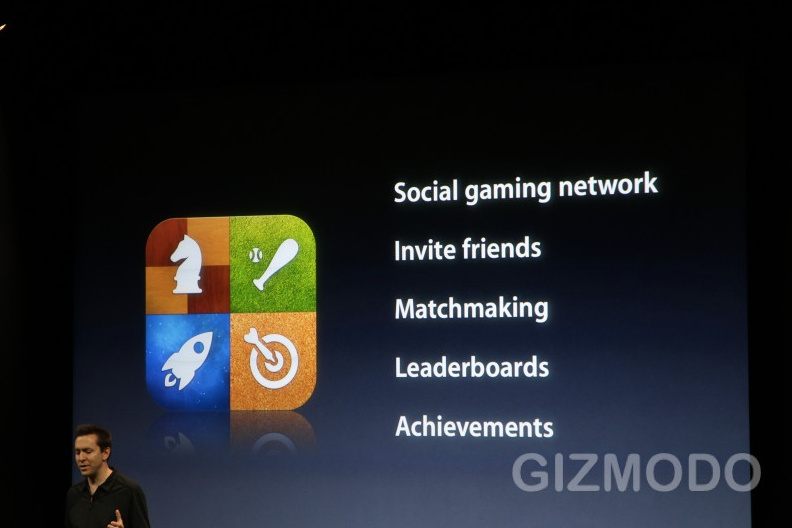 Apple on Thursday announced Game Center, its new social gaming network that will allow gamers on the iPhone, iPod touch and iPad to see what their friends are playing, challenge them to an online match, or compare scores in specific titles.
Accompanying Game Center will be the new GameKit application programming interfaces that will allow developers to integrate their App Store titles into the social network. Apple hopes that developers will make their titles compatible with Game Center to provide a centralized location with an integrated friend system, leaderboards, and unlockable achievements.
Users will be able to see what their friends are up to and even invite them to play games through the Game Center application.
Apple did not go into great detail on the service, which is scheduled to launch later this year, though it does sound similar to Microsoft's Xbox Live online community for the Redmond, Wash., company's home game console. Microsoft even has intentions to integrate Xbox Live features into its forthcoming Windows Phone 7 set to launch later this year. Sony also has a similar online system called PlayStation Network, though there is no mobile phone integration from the company.
During the follow-up question-and-answer session, it was even admitted that Apple is looking into potentially adding achievement points, much like the gamerscore or trophy collections held by Xbox 360 and PlayStation 3 users, respectively.
But game developers will not be forced to make their software a part of the Game Center social network. The service will be opt-in for developers, but Apple executives believe it is a good opportunity for game makers, because the service will allow users to talk with one another about what they are playing, compete or cooperate online, and compare high scores.
Apple revealed Thursday that there are currently more than 50,000 games and entertainment titles available for download on the App Store. Games make up the lion's share of more than 185,000 applications now in the digital download destination.
The App Store has turned Apple into a major player in the portable gaming market, with one recent survey finding that the iPhone and iPod touch represent 19 percent of the handheld U.S. video game software market. Games also play a huge role in the just-released iPad, where most titles fall into that category as well.