Games command 44% of apps tested by Apple for use with iPad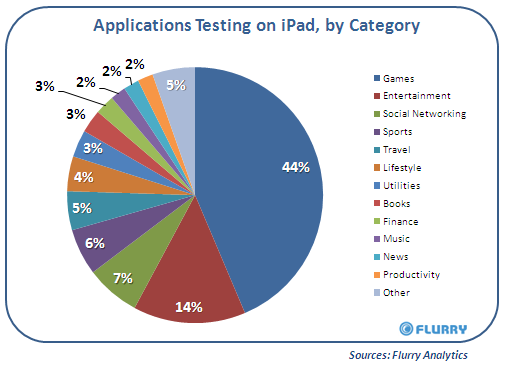 As Apple continues to test applications for use on its forthcoming multimedia iPad, nearly half fall into the games category, while just 3 percent are books.
New statistics from analytics firm Flurry provided to AppleInsider show that the lion's share of applications being tested on the iPad are games, which command 44 percent. The next most popular App Store category, in a distant second place with just 14 percent, is entertainment.
Peter Farago, vice president of marketing with Flurry, said the applications seen on iPhone OS 3.2 via the iPad have likely been used by Apple for testing purposes with its new hardware, due to be released April 3. He said the company is unable, however, to comment on the number of applications they are seeing, or the specific devices they are seeing them on.
Flurry's data was the first to spot hardware running iPhone OS 3.2 before Apple formally announced the iPad. The analytics firm found about 50 iPad devices were being tested prior to the iPad reveal in late January. At the time, many had incorrectly expected the new hardware would run iPhone OS 4.0.
The iPads were first spotted in October of 2009, but saw a dramatic increase in testing in January. At the time, it was said that tested applications had a strong focus on reading and news, though the vast majority were games.
Following the announcement of the iPad, Flurry found that developer interest in Apple's App Store nearly tripled. The company, which has tracking data in over 20,000 mobile applications, found that developers integrating Flurry analytics into iPhone OS applications in January dramatically increased from January. More than 1,600 new applications were started with Flurry in January, compared with under 600 in December.
That high interest from developers was reiterated last week, when the firm's latest Smartphone Industry Pulse survey was released. The company said a "significant increase" in new application starts was maintained through the month of February.
Apple has pitched the launch of the iPad as a "whole new gold rush" for developers, as the device and its 9.7-inch screen will run existing App Store software as well as new applications designed specifically for the hardware and its larger touchscreen. First released in January, the iPhone 3.2 beta software development kit allows developers to create iPad-specific software.
Last Friday, Apple began accepting iPad applications to the App Store. Applications submitted by March 27 that meet all of the requirements set forth by Apple should be available for the product launch on April 3.