Estimate says Apple has sold more than a million iPads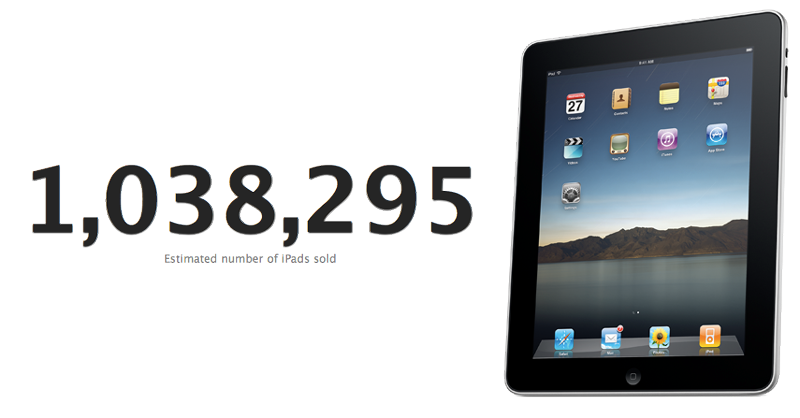 With more than 500,000 confirmed sold in its first week, a new estimate has predicted that Apple recently doubled that amount and crossed the 1 million threshold for total iPad sales.
The numbers were calculated by seeing how many new, unique iPads were spotted coming through Chitika's online advertising network. The running tally has been in place since soon after the iPad launched, and the advertising firm's calculations have been adjusted a number of times in an effort to provide more accurate estimates.
The estimates suggest that the iPad is most popular in California, with 19.12 percent of all devices emanating from the western state. In second is New York with 8.3 percent, followed by Texas (8 percent), Florida (5.88 percent), and Illinois (3.84 percent). The iPad is least popular in Wyoming, where just 0.03 percent of all devices were tracked.
Just a few days after the iPad launched, the firm incorrectly estimated that more than 500,000 iPads were sold — a number that was not actually achieved until the end of the iPad's first week of availability. On April 8, Chitika conceded that its assumptions in calculating iPad sales were "way off." It then adjusted its sales estimates with a new formula the company believes is more accurate.
Subsequent updates also accommodated for the fact that an iPad coming through their networks had an average of 2.73 different unique IP addresses. The firm also found a way to track iPads by browser cookies, through a workaround that bypasses Mobile Safari's rejection of third-party cookies.
Apple has revealed a handful of official iPad sales figures since the device launched earlier this month. The hardware sold more than 300,000 on its first day, reached 450,000 in its first five days, and topped 500,000 at the end of its first week.
Apple executives admitted they were surprised by the initial sales of the iPad. Chief Operating Officer Tim Cook said during his company's second fiscal quarter of 2010 conference call that sales "far exceeded our expectations."
"It has shocked us, the level of demand, at least initially," Cook said. Strong sales forced Apple to delay the international launch of the iPad until the end of May, as the hardware maker looks to meet demand in the U.S. with the currently available Wi-Fi model, and soon-to-launch 3G version, to be released this Friday.