44% of iPad buyers view Apple's tablet as notebook replacement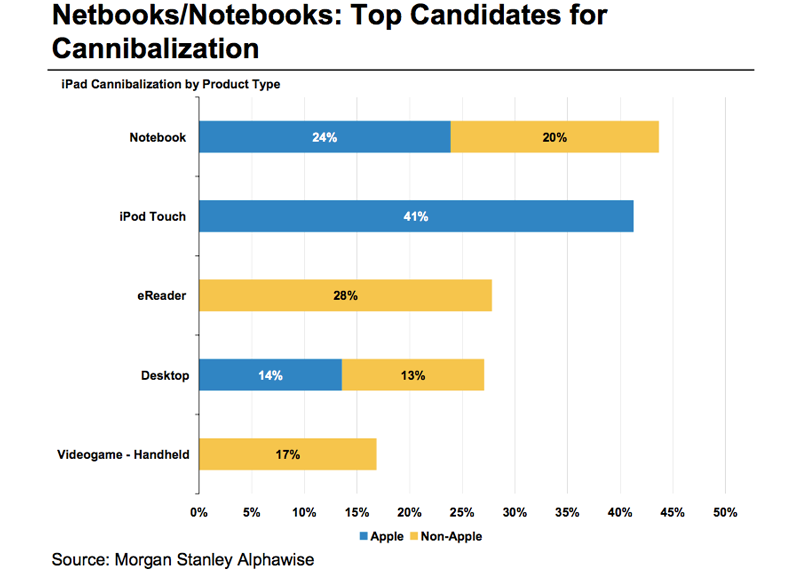 AppleInsider is supported by its audience and may earn commission as an Amazon Associate and affiliate partner on qualifying purchases. These affiliate partnerships do not influence our editorial content.
A survey of iPad buyers found that 44 percent would purchase the touchscreen device instead of a notebook, and 41 percent would not buy an iPod touch as a result of their tablet.
The March 2010 Alphawise survey results, disclosed Thursday by analyst Katy Huberty with Morgan Stanley, give insight into the potential cannibalization of other Apple products due to the release of the iPad. The study found that of the 44 percent who would not buy a notebook, 24 percent would not buy a MacBook, while the other 20 percent would not purchase a PC.
The survey also found that 27 percent of users would not buy a desktop as a result of their iPad purchase, with 14 percent of those not buying a Mac desktop, and the other 13 percent passing on a PC. The survey also found that the iPad will affect e-reader and handheld videogame sales, two segments in which Apple does not have a dedicated device.
Huberty said that the iPad has already had an impact on portable computer sales, which have slowed since the start of 2010. The results suggest that the netbook market was most impacted by Apple's iPad.
"U.S. consumer PC, and especially notebook, growth decelerated in January when Apple introduced the iPad and again in April when the iPad launched," she wrote. "Given the corresponding increase in (average selling prices) in the market, we believe much of the demand shortfall came from netbooks and low-cost notebooks."
The data was included as part of a note on HP's acquisition of Palm for $1.2 billion. HP has already suggested that Palm's WebOS could extend to platforms beyond smartphones, and be ported to tablets and netbooks to compete in the mobile space with Apple's iPad.
"HP's acquisition of a mobile operating system is supportive of our view that mobile Internet devices, and tablets in particular, may prove a headwind to notebook growth," Huberty wrote.
Her "bull case assumptions" suggest the global tablet market could grow to 60 million units in 2013, which is nearly double the current netbook numbers. She expects Apple's iPhone OS and Google's Android mobile operating system to be the market leaders in the tablet space, but said WebOS could capture a 15 percent market share by then.
The projection also calls for 35.6 percent gross margin for HP's WebOS tablets, which would be better than rival HTC's 31.6 percent margins, but well below a projected 2011 gross margin of between 45 percent and 50 percent for Apple and the iPhone and iPad.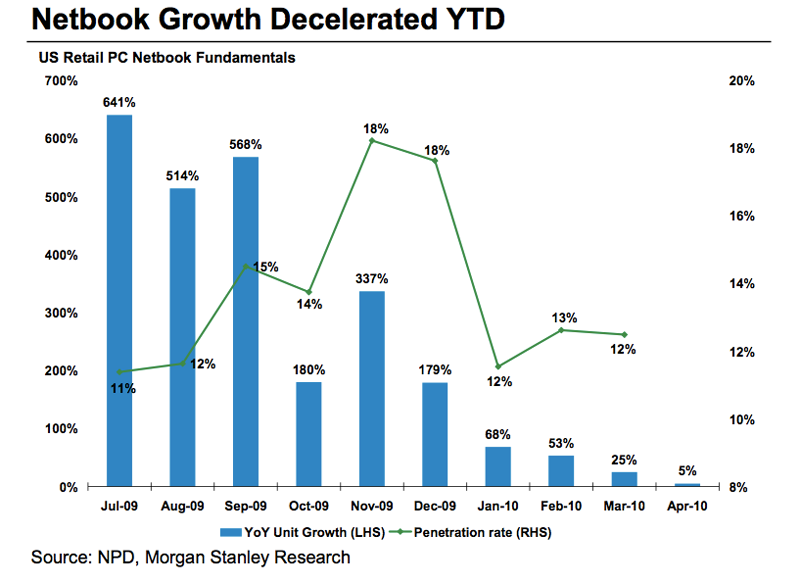 Apple's iPad has had a strong start, with recently announced sales of 1 million in the first 28 days, based solely on U.S. sales. That well exceeds most analysts' expectations, most of whom predicted soon after the product's launch that it would sell between 1 million and 5 million in its first year.
During Apple's last quarterly earnings conference call, Tim Cook, the company's chief operating officer, declined to predict how much the iPad would cannibalize sales of other Apple products. He noted that after the iPad was announced in January, there was "nothing obvious" seen in sals of iPods or Macs. He did, however, say that he could see the iPad taking a large portion of the netbook market.
"To me it's a no-brainer: iPad, netbook, it's sort of 100 to zero," Cook said. "I can't think of a single thing the netbook does well, and the iPad does so many things so very well. I'm already personally addicted to mine. I couldn't live without it."