Cisco licenses iOS name to Apple, screenshot shows iWork on iPhone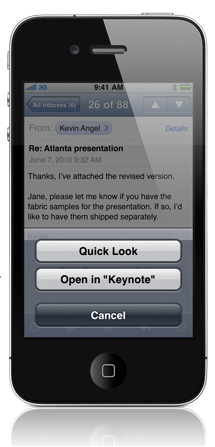 Before Apple announced its newly renamed iOS, the company came to an agreement with the owner of the trademark, Cisco. Also, a screenshot temporarily shown on Apple's website suggested Keynote, part of the iWork suite, could be coming to the iPhone.
Cisco, Apple agree on iOS trademark
On its website Monday, Cisco revealed that it has agreed to license the use of the iOS name to Apple for its mobile operating system on the iPhone, iPod touch and iPad. Cisco owns the trademark for IOS, its core operating system used for nearly two decades.
"The license is for use of the trademark only and not for any technology," Cisco noted.
The company said that Cisco IOS software is the most widely leveraged network infrastructure software in the world, and is currently found on millions of active systems.
The prior agreement is different from 2007, when Apple introduced the iPhone — a trademark that was also owned by Cisco. Following Apple's iPhone announcement, Cisco sued, alleging infringement.
A month later, the two companies reached a settlement that allowed both companies to use the iPhone trademark on their products throughout the world.
Apple also did not own the name iPad earlier this year, when its new multitouch device was introduced. Fujitsu released the first product to carry that name in 2002. Days before Apple's iPad was announced, the Cupertino, Calif., company acquired the trademark from Fujitsu.
Keynote, iWork could come to iPhone
Apple on Monday had a screenshot on its website showing the option to open an e-mail attachment on the iPhone in Keynote. Currently, the only iOS version of Keynote available is on the iPad, along with Pages and Numbers, rounding out the iWork suite.
The screenshot was quickly grabbed by Pocket-lint before Apple pulled it down. The image was replaced with a screen that read "Open in 'iBooks'" instead of "Open in 'Keynote.'"
Since the trio of multitouch iWork applications were released for iPad, they have consistently been among the top selling software on the App Store. One projection suggested the iPad versions of the iWork suite will earn Apple $40 million a year.