Apple offers toll-free number to try out FaceTime on iPhone 4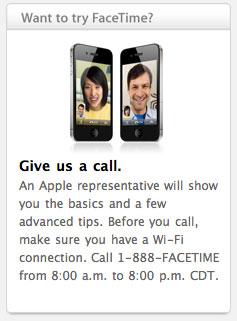 Looking to test out FaceTime on your new iPhone 4 but don't know anyone else with the latest handset? Apple has provided a toll-free number for users to call and video chat with a company representative.
This week Apple sent out e-mails to customers, letting them know that they could try out FaceTime by calling the toll-free 1-888-FACETIME (322-3846) number. The hotline is available between 8 a.m. and 8 p.m. CDT.
"Want to try FaceTime? Give us a call," the note reads. "An Apple representative will show you the basics and a few advanced tips. Before you call, make sure you have a Wi-Fi connection."
A user who calls Apple will talk to a representative who asks questions about the FaceTime configuration and Wi-Fi connectivity. They will then engage in a FaceTime conversation, and explain all of the features of the open standard found in the iPhone 4.
FaceTime is a new open standard announced by Apple earlier this month alongside the introduction of iPhone 4. It requires Wi-Fi to operate, and currently is only available when using two iPhones.
No setup is required, and the feature is enabled while on a call with someone. Either the front or rear camera can be used with FaceTime.
Because it connects solely over Wi-Fi, FaceTime does not use cell minutes, even though it is originated during a cellular call.
Apple has made FaceTime an open standard, in hopes that it will connect with other services and devices beyond the iPhone 4. Major chat services like Skype and Google Talk have said they are paying attention to FaceTime, but currently have no plans to implement it in their own respective chat clients.