Amazon adds audio, video capabilities to Kindle app for iOS devices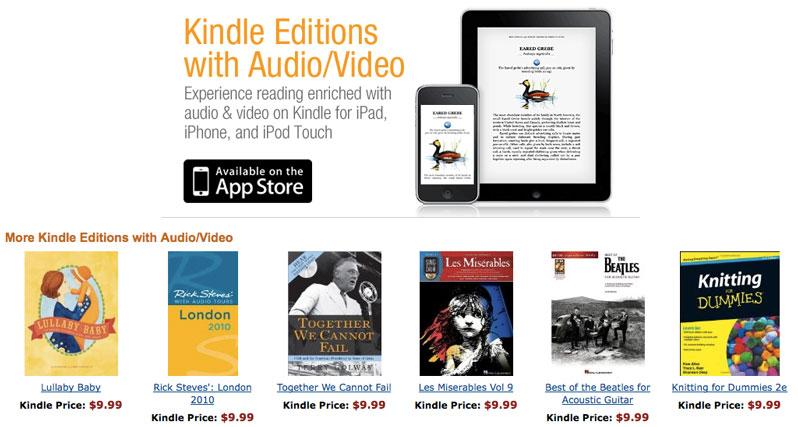 AppleInsider is supported by its audience and may earn commission as an Amazon Associate and affiliate partner on qualifying purchases. These affiliate partnerships do not influence our editorial content.
Amazon this week updated its Kindle application for iOS devices including the iPhone and iPad, bringing users the ability to view audio and video with new e-books that include multimedia content.
Some new e-book titles available for the Kindle now include embedded audio and video clips. The new functionality for iOS devices means that Apple's hardware can view content that Amazon's own Kindle e-ink hardware cannot.
Titles included with the expanded format range from "Les Miserables" to "Knitting for Dummies." Also included are "Rick Steves' London" by Rick Steves and "Together We Cannot Fail" by Terry Golway. Titles are $9.99 and available at amazon.com/kindleaudiovideo.
"We are excited to add this functionality to Kindle for iPad and Kindle for iPhone and iPod touch," said Dorothy Nicholls, director, Amazon Kindle. "Readers will already find some Kindle Editions with audio/video clips in the Kindle Store today — from Rose's 'Heavenly Cakes' with video tips on preparing the perfect cake to Bird Songs with audio clips that relate the songs and calls to the birds' appearances.
"This is just the beginning— we look forward to seeing what authors and publishers create for Kindle customers using the new functionality of the Kindle apps."
In addition to the new audio and video functionality, Amazon has also updated its Kindle for iPhone application to take advantage of the new high-resolution Retina Display found on the iPhone 4.
"We are truly excited to have collaborated with Amazon to launch Kindle Editions with audio/video," said Peter Balis, Director, Digital Content Sales, Wiley. "Innovations like these represent the advantages that digital can offer. Advancing our content in this manner is important for our authors and our readers and it will raise the bar on what digital reading can offer for years to come."
Since the iPad was announced, Amazon has reportedly internally rethought its strategy with the Kindle hardware. In February, The New York Times reported that the company purchased multitouch company Touchco and folded them into its engineering team. Soon after, the Kindle group posted over 50 job openings for positions related to hardware design, suggesting the company is looking to create a new version of its mobile reader.
Last week, facing increased competition from the iPad, starting at $499, and the Barnes & Noble Nook, which reduced its starting price to $149, Amazon slashed the price of the Kindle. The e-ink reader now costs $189, down from a price of $259.