Apple sends out invitations for Sept. 1 'special event'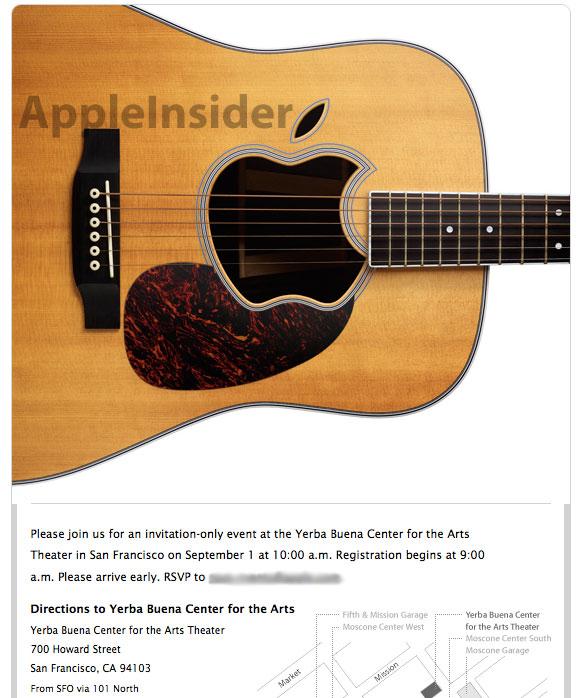 Apple on Wednesday invited members of the media to its annual media-centric keynote, where it is expected to introduce new iPods and an updated Apple TV, set for Sept. 1 in San Francisco, Calif.
The event will be held next Wednesday and will start at 10 a.m. Pacific Time, 1 p.m. Eastern, and will be held at the Yerba Buena Center for the Arts. Alluding to the music-themed nature of the event, the invitation includes an acoustic guitar with a sound hole in the shape of an Apple logo.
The announcement dispels an earlier report that the event would be held on Sept. 7.
In recent days, a firestorm of rumors and speculation have centered around a supposed new Apple TV, perhaps dubbed iTV, starting at $99. Both Bloomberg and The New York Times have cited anonymous sources as stating that Apple is currently negotiating with content providers to offer 99 cent TV episode rentals.
However, Apple reportedly does not intend to make the new Apple TV the centerpiece of its announcement, as sources said Chief Executive Steve Jobs doesn't expect the device to be an instant mainstream hit. Instead, Apple is allegedly looking to improve its product, which it has long referred to as a "hobby," by transitioning it to the iOS operating system and giving it access to the App Store for content and games.
Apple is also expected to reveal a new iPod touch with a forward facing camera that will allow FaceTime video chat, as is currently available on the iPhone 4. There have been numerous leaked parts alleged to be from Apple's forthcoming portable media player that show a space in the device's front panel for a camera.
While the iPod touch lacks a phone number to allow people to connect for a FaceTime call, beta releases of iOS 4.1 show that the media player will identify users by their e-mail address. Jobs said earlier this summer that his company will ship tens of millions of devices compatible with FaceTime this year alone. Currently, only the iPhone 4 is capable of making FaceTime video chat calls over Wi-Fi.