Apple's shrunken 6th-gen iPod nano to retain 30-pin dock connector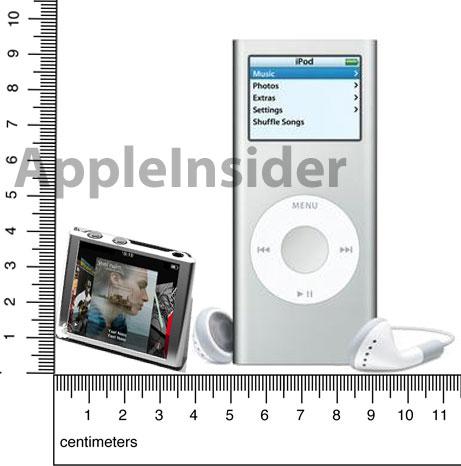 AppleInsider may earn an affiliate commission on purchases made through links on our site.
Apple is poised to introduce a radically redesigned iPod nano next week that will retain its trademark I/O connector despite its drastically reduced form factor, AppleInsider has learned. Meanwhile, rumors pertaining to 3G-enabled iPod touches and a new version of iLife are also on the table.
People familiar with the matter indicated that the size and shape of the device, revealed this week through photos of third-party cases, will be more akin to the iPod shuffle than the current-generation iPod nano. Even with this small size, however, it is expected to have a traditional iPod dock connector, allowing compatibility with the existing iPod accessory ecosystem.
The new iPod nano is said to utilize a tiny 3cm-by-3cm display that was revealed in its bare form as unknown Apple-branded component earlier this summer. For comparison, the second-generation iPod nano had a screen that was about 3cm by 2.5cm.
AppleInsider was told that overseas manufacturers have been creating protective cases that will fit the new form factor since July. The cases seen this week appeared to indicate that the device will have buttons on its side, perhaps for volume control.
The current iPod shuffle, Apple's smallest media player, is not large enough to house the now-ubiquitous iPod USB-powered dock connection. Instead, the iPod shuffle connects to a computer through a special USB cable that plugs into the device's headphone jack.
While the headphone USB cable allows the small form factor of the iPod shuffle to be possible, it also locks the device out from the popular and lucrative submarket of devices that rely on the 30-pin iPod dock connector found on the remainder of the iPod lineup, as well as the iPhone and iPad.
It is not clear how input will be handled with Apple's new iPod nano. Previous reports indicated that the new, small display will be a touchscreen, though its limited available real estate could make navigation difficult.
The new device could also have inputs on the back, or through another method entirely, such as that of the shuffle. The cases revealed this week showed an open space on the back that could also be used to clip the device.
People familiar with Apple's plans have also heard over the last few months that the company has strongly considered mimicking its iPad offerings by adding a 3G option to some of its iPod touch portable media players, though it is unclear whether the Cupertino-based company has decided to proceed with those plans as part of next week's announcement.
A similar move was made earlier this year when Apple launched the iPad. The company now offers a Wi-Fi-only iPad, in addition to a version with a 3G radio for an additional $130. Currently, the iPod touch only offers Wi-Fi and Bluetooth, but 4th-generation prototypes with a SIM tray akin to the iPhone 4's are said to exist.
The 3G-capable iPad has been a resounding success for Apple, with strong sales that resulted in the device being sold out or in limited availability for months at Apple's retail stores.
At a minimum, Apple is widely expected to introduce a fourth-generation, FaceTime-equipped iPod touch with front and rear facing cameras, as well as a Retina display, at next week's Sept. 1 special event.
Finally, people who have an ear in on Apple plans say there was some talk a few months ago about dedicating some time at next week's media event to a new version of its iLife software suite. Rumors of an update to iLife have persisted for most of the year, but so far an updated version of the software suite has failed to materialize. Like the rumors of a 3G option for new iPod touches, however, this bit of information cannot be confirmed at this time with certainty.
The iLife suite currently includes iPhoto, iMovie, GarageBand and iWeb, and is included free with every new Mac. The last update, iLife '09, launched in January of 2009, with major upgrades to all of its applications, including the Faces and Places features in iPhoto, and the addition of the Precision Editor to iMovie.