Mysterious 'iProd2' referenced in iOS is new Apple TV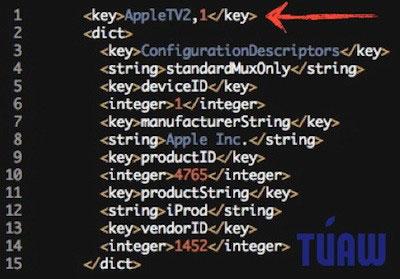 AppleInsider is supported by its audience and may earn commission as an Amazon Associate and affiliate partner on qualifying purchases. These affiliate partnerships do not influence our editorial content.
References to an unreleased product dubbed "iProd2,1" that were discovered in Apple's iOS software earlier this year have turned out to be the new Apple TV.
A developer looking through the USB device configuration list in the first iOS 4.2 beta discovered that the device is the new Apple TV, now referred to as "AppleTV2,1," according to TUAW.
When the references to an "iProd2" were found earlier this year, many assumed it was a new iPad in the works. That's because the first-generation iPad was represented by the name "iProd1,0" and later "iProd1,1" in early betas of iOS 3.0 software.
The information also serves as yet another piece of evidence that the new Apple TV interface is based on the iOS mobile operating system found on the iPhone and iPad. While Apple has revealed that its new set top box runs the same A4 processor as the iPhone 4, iPad and fourth-generation iPod touch, it has not revealed any connections to the new Apple TV software.
That led author Steven Sande to speculate it could mean that the new Apple TV could be "jailbroken" in much the same way the iPhone, iPod touch and iPad are, offering users the ability to modify their device's operating system and install software not allowed by Apple. A substantial modding community devoted to the original Apple TV also blossomed during that device's time on the market.
"Analysts have speculated that the onboard storage of the new Apple TV will be minimal, since the company has publicly stated that the device will support media streaming only," the report said. "As a result, if hackers are able to jailbreak the device, there may not be enough room to run custom apps, nor is it clear how those applications would interact with the Apple Remote."
Due to be released later this month, the new Apple TV is a quarter the size of its predecessor with limited internal storage. Instead, the new device focuses on streaming content, including TV episode rentals for 99 cents. It also carries a price less than half that of the original, at just $99.