Licensing deal with Rovi seen as more evidence of Apple HDTV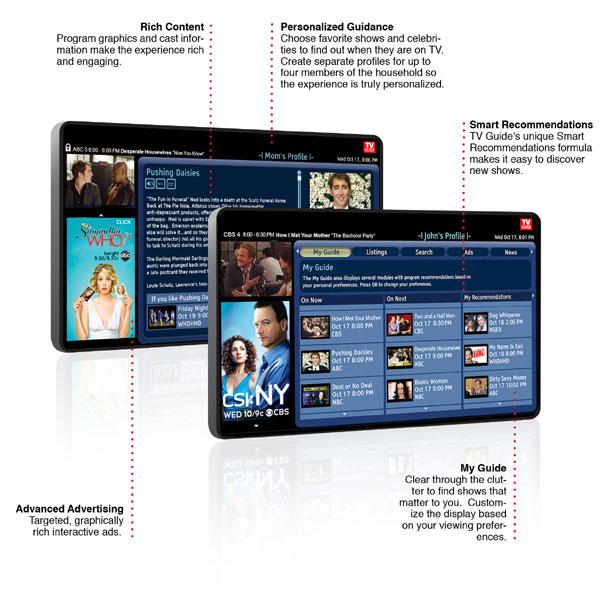 AppleInsider may earn an affiliate commission on purchases made through links on our site.
Apple's newly announced confidential deal with Rovi Corporation has been viewed by one prominent Wall Street analyst as more evidence of a connected HDTV, with live TV and DVR functionality, in the company's future.
Analyst Gene Munster with Piper Jaffray believes that the secretive deal announced Monday is evidence of a forthcoming HDTV from Apple. Rovi is the creator of an interactive program guide that has been licensed by cable and satellite operators, as well as set-top box makers.
"We believe this announcement is further evidence that Apple is developing live TV and DVR features for its Apple TV product, and will likely launch and all-in-one Apple Television in the next 2-4 years," Munster wrote in a note to investors. "Following its deal with Rovi, Apple would be clear to add live TV, DVR and guidance features to its Apple TV product, which we believe is a critical step towards an all-in-one Apple Television."
Munster has long believed Apple could push into the HDTV market in the next few years, and could "move the needle" in a market that as of January of 2010 was worth more than $30 billion. The analyst views the new Apple TV update as a stepping stone for the company's connected television.
Apple has stuck with its current set top box model, and has not attempted to enter into the cable box industry, because it's a difficult market to break into, the company's chief executive, Steve Jobs, said in June. Jobs said customers are used to receiving a cable box from their provider for free or for $10 a month.
"The only way that's ever going to change," he said, " is if you can really go back to square one, tear up the set top box, redesign it from scratch with a consistent UI across all these different functions, and get it to customers in a way that they're willing to pay for it. And right now there's no way to do that."
Rovi has not disclosed the terms of its multi-year deal with Apple, but the company licenses its interactive program guide to third parties, allowing users to "facilitate navigation of digital entertainment media."
Its TotalGuide product allows users to access "simple, centralized and intuitive access to multiple content types: broadcast, premium, Internet-based and personal." It also offers TV listings with imagery, enhanced data, and extended multimedia.
Other TV-based services from Rovi include TV Guide On Screen for North America, and similar products across the world, such as GUIDE Plus+ TV Programming Guide in Europe.