iPad coming to Walmart stores next week - rumor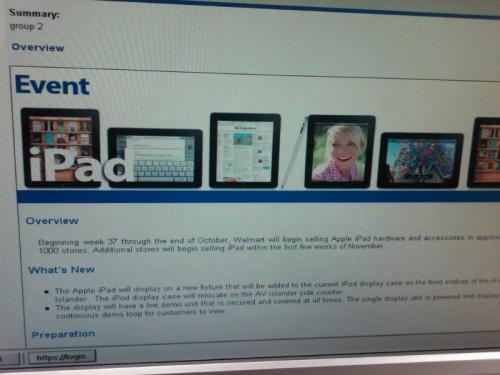 AppleInsider may earn an affiliate commission on purchases made through links on our site.
Photos of an alleged email sent to Walmart managers suggest the retail giant could begin carrying all six models of Apple's iPad as early as next week, a new report claims.
The photos were obtained by MacRumors and posted late Friday. According to the alleged email, the initial stock at Walmart stores will be 5 units of each iPad model and 10 units each of Apple's official iPad accessories.
The iPad will roll out first to 1,000 stores beginning "week 37" through the end of October, with more stores receiving the device in "the first few weeks of November," the report noted. Store displays will reportedly feature a covered "live demo unit" with a continuous video loop highlighting the iPad's features.
Walmart revealed in May its plan to sell the iPad by the end of the year. In 2009, the Bentonville, Arkansas-based discounter overhauled many of the electronic departments in its retail stores to include an Apple section.
At the time, analysts predicted that Walmart would eventually move from carrying just iPods and iPhones to offering Apple's Mac line of computers.
"We believe Wal-Mart is actively pitching Apple to carry more products," Barclays Capital analyst Ben Reitzes said. Given that the iPad is positioned between Apple's computers and its smaller mobile devices, Walmart carrying the iPad can be seen as a next step in the relationship between the two companies.
Walmart would be the latest in a massive pre-holiday retail expansion of the iPad by Apple. Retail rival Target began carrying the iPad on Oct. 3, although initial sales appear muted. Visits to Target stores by ifoAppleStore showed that Target had chosen not to display any working iPads, instead keeping them locked behind glass on the bottom shelf of the display.