Apple's new MacBook Air has 8-10hr battery, upgradeable RAM - rumor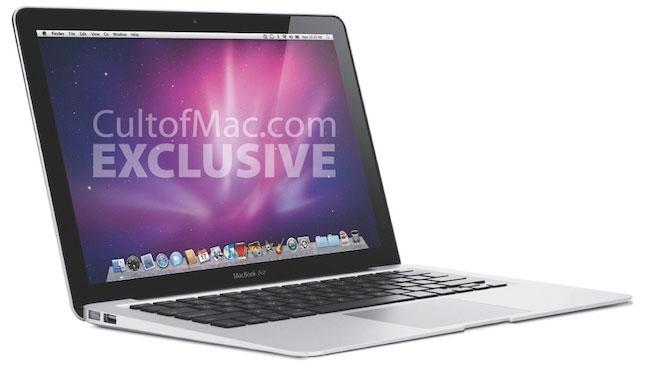 New alleged details of Apple's anticipated MacBook Air refresh have surfaced, with a report claiming the thin-and-light notebook will offer 8 to 10 hours of battery life, as well as upgradeable RAM.
Citing an anonymous source, Cult of Mac reported Monday that the base model will sport 2GB of RAM, but that number can be upgraded. The current MacBook Air does not offer the option to upgrade RAM.
The source also indicated that the notebook will be smaller, but will still offer a battery 50 percent larger. This will increase operating time on battery to between 8 and 10 hours, up from the current model's 5-hour battery life.
The report also corroborated details reported Saturday by AppleInsider that the new MacBook Air will be offered in two sizes: an 11.6-inch screen, and a 13.3-inch display. The source also indicated that the 13-inch model could be priced as low as $1,100, while the 11-inch model could be just $999.
Contradicting the claim of upgradeable RAM is a recent photo of a purported prototype of the new notebook, which showed the device with memory soldered on to the motherboard.
The report also indicate that the solid state drive on the device will be upgradeable. Sources have told AppleInsider that the new device will feature an "SSD Card" that lacks a traditional drive enclosure, and will instead more closely resemble NAND flash. However, it was said the storage will not be easily user replaceable and will be based off of an SATA connection.
Cult of Mac also reported that the new MacBook Air could come in two different configurations: a 2.1GHz processor with 2GB of RAM, and a 2.4GHz processor with 4GB of RAM. It also said that the notebook will sport Nvidia GeForce 320M integrated graphics, a GPU first introduced this April in the 13-inch MacBook Pro.
The report also included a mockup of the device, which is said to be "thinner, lighter and boxier than the current model," according to author Leander Kahney.
Other details from the site's source:
The quick boot time on the new MacBook Air is said to be "unbelievable" and "amazing."
The new model has an aluminum unibody design, but is "not as curvy" as the current model. The source indicated it is "boxier" like the iPhone 4.
For inputs, the source indicated the device has two USB ports, an SD card slot on the right side, and a Mini DisplayPort adapter on the left side.
Apple's Back to the Mac event will be held this Wednesday at 10 a.m. Pacific Time, 1 p.m. Eastern, and AppleInsider will have full live coverage. For more, see earlier reports: