Apple's hot selling 11-inch MacBook Air sees shipping times slip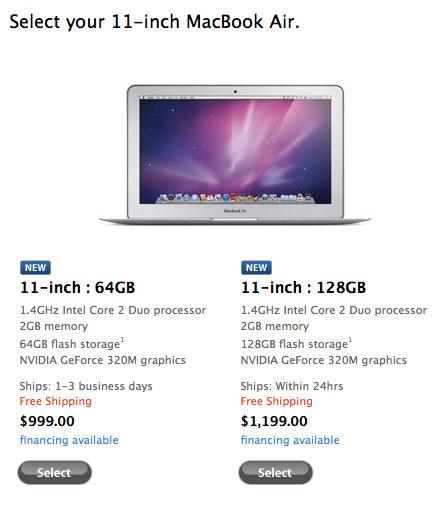 New orders of the $999 11.6-inch MacBook Air are now estimated to ship within 1 to 3 business days, suggesting demand for the entry-level version of Apple's new thin-and-light notebook lineup has been greatest in the first week of sales.
All other versions of the newly released MacBook Air, including the $1,199 11.6-inch model with 128GB of internal storage, still ship within 24 hours. But the cheapest option, at $999, saw its shipping time slip by a few days this week, indicating demand for the sub-$1,000 notebook is strongest.
The 64GB 11-inch MacBook Air is actually Apple's second notebook with a starting price of $999. Apple also sells its larger, low-end MacBook for $999, as it has for years.
Last week, Apple released its new lineup of MacBook Air notebooks, with lower starting prices. The 11.6-inch form factor is a new addition, joined by the models with 13.3-inch screens.
The new notebooks offer only flash memory for storage, allowing them faster speeds when reading and writing data. The new MacBook Air lineup also has "instant-on" technology, while the solid-state memory inside the notebooks allow weeks of standby time on battery power.
Last week, one firm predicted that all four models of the new MacBook Air would sell 700,000 units in the holiday quarter. That prediction calls for the new thin-and-light machine to represent 17 percent of an estimated 4.1 million Mac shipments this fall.
In addition, Mingchi Kuo, vice president of Concord Securities, has called for 60 percent of MacBook Air sales to be represented by the smaller 11.6-inch model. If the slight delay in shipping time of the $999 model is any indication, Kuo's prediction that the 11.6-inch model will be most popular could be accurate, at least in the first week of sales.
AppleInsider recently published a first look at the new Airs ahead of its formal review. It also lined up a deal with reseller MacMall, which is currently offering AppleInsider readers an additional 3% off its already reduced pricing when ordering online using the links in the chart below, or through AppleInsider's full-fledged Mac Price Guide. It's also offering $102 savings off a high-end, non-standard 13.3-inch configuration that includes the 2.13GHz Core 2 Duo processor mentioned above. MacMall has most Air models in stock while MacConnection claims to have the entire lineup in stock.