Apple may have paid over $1M in iAd trademark settlement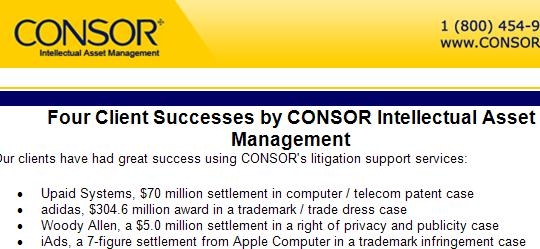 A quickly retracted document suggests Apple paid a "7-figure settlement" in the iAd trademark lawsuit filed by Innovate Media, according to a new report.
Shortly after Apple announced its iAd in-app advertising program in April, Innovate Media Group LLC sued Apple, accusing the company of trademark infringement and unfair competition. Innovate Media began producing its "iAds" online video advertisements, in 2006, and filed for the trademark in 2007.
CNET reports that Consor, an intellectual property consulting firm involved in the suit may have inadvertently revealed details of the settlement, which was quietly reached in July. Apple is now the "last listed owner" of both of Innovate Media's iAds trademarks, and has since resubmitted several applications for the iAd trademark.
Last week, Consor posted a release highlighting the successes of some of its clients that let slip information on the settlement.
"iAds, a 7-figure settlement from Apple Computer in a trademark infringement case," the note read, boasting that Consor's analysis and quantification were instrumental to Innovate Media reaching "a highly favorable settlement with Apple."
Doug Bania, who oversees Consor's business development and licensing units, initially told Greg Sandoval, the author of the CNET report, that the announcement "was never posted," but when Sandoval replied that the article was available on the web, Bania said some of the information "wasn't accurate."
This isn't the first time Apple has introduced a product before it owned the name. In January, Fujitsu revealed that it possessed the iPad name. Apple acquired the trademark from Fujitsu just weeks before the release of the iPad. Last week, a Taiwanese company threatened to sue Apple for $1.5 billion, claiming that an earlier deal to sell the iPad trademark didn't include rights for the trademark in China, which were held by an affiliate.
In 2007, Cisco sued Apple over the iPhone trademark within days of Apple introducing the smartphone. The two companies settled the dispute, each retaining the rights to use the iPhone trademark globally.
If the 7-digit settlement figure is to be believed, it's a small price to pay for Apple to gain the interactive in-app advertising platform, which launched in July with $60 million worth of ads committed through the end of 2010. iAd will make its debut on the iPad this month when iOS 4.2 is released for the tablet device.