Apple promises unforgettable iTunes announcement coming Tuesday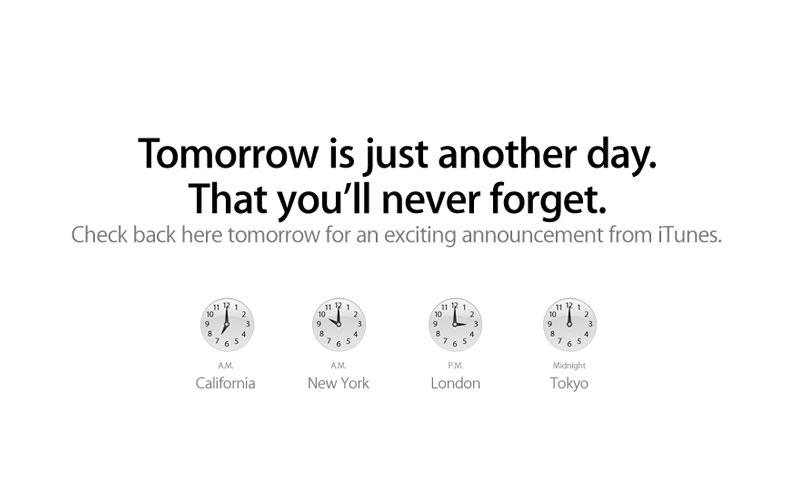 AppleInsider may earn an affiliate commission on purchases made through links on our site.
Apple has published a teaser on the front page of its website, telling customers that an "exciting announcement" regarding iTunes is coming at 7 a.m. Pacific, 10 a.m. Eastern on Tuesday.
"Tomorrow is just another day. That you'll never forget," the page reads. "Check back here tomorrow for an exciting announcement from iTunes."
It lists local times in California and New York, at 7 a.m. and 10 a.m. respectively, that the announcement will be made. Also included are 3 p.m. in London and midnight in Tokyo.
The mention of iTunes could hint that the product will be related to the streaming of content, perhaps from the new data center Apple has built in North Carolina. Apple has been rumored for months to be working on a cloud-based iTunes service that would allow users to stream their music from any connected device.
However, recent reports suggested that Apple has encountered roadblocks in its negotiations with content providers. People familiar with those negotiations have suggested that any cloud-based iTunes features would likely be "modest" if they launch in the near future.
Nearly a year ago, Apple acquired Lala, a music streaming service that it shuttered earlier this year. Many have assumed that the acquisition was meant to pave the way for an iTunes cloud service.
Apple has already focused iTunes content on the cloud with its new Apple TV. The $99 iOS-based device has limited internal storage and relies on the renting of TV shows and movies, streamed directly from the iTunes servers to a user's home.