Microsoft gearing up to reintroduce iPad competitors running Windows 7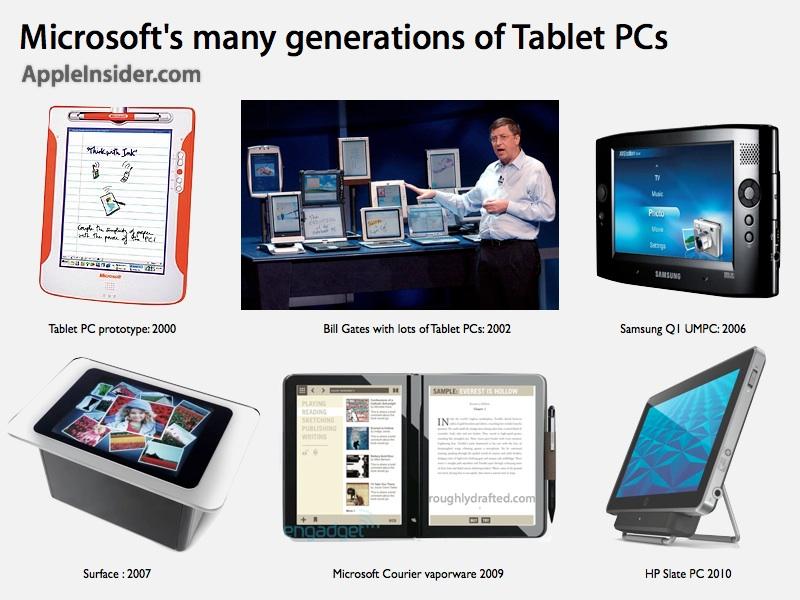 AppleInsider may earn an affiliate commission on purchases made through links on our site.
Microsoft will again present Slate PCs running Windows 7 at next month's 2011 Consumer Electronics Show, hoping to offer users an alternative to Apple's iPad.
According to a report by New York Times, "Microsoft's chief executive [Steve Ballmer] is expected to announce a number of these devices when he takes the stage at CES, showcasing devices built by Samsung and Dell, among a number of other manufacturing partners."
The report said that the new crop of Slate PCs include a model from Samsung "similar in size and shape to the Apple iPad, although it is not as thin. It also includes a unique and slick keyboard that slides out from below for easy typing."
Samsung already sells its Android-based Galaxy Tab, but that 7 inch device

">isn't designed

to function as an iPad-like tablet as much as an oversized smartphone (or iPod touch). Google's version of Android aimed at competing in the iPad market isn't due until next summer.
Microsoft hopes to bring Windows 7 to market to serve as a contender in the table market, which is currently dominated by Apple's iPad. Without time to develop a new operating system or adapt its fledgling Windows Phone 7 to work on full sized devices, the company is falling back to a strategy that pairs the conventional Windows 7 desktop in landscape mode with a new "layered interface that will appear when the keyboard is hidden and the device is held in a portrait mode," the report stated.
While the large library of custom iPad apps delivers much of the allure connected to Apple's tablet, Microsoft is following Google's Chrome OS strategy of relying on HTML5 to unlock the value of partner's new devices. The report cited "a person who works at Microsoft" as saying that "the company was encouraging partners to build applications for these devices that use HTML5."
The same source said that "applications will not be sold in an app store, as with the Apple iTunes model, but Microsoft will encourage software partners to host the applications on their own Web sites, which will then be highlighted in a search interface on the slate computers. It is unclear if these applications will be ready for CES as most are still in production."
Microsoft similarly downplayed the importance of available third party software when launching Windows Phone 7, claiming that smartphone users don't want to be distracted with lots of functionality in their mobile phone. Claiming the same thing about tablet computers will be harder to do, but the new devices' backward compatibility with conventional Windows apps will make this less necessary.
Lots of Tablet PC failure: 2001-2005
Microsoft began touting "Pen Computing" in the early 90s, at a time when Apple was bringing its Newton Message Pad to market. Stylus-based tablet never caught on outside of a brief flurry of cheap PDAs offered by companies like Palm.
In 2000, just as the promising PDA market was reaching its peak, Microsoft debuted the Tablet PC as a "new" concept, in an effort to sell desktop Windows to mobile users.
While Palm converted its PDA business to smartphones, Microsoft's Tablet PCs never garnered much attention. Near the end of 2001, Bill Gates claimed that Microsoft's Tablet PC would become the most popular form of PC in five years, but that never happened.
A year later at the end of 2002, even Gartner was reporting that "despite much publicity and market promotion, the Tablet PC is not expected to result in a high rate of early adoption."
The firm wrote at the time that "a lack of application support, clumsy hardware designs and a price premium will be barriers for most users," but still predicted that "by 2007 at least 35 percent of all notebooks sold will have screen digitizers with a convertible or separable keyboard design." Even that conservative five year prediction didn't pan out.
UMPC Origami tablet failure: 2006
In 2006, Microsoft relaunched Tablet PCs as part of Project Origami, resulting in a category of products the company named UMPC (for "ultra mobile"). The primary UMPC device was Samsung's $1300 Q1, which ran both Windows XP (upgradable to Vista) as well as Microsoft's mobile Windows CE (since rebranded as "Windows XP Embedded" to escape the stigma of Windows CE's past failures.)
In 2006, Gartner said that it believed Microsoft's UMPC was rushed to market and "assigned a probability of 80% to the UMPC not achieving mainstream success (sales in the millions of units) by 2009," according to a report made at the time by Pen Computing.
That same year, CNET UK pitted the Samsung Q1 against a decade old Newton MessagePad 2000 from 1997 and pronounced the Newton as a better mobile device overall.
Surface, Courier and the Slate PC: 2007-2009
In 2007, Microsoft turned its attention to touch-based desktop PCs as Apple released the first iPhone, later unveiling the Microsoft Surface prototype. Apple continued to broaden its reach into the tablet market with the iPod touch, which delivered much of the functionality of a tablet while only claiming to be an entertainment device.
In 2009, Microsoft floated prototype pictures of the Courier, a dual screen tablet device that was supposed to support both multitouch and stylus input, and run the same software as Windows Phone 7 (at least according to the imagination of the company's fans). Microsoft officially scuttled the project in 2010.
In 2010, Microsoft once again focused on Tablet PCs, this time under the name Slate PC, showing off a prototype of an HP Slate running Windows 7. That device ended up selling just 9,000 units as Apple's full sized iPad began selling into the millions.