Apple seeks iOS developers to expand cloud-hosted services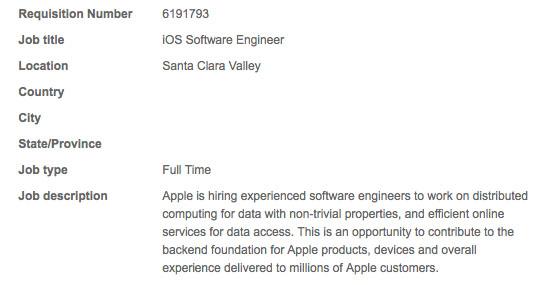 Apple is looking to expand its iOS development team with new employees who will enhance the company's cloud-based services for devices like the iPhone and iPad.
Just before Christmas, Apple posted two new job listings (1, 2) for the title of "iOS Software Engineer." While the two full-time positions discovered by AppleInsider have different job descriptions, both describe an emphasis on remote storage for data access.
"Apple is hiring outstanding operations engineers to deliver and manage the next generation of hosted infrastructure serving Apple products and services," one of the listings reads. The other says, "Apple is hiring experienced software engineers to work on distributed computing for data with non-trivial properties, and efficient online services for data access."
One of the positions also seeks a candidate who has "experience developing large-scale offline or online storage systems." Both positions are based at Apple's Cupertino, Calif., campus.
Some may view the hirings as further evidence of a cloud-based iTunes or other MobileMe-style services from Apple. The hirings could also be an effort by the company to bolster its new cloud-centric Apple TV, a device that also runs a version of the lightweight iOS operating system.
Numerous reports have indicated that Apple is interested in creating its own cloud-based iTunes service, which could allow users to stream their own music library from any Internet-connected device. It is believed that some of the functionality could come from Apple's acquisition of Lala.
There's also an e-mail allegedly sent by Apple Chief Executive Steve Jobs earlier this month, in which he purportedly said that his company's MobileMe service would "get a lot better in 2011." The $99-per-year Internet-based service is an existing cloud venture from Apple, but a major portion of it, Find My iPhone, became free with the release of iOS 4.2.
Apple's massive data center in North Carolina was set to launch this year, though Apple has not yet made any announcements for its potential use. But many have speculated that it will be used for cloud computing, perhaps via MobileMe, and streaming services, likely through iTunes.