GSM iPhone to gain 'Personal Hotspot' in March with Apple's iOS 4.3 - rumor [u]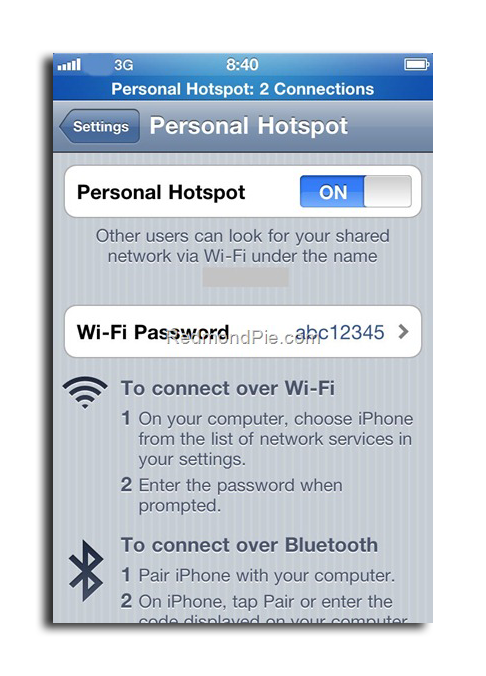 A new rumor pegs Apple's "Personal Hotspot" Wi-Fi tethering feature for release on GSM-based iPhone models with supporting carriers in March, arriving after the Verizon CDMA iPhone in February.
According to an anonymous source said to be "close" to Redmond Pie, all iPhones that support iOS 4 will gain the Personal Hotspot in March, with the release of iOS 4.3. The feature was first demonstrated on Tuesday with the newly unveiled CDMA iPhone 4.
The new CDMA iPhone for Verizon's network in the U.S. was shown running a new version of Apple's mobile operating system, iOS 4.2.5. It can be enabled through the phone's Settings application, and allows the handset's 3G data connection to be shared with up to five devices over Wi-Fi.
Adding credibility to the rumored March release of iOS 4.3, the tipster also provided screenshots of the feature running on a handset, though the name of the cell provider has been blocked out.
Boy Genius Report also received screenshots, and was told that the new OS version is labeled 8F5148b, with a baseband of 04.08.00. It also heard that "technical acceptance" is expected to take place in March.
Word of an iOS 4.3 release with the Personal Hotspot feature came to light after the Verizon announcement on Tuesday. There it was also said that the feature would only be available if a wireless carrier agreed to support it.
For its part, AT&T said it wouldn't "speculate on potential features that could be added to its phones in the future. The carrier agreed to allow iPhone tethering last June, but currently AT&T customers must pay $20 per month to share a 3G connection only via USB or Bluetooth. The current method does not allow a data connection to be shared with an iPad.
UpdateAn AT&T rep reportedly told SAI that the company was "evaluating" supporting the feature, but that AT&T has "no plans to announce today."
Though Verizon announced the iPhone and Personal Hotspot on Tuesday, the carrier did not offer any pricing for the handset's data plans or for the ability to tether. The CDMA iPhone will debut on Verizon's network when it goes on sale in the U.S. on Feb. 10.