China now home to Apple's most visited stores as retail earns $3.9B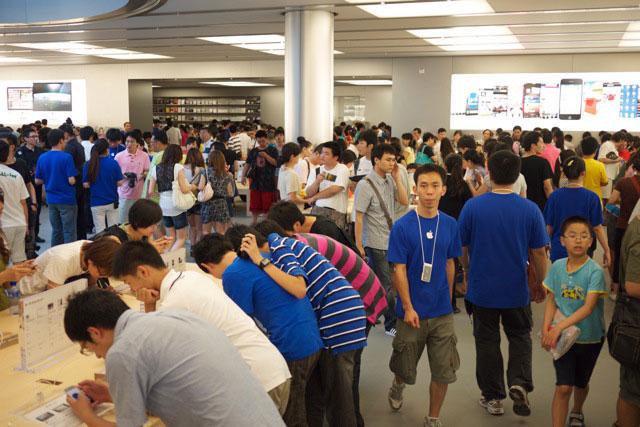 Apple's retail stores had yet another impressive quarter earning $3.85 billion over the holidays, with the success by four locations in China that bring in the most traffic and highest revenue for the iPhone maker.
Apple executives spoke about the company's retail growth in a conference call following their quarterly earnings report on Tuesday. Apple's retail sales accounted for about $3.85 billion in revenue in the quarter, a total 95 percent larger than a year before.
For the first time ever, retail segment margin exceeded $1 billion, and more than doubled from the $481 million in the same quarter in fiscal 2010. Apple's stores hosted a record 75.7 million visitors, up 49 percent from the 50.9 million visitors a year prior.
As has been the case for some time, more than half of all Macs sold in stores were to customers that had never owned a Mac before. But the real story of Apple's stores is internationally, where stores, on average, see even more customers than in the U.S.
"Our four stores in China were, on average, our highest traffic and our highest revenue stores in the world," Apple Chief Financial Officer Peter Oppenheimer said on Tuesday. The company has 323 stores worldwide, with 87 of them outside of the U.S.
Apple opened its first retail store in China in 2008. Though the company only has four locations in the nation of over 1 billion people, it has plans to aggresively expand and open a total of 25 stores.
Last July, Apple opened a new flagship store in Shanghai which is marked by a giant glass cylinder leading to the underground store. The location routinely draws crowds as Apple's products, like the iPhone and iPad, find great success in China.