Apple poised to beat Microsoft's quarterly profits for first time in 20 years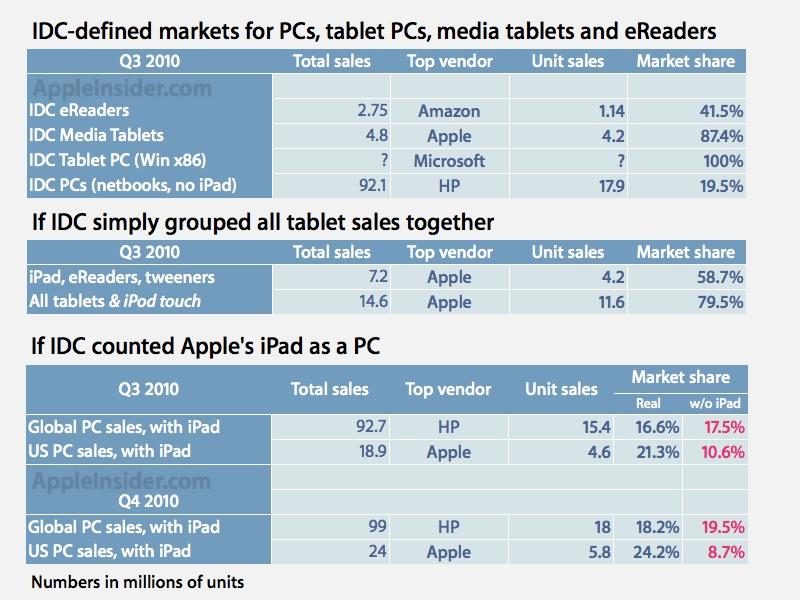 Microsoft is expected to report lower profits than last year as PC market growth stalls, making it almost certain that Apple's latest $6 billion earnings record will exceed Microsoft's for the first time since 1990.
Microsoft is expected to report $5.93 billion over the winter quarter, according to a report by Reuters, although it's possible the company could post a blowout quarter that exceeds the street's expectations.
Just two years ago, Microsoft was posting twice the quarterly profits of Apple. Over the last few years however, Apple has established new markets in smartphones and with the iPad, two product segments Microsoft has failed to execute in.
The report cited Tim Bajarin, president of tech research firm Creative Strategies, as saying, "Microsoft is still a juggernaut in the PC business; Windows-based machines are still selling over 300 million a year. But they missed the smartphone revolution, and even though they were the first to really push the tablet, Apple basically redesigned it and left Microsoft in the dust."
Windows Phone fails to connect
Last year, Microsoft scrambled to scuttle Windows Mobile 6 and the mobile software marketplace for that platform that it had just finished, in order to launch an entirely new, incompatible mobile platform based on more modern technology, with an easy to use touch interface rather than a windowing interface requiring a keypad or stylus to navigate.
An interim product, launched with Verizon under the brand KIN, failed miserably. However, even sales of Windows Phone 7 have been disappointing, with even LG, one of Microsoft's leading WP7 licensees, referring to sales as "less than we expected."
LG's marketing strategy and planning team director James Choi observed that "for tech guys like us it might be a little bit boring after a week or two, but there are certain segments that it really appeals to. We strongly feel that it has a strong potential even though the first push wasn't what everyone expected."
Even Microsoft's developers took a dim view of the platform, with Justin James observing, "unless you consider Windows Phone 7 to be a 'must do' platform for development (which is quite unlikely), I suggest that you think of Windows Phone 7 development as a hobby or a learning experience rather than a source of revenue until the App Hub issues are sorted out."
In December Microsoft tried to frame sales of Windows Phone 7 as flatteringly as possible, referring to "phone manufacturer sales," defined as "phones being bought and stocked by mobile operators and retailers on their way to customers," as having reached a milestone of 1.5 million units, and saying this was "inline with our expectations."
That number was actually barely enough to fill Microsoft's well developed global channel. One reseller reported that the new WP7 models "are by and large generic phones from well known manufacturers, and in most cases an almost identical model is available from the same manufacturer with Android, and given the choice people seem to be picking Android."
Hot on the heels of failed launch of last year's Slate PC initiative with HP, Microsoft killed the vaporware Courier project that many hoped would take on the iPad.
This year, the company promised to start over again, two years from now, with a version of Windows capable of running on the efficient chips of the ARM Architecture, just like last year's iPad and other Android tablet products hitting the market.
"I wish they did this [switch to ARM] two years ago, it's something they should have thought of," said Sid Parakh, analyst at McAdams Wright Ragen. "But it is a long game. The question becomes: Is the iPad a cannibalization of Microsoft's existing products, or an added component of consumer electronics spending? I'm sure it's a mix of both."
PC growth slower than predicted
Microsoft's bread and butter, the PC market, was up globally only 3.1 percent in the winter quarter, and US sales actually contracted by 6.6 percent according to figures reported by Gartner. Over all of 2010, PC shipments were up just 13.8 percent world wide, much lower than Gartner's original forecast for 2010 calling for 19.2 percent growth.
In addition to slow PC sales, Apple's iPad has increasing eaten into both consumer and enterprise PC demand, with Apple selling more than 7.3 million in the winter quarter and over 14 million in 2010. This year, Apple is expected to sell as many as 40 million of the devices, largely at the expense of Windows PCs.
Apple's iPad sales are already distorting the component markets for RAM and hard drives, and clearly slowing sales of conventional PCs, even as IDC and Gartner scramble to hide iPads behind the newly invented "media tablet" market to avoid direct comparisons to other tablet products and to PCs.
If iPads were counted as PCs, Apple would be the number one PC maker in the US with 24 percent of the market. Microsoft hasn't really faced a PC market that wasn't completely monopolized by Windows since the days before Windows, when it was earning less than Apple, a position it now appears to be in again.